When you shop through retailer links on our site, we may earn affiliate commissions. 100% of the fees we collect are used to support our nonprofit mission.
Learn more.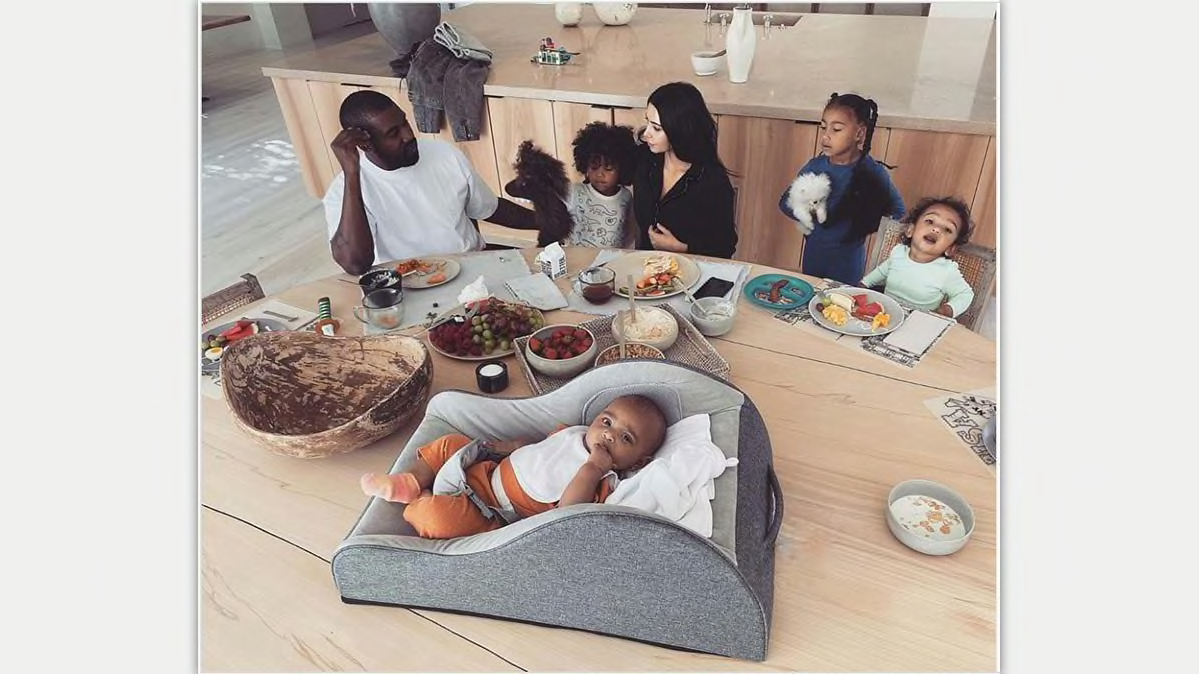 Photo: Kim Kardashian West/Instagram
It was a seemingly uneventful morning at the Kardashian West household on Wednesday, Jan. 22, judging from the photo that celebrity mogul Kim Kardashian West posted on Instagram and Twitter. The photo, an image of domestic bliss, shows Kim, husband Kanye West, and their four children gathered around a table eating breakfast. Center stage was baby Psalm, buckled into an infant inclined lounger atop the table, looking into the camera.
Kardashian West has 158 million followers, and her post prompted thousands of comments, many of them gushing.
"I need that baby lounger!!" one of the commenters on Instagram wrote. "Please please please let me know where it's from!!!"
Another wrote: "Omgg I love that bed for your baby!!! What is it called? I'd love it for my grandson."
Several posts directed followers to Baby Delight, the company that makes the sleeper in the photo, the Nestle Nook Portable Infant Lounger.
But a few posters said the product was unsafe for sleep, noting that the sleeper was one of several the Consumer Product Safety Commission has proposed banning because of safety risks. "The baby bed is dangerous and shouldn't be used for sleep at all," wrote one person, who included a link to a June 2019 Consumer Reports article about several risky infant inclined sleep products, including the one from Baby Delight (which at the time was called the Baby Delight Nestle Nook Comfort Plush Infant Napper).
To date, the CPSC is aware of at least 73 infant deaths and more than 1,000 incidents linked to infant inclined sleepers, which position babies at an incline between 10 and 30 degrees.
CR tried unsuccessfully through multiple channels and representatives to reach Kim Kardashian West about her post.
The Kardashian West photo and accompanying pro and con comments highlight the mixed messaging surrounding infant inclined sleepers. More than 5 million similar products have already been recalled, including the Fisher-Price Rock 'n Play Sleeper. And the CPSC, which has warned consumers not to use inclined infant sleepers, is considering banning the products completely. But some products—including the Nestle Nook Portable Infant Lounger—are still being sold.
"Parents need to recognize that just because a baby product is available for sale doesn't mean it's safe," says Ben Hoffman, M.D., chairman of the Council on Injury, Violence and Poison Prevention at the American Academy of Pediatrics (AAP). "In the case of infant inclined sleepers, biomechanical research has shown that at a very basic physiologic level, sleeping at an angle puts babies at risk."
He says that these products can be dangerous, even if they're called "loungers," as the Baby Delight product is. "Just taking the word 'napper' or 'sleeper' out of the name doesn't change the risk," he says.
Nancy Cowles, executive director of Kids In Danger, a consumer safety organization, agrees. "Calling a product a lounger—the same name used for the Nap Nanny, which has been tied to six infant deaths—doesn't mean parents won't use it for sleep."
No matter what it's called, any inclined baby product—including bouncy seats, swings, or chairs—should clearly warn caregivers not to let their babies sleep in them, Hoffman says. If a baby does fall asleep in one, the caregiver should move the infant to a flat, firm surface that is free from soft bedding and restraints, as the AAP's safe sleep guidelines recommend.
A Baby Delight spokesperson told CR that the company "stand[s] by the safety of the Nestle Nook," and "there have been no injuries or fatalities with this product." She also said that the company will "continue to market and promote the Nestle Nook as a lounger and not to be used for overnight sleeping."
When CR asked Baby Delight why the company had recently relabeled the product from a "napper" to a "lounger," the spokesperson said it "updated the name to better reflect the use of the product. Most times the product is used for just lounging around the house and not necessarily for napping. On the majority of our packaging and marketing materials we show awake babies."
The spokesperson added that Baby Delight does not recommend the Nestle Nook for overnight sleeping . . . and the photo that Kim posted include show Psalm awake, and not napping."
But a scan of the Baby Delight website, which lists the Nestle Nook in the Sleep & Slumber category, shows many reviews from consumers saying they use the product for sleep. And the company's website includes language noting that "The Baby Delight Nestle Nook Portable Infant Lounger is designed to create a comfortable and safer place for your baby to nap and lounge."
Moreover, a different photo Kim Kardashian West posted several months ago shows Psalm asleep, not awake, in the Baby Delight Nestle Nook. Baby Delight shared the post and wrote alongside it: "Looks like Psalm Ye is comfy in his Comfort Nook Napper. A huge congrats to @kimkardashian and her growing family! Thank you for sharing this totally adorable photo!"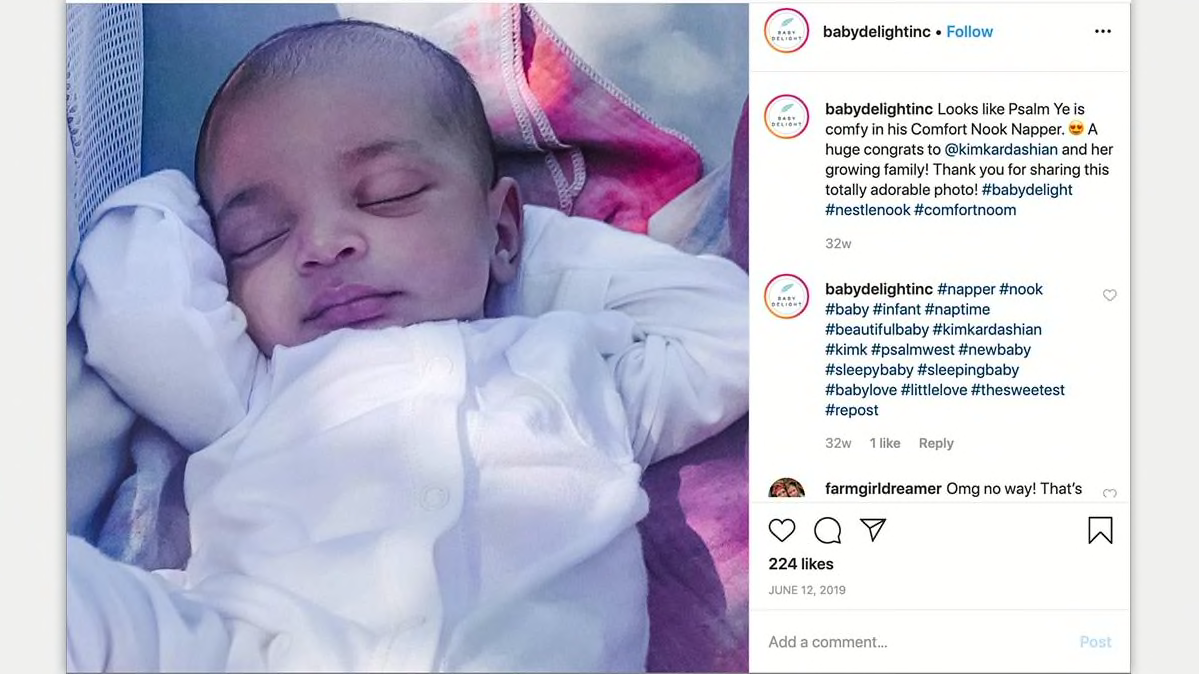 Photo: Kim Kardashian West/Instagram
Kardashian West's most recent photo of the baby lounger was posted the same week the CPSC granted a request from a lawyer on behalf of industry clients to extend the comment period on the agency's proposed ban. The agency proposes including products such as the Baby Delight Nestle Nook that reference "napping" in their marketing. CR and other consumer groups opposed any delay, writing in a letter to the agency that it "would leave infants at continued risk of injury or death in sleep products that are not required to meet a robust mandatory standard."
While the CPSC goes through the process of finalizing the ban, the agency has also taken to social media. "Helping consumers to make safe choices for infant sleep now, while our regulations are still catching up, is very difficult," said CPSC acting chairman Robert Adler. "That's one reason we took the unusual step of running an intense social media campaign—with help from some families who have lost children—to try and reach consumers with this important safety message."
But it's tough to compete with the social media reach of Kardashian West. Millions of parents and grandparents may just be learning about the Baby Delight Nestle Nook through her feed, and those caregivers may be unaware of the danger the product poses.
That's unfortunate, says Hoffman at the AAP, who adds that the post provides an opportunity for manufacturers and marketers to help address the issue. "Safety warnings shouldn't just be an asterisk at the bottom of a website or product manual," he says. "I would urge the industry to be more aggressive about warning families of the risk."