The Best Boxed Chocolates
We discovered some new faves and found that a few classics are better off forgotten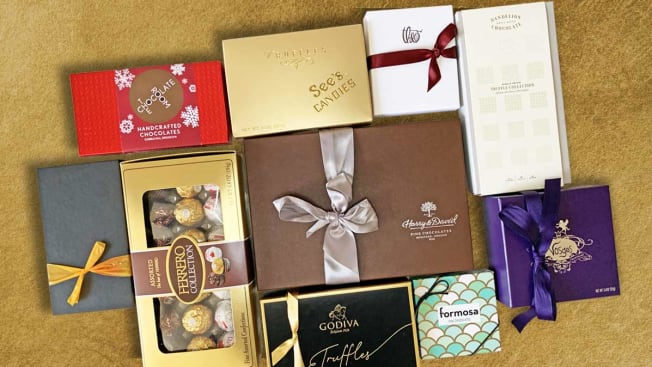 My local grocery store is hit or miss. The vegetables are often wilted and the milk products past their expiration date, but the chocolates aisle is poppin'.
Each week a fun, new variety seems to appear, catering to customers looking to the sweet stuff to help satisfy one level or another of their personal Maslow's Hierarchy of Needs.  
Four of my colleagues and I dug deep into several boxes of chocolates to discover how some of the most popular—those we grew up with and the ones we pick up at the grocery or drugstore every Mother's Day or Valentine's Day—compare with some of the newest and buzziest entrants on the scene.
Editor's Choice: Stick With Me Sweets 6 Piece Bonbon Box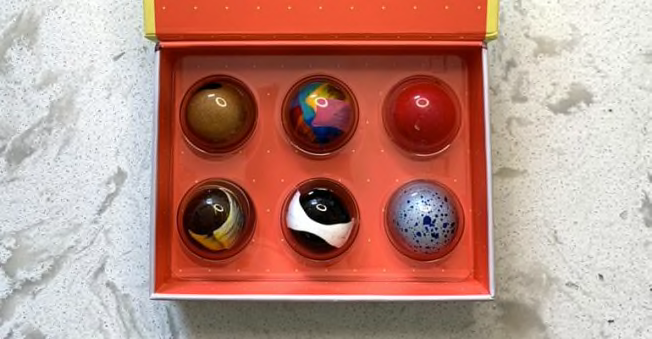 Price: $25
Number of Confections: 6
Where to Buy: Stick With Me Sweets
This pretty little box is the definition of delightful. It's charming: Shaped like a book, the front "cover" opens to reveal six glossy, colorful domes of chocolate. These bonbons were so lovely to see, it was almost—almost—a tragedy to eat them. And yet ...
"There wasn't a bad bonbon in the bunch," said Kevin Doyle, one of our evaluators. We found ourselves enchanted by the "wild strawberry" white chocolate bonbon—I found it charmingly reminiscent of strawberry shortcake ice cream bars—though none of us are hard-core white chocolate fans generally.
The white chocolate shell is creamy and nutty in flavor but snappy in texture, while the strawberry ganache was silky and just sweet enough. "Tragic when over," Kevin said. I had not previously sought out strawberry-flavored desserts, but my adoration of this bonbon has surely changed the course of my life. I will now look for strawberry cake, strawberry chocolate, strawberry whatever anywhere I can expect to find sweets.
While the wild strawberry bonbon stole the show, the supporting players deserve their own accolades.
A lovely pecan praline was another star: texturally complex, with a rich, miraculously not oversweet caramel layer atop a slightly crunchy praline filling. The pecan flavor was "very clean," said another evaluator, Trisha Calvo, without the "weird aftertaste" often present in nutty chocolates. "This meets my 'wish I had another' criteria," she said. "In fact, I had been cutting all the chocolates in half and sharing them with my husband, but I ate both halves of this one."
A black and white bonbon, modeled after the black and white cookie that's widely found in New York City bakeries, had a gratifyingly fluffy filling with a bottom cookie-crumb crust, though Trisha noted that delicious as it was, it didn't taste exactly like a black and white cookie.
"This is one book I cannot wait to crack open again," Kevin said. I agree. I rarely go into Manhattan, being a steadfast Brooklynite, but I am willing to make the trek across the river for Stick With Me Sweets. As absolutely beautiful as the flavors were in the assorted boxes we received, you can't easily customize your own. And I, quite simply, need to try some of the other fascinating flavors: PB & Jelly, Bananas Foster, Yuzu. See you there!
For True Chocolate Lovers: Dandelion Chocolate Single-Origin Truffle Collection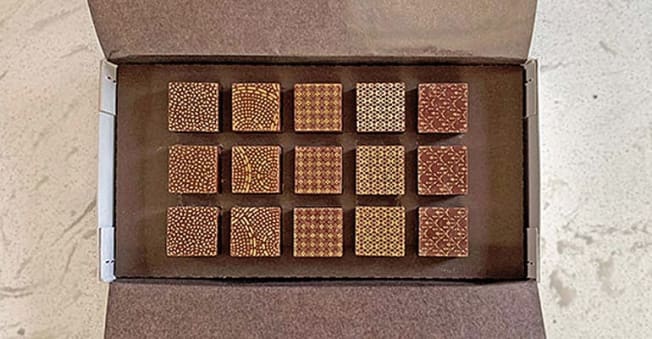 Price: $50
Number of confections in box: 15
Where to buy: Dandelion Chocolate
What this box offers is the epitome of fine chocolate. Pristine cubes of chocolate—less than an inch wide and weighing only about 12 grams—are decorated with a delicate gold print and set into a simple, sophisticated pale gray box tucked into an artfully designed white sleeve. 
San Francisco-based Dandelion is a bean-to-bar chocolate company, which means it sources its own cocoa beans before making them into chocolate, giving it greater control over the quality of its product. Rather than flavored fillings, these chocolates showcase ganaches made from cocoa beans from far-flung chocolate-growing regions such as Tumaco, Colombia, and Ambanja, Madagascar.
Even though not all our tasters could discern the subtle "spectrum of flavors" the company mentions in the tasting guide (such as the "sweet strawberry" and "honey" in the chocolate from Belize or the "dried fruit," "yogurt," and "sourdough" in the one from Madagascar), we loved them regardless. The chocolate shells are thin and snappy, and the ganache within is rich and almost fudgy in texture.
"This is chocolate as a sacrament," Kevin said.
"It's the chocolate equivalent to a wine tasting," said Perry Santanachote, another evaluator. "Picking out the subtle tasting notes is part of the fun."
The Most Beautiful Box of Chocolates: Formosa 9 Bonbon Box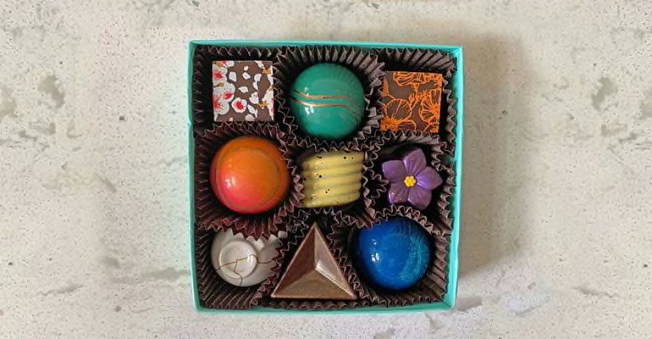 Price: $36
Number of confections in box: 9
Where to buy: Formosa Chocolates
Wow! Opening up this box from the small, Oakland-based chocolate company was like lifting the cover of a collection of cleverly shaped jewels. (The image the company features on its website doesn't do them justice.)
"When I opened it, I gasped," said evaluator Laura Murphy. "They look almost too pretty to eat."
To merely feast with the eyes, however, would be a mistake because these chocolates taste as exquisite as they appear. The shells are eggshell-thin and crack open to reveal delicious fillings in a way that beautifully highlights the contrast between the outside and inside.
Several evaluators particularly loved the coffee bonbon, which is shaped like a tiny coffee cup and filled with a light, airy, coffee-flavored ganache. This was also one of the only boxes that contained a peanut butter bonbon. This perfect pairing of a rich and creamy peanut butter filling in perfect harmony with a crisp milk chocolate shell is a triangle-shaped triumph.
A whole, toasted hazelnut was a welcome surprise hiding at the center of the teal hazelnut crunch bonbon. The passion fruit confection looked like a miniature Venus, with its red-to-orange color gradient and a dark gold halo. It tasted lively and bright, and had a textured interior that made it even more interesting than your average passion fruit chocolate. A cherry caramel, printed with little white cherry blossoms, was a hit, too.
"OMG, it tastes like a real bing cherry. So cherry flavor doesn't have to taste like cough syrup?" Perry asked.
Formosa offers gluten-free, vegan, and alcohol-free options for people with different dietary restrictions; we sampled the alcohol-free variety.
An Approachable Box Everyone Will Love: The Chocolate Room 8-Piece Handcrafted Chocolate Box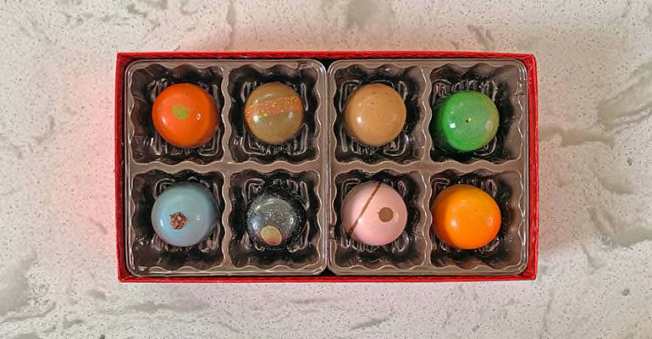 Price: $25
Number of confections in box: 8
Where to buy: The Chocolate Room
This is another beautiful box of chocolates that would make a fantastic gift. The rainbow-hued, shiny, dome-shaped chocolates will dazzle, while the flavors will please most chocolate fans.
Trisha said that "the delicious scent of chocolate wafts out of the box as soon as you open it" and that the chocolates are elegant, pretty, and have "thin, snappy shells."
Kevin called the box "a joy to behold and a joy to eat."
Flavors from this Brooklyn-based chocolate shop include a vibrant orange, which Trisha said "tasted fresh ... I wanted to eat another one right away"; a chestnut-colored chai, which Kevin described as "perfectly spiced"; and a delicate, faintly astringent and very pleasant matcha flavor in Kelly green.
A Box of Chocolates for Thrill Seekers: Vosges Haut-Chocolat Exotic Truffle Collection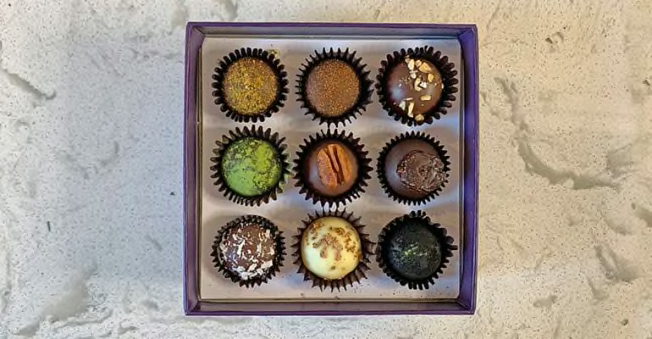 Price: $34
Number of confections in box: 9
Where to buy: Goldbelly, Vosges Haut-Chocolat
Katrina Markoff, the founder of this chocolate company in Chicago, trained under the famous and eccentric Spanish chefs Ferran and Albert Adrià, and it's clear that their culinary creativity and cleverness made an impact on her.
The Vosges' box of chocolates is exciting, fun, and borderline bizarre-tasting, but the quality is unmistakable. The chocolate shells are snappy and rich, and the fillings never approach tasting artificial.
This box contains my favorite bonbon of all the ones we tasted: a deep black, absinthe-flavored chocolate with star anise, fennel, and "coconut ash" (also known as activated charcoal) that, unfortunately, stained my cutting board. It was worth it.
Other flavors include "Woolloomooloo," decorated with flecks of coconut atop a milk chocolate shell, with a macadamia filling that Kevin said "tastes like stepping onto a Hawaiian island"; "naga curry," dusted with rusty-colored curry powder that's perfectly in balance with the flavors of coconut and milk chocolate; and a creamy white olio d'oliva, which is all the proof you will need that white chocolate and olive oil are a match made in heaven. 
But not every chocolate was a hit. The grass green "Black Pearl" chocolate is supposed to taste of wasabi and ginger, but we couldn't make out either of these typically bold flavors. The chocolates are also a bit small, but that might work to your advantage: You'll want to eat them before their expiration date.
Vosges truffles have a maximum shelf life of 14 days and should be stored in the refrigerator. (One of our evaluators learned this the hard way when she opened her box after a few weeks and discovered it blooming with mold.) Some of these chocolates also had feet—which is when the chocolate shell flares out at the bottom—but this is a small aesthetic flaw that doesn't much affect the experience of eating these chocolates. 
Despite these minor issues, this is a spectacular box, especially for the adventurous eaters in your life.
Other Boxed Chocolates We Tried
Theo Chocolate Custom Confection Box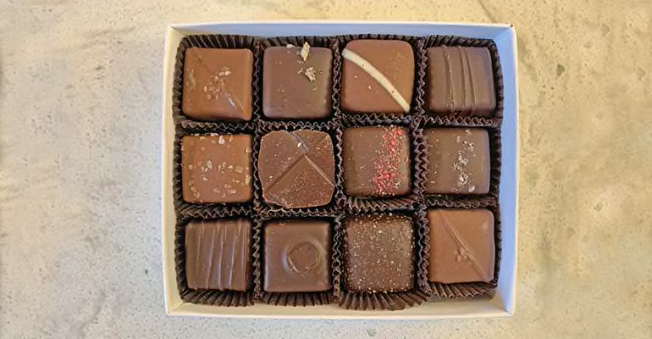 Price: $25
Number of confections in box: 12
Where to buy: Theo
Theo Chocolate, a bean-to-bar chocolate company in Seattle, created a perfectly serviceable box. The chocolate is high-quality, with snappy shells and rich, bitter flavor, and the fillings are pleasant tasting if a bit boring.
The flavors "don't knock you out with originality or taste appreciably different from one another," Kevin said, while Trisha called them "just so-so," noting that "I really like Theo's chocolate bars, so I was somewhat disappointed in the chocolates."
We tried at least one of each flavor, but because the box is customizable, you can get numerous bonbons in the flavor you prefer. Caramel lovers take note: Six of the 10 confections Theo offers are caramel.
Jacques Torres Assorted Bonbons
Price: $25
Number of Confections: 12
Where to Buy: Amazon, Jacques Torres Chocolate
These chocolates were certainly acceptable, solidly a "middle of the pack" pick, according to Kevin. The box didn't come with a flavor key, which a few of us found frustrating.
"Maybe some people like to be surprised, but I want to know what I'm getting," Trisha said. "It's actually part of the anticipation and experience for me. Looking at the names, thinking, 'oh that sounds interesting,' deciding what flavor mood I'm in."
I agree, which is why I found myself, disturbingly, sniffing the chocolates with the hope that I would know what I was getting myself into. This was just weird, and didn't work; most of the chocolates were too small, and too conservatively flavored, for most of us to confidently detect what we were eating.
I checked the list of bonbon flavors on the Jacques Torres Chocolate website and made educated guesses from there, which in fact was not super-easy, either, because the descriptions were not very descriptive.
A raspberry-flavored chocolate was pleasant, with a creamy, balanced berry filling that tasted natural, not artificial. The milk chocolate shell was somewhat chewy, though, rather than with the desirable snap that high-quality chocolate delivers.
"It was a little too sweet. Still an enjoyable treat, though, because of the well-flavored filling," Trisha said.
An orange-flavored dark chocolate had a lovely, albeit stingy, citrus flavor. A cinnamony white chocolate was "really unusual, and one the top three chocolates I tasted from all the companies," Trisha said, while I found the flavor to be a delicious representation of white chocolate—rich in real cocoa butter taste. Definitely one of the better chocolates in the box. 
Overall, Laura said, "They were very meh—almost bland." If these chocolates were not so skimpily sized, we may have been more enthusiastic about them.
Exquisito Chocolates The Artisan Collection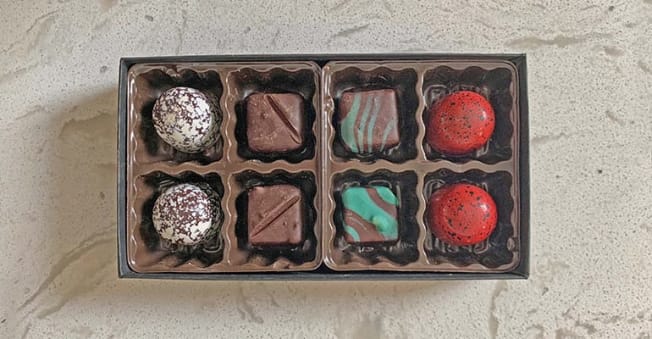 Price: $24
Number of confections in box: 8
Where to buy: Exquisito 
This box is on the pricey side, so we expected better than the dull-looking chocolates with overly chewy textures and unpleasant or forgettable flavors that this Miami chocolate factory sent us.
"Many tasted like soap," Trisha said.
"Having tasted them all, I cannot tell you what is supposed to be what," Perry said.
Only one evaluator received a chocolates legend with their box, indicating a lack of organization among the team putting the boxes together. The guava's bright vermillion shell and black speckles offered the promise of better flavors, but the texture and taste were off. 
"It doesn't taste like guava. It's also gritty," Perry said.
The hazelnut brownie had a "really perfumey, soapy taste," Trisha said. "I spit this one out."
(As of the most recent update to this article, these bonbons appear to be sold out, but we'll keep checking back.)
Ferrero Rocher Ferrero Collection 18 Piece Gift Box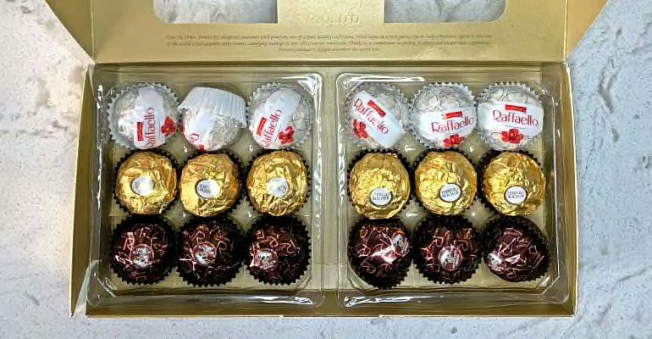 Price: $9.48
Number of confections in box: 18
Where to buy: Amazon, Walmart
We thought we'd love these Italian confections. Most of us have a nostalgic connection to Ferrero Rocher and fond memories of picking them up at the grocery store checkout line in our youth. But most of us were also disappointed when we sat down and really focused on the flavors.
Trisha found the classic hazelnut chocolate "kind of flat, with little to no chocolate flavor." I was shocked to discover that the dark chocolate confection was incredibly sweet and lacked any bitter complexity, while the coconut confection exploded all over my counter as soon as I unwrapped it.
You're better served getting a regular box of hazelnut Ferrero Rochers and skipping the variety pack. The chocolate itself isn't on a par with the others, but, Perry said, "the value can't be beat."
Godiva Signature Chocolate Truffles Gift Box
Price: $54
Number of confections in box: 24
Where to buy: Godiva, Macy's
Now come the boxes that really disappointed us. Depressed us. Got us in our (bad) feels. I grew up thinking that Godiva, a name in chocolate for nearly a century, made top-notch chocolate. But this is apparently no longer the case. This box bombed.
Perry's evaluation says it all: 
"The stomach churner. I think this was the first time I've ever been offended by chocolate, if you can even legally call this chocolate! I suspect that I could leave this box open at room temperature for months (maybe years?) and no microbes would touch them. The ingredients list includes at least 12 different kinds of sweeteners, eight different kinds of oils, and loads of artificial and natural emulsifiers, flavors, and colors. A truffle needs nothing more than chocolate, heavy cream, and sugar. Whatever monstrosity Godiva has concocted is NOT a truffle."
The chocolates themselves are large—almost too large to eat in one bite—and have thick, chewy shells with feet. Flavors include crème brûlée (Kevin: "tastes like sugar, not chocolate"), strawberry crème tart (Perry: "eww"), and hazelnut crunch (which I thought was waxy, sticky, too sweet, and reminiscent of chocolate you buy at a gas station after you've been in a car for three days and are feeling desperate). Aztec spice, the most palatable of the bunch, had a pleasant touch of heat, but even it felt like it was holding back.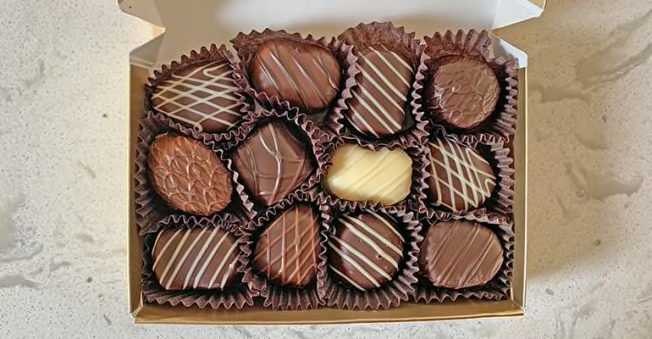 Price: From $15.25
Number of confections in box: 12
Where to buy: Amazon, See's
Overall impression? "Meh."
These Californian chocolates from the storied brand could be worse, sure. But they should be much better. They may look different, with various designs drawn with white or brown ganache, but they mostly taste the same.
"I have a fondness for See's and have a Pavlovian positive response to the familiar box," Kevin said. "These were not terrible, but they were pretty bad in comparison to many of the other boxes."
Perry said the blueberry flavor "was unexpected and pretty, but so sweet it hurt my jaw."
Trisha said the fillings were artificial-tasting, while the chocolate shells were waxy and the designs "heavy-handed."
At about $15, these would make a good gift for a child you're trying to level up from Hershey's but isn't ready for the wild flavors of Vosges or the bitter beauty of Dandelion.
Harry & David Signature Chocolate Truffles
Price: From $39.99
Number of confections in box: 24
Where to buy: Amazon, Macy's, Harry & David
There's a famous scene in David Fincher's 1995 film "Se7en" in which a distraught Brad Pitt stands in a field screaming "What's in the box?" at a troubled Morgan Freeman who has, unfortunately, already seen what is in the box. I like to imagine that it was a collection of Oregon-based Harry & David signature chocolate truffles.
These gigantic chocolates looked like they'd been through a war. They were dusty and looked dirty, with flecks of what appeared to be other chocolates marring their surfaces. Those that didn't taste waxy had a chalky mouthfeel. The shells were thick and chewy, and the fillings were artificial-tasting and overly sweet.
A raspberry-flavored chocolate tasted "like cough syrup," according to Perry, while I found a coffee-flavored confection to be reminiscent of the sludge at the bottom of a Frappuccino.
Laura said the chocolates in this box "have a plasticky taste and do not seem high-quality."
Kevin was more direct: "Gross! Dull in appearance and disgustingly sweet in taste. Nothing subtle or sophisticated. Regift!" Though you should perhaps only regift this box to someone stunningly cruel, like your least favorite cousin who bullied you relentlessly at holiday gatherings when you were kids.
How They Looked
Before even biting into a chocolate, we considered its appearance. "Chocolate should always be shiny," says Megan Giller, a founder of the chocolate education company Chocolate Noise.
Shiny chocolate indicates that the chocolate is "in temper," which means that the chocolatier took special care when melting it to ensure that the end result was shiny, snappy, won't melt in your hands, and can be stored in the cupboard instead of in the fridge.
Out-of-temper chocolate can look dusty, dull, or have white splotches on it, which is the cocoa butter separating from the rest of the chocolate, Giller says. "Out-of-temper chocolate isn't necessarily low-quality, but tempering is a skill, and so if something is shiny, you know the chocolatier took time and care making it."
In some cases, though, poorly tempered chocolate can affect the mouthfeel (or texture) of the chocolate.
"What you'll notice more prominently is a lack of smoothness, and the finish will be a little shorter. And it may feel a little bit gritty on your tongue," says Lawren Askinosie, co-owner of the Missouri-based chocolate company Askinosie Chocolate.
This may not be entirely the fault of the chocolatier, however. Askinosie says improper shipping or storing on the part of the shipper or retailer can take chocolate out of temper. This is worse in the summer, she says. "If those bars are exposed to heat, and has any kind of melting that takes place, it can take the bar out of temper."
(Not every chocolate that we tried came shiny, but it wasn't all because of tempering issues. Some chocolates were dusted with spices, cocoa powder, or other ingredients that added their own flavor and flair to the confection.)
We also looked for other visual flaws in the confection. Giller told us to make sure the exterior of the chocolate was smooth rather than wrinkled or warped, and that it didn't have a "foot," which is when the bottom flares out, as if the chocolate had a little peplum where it meets the box. This chocolate from Godiva, for example, has a small foot: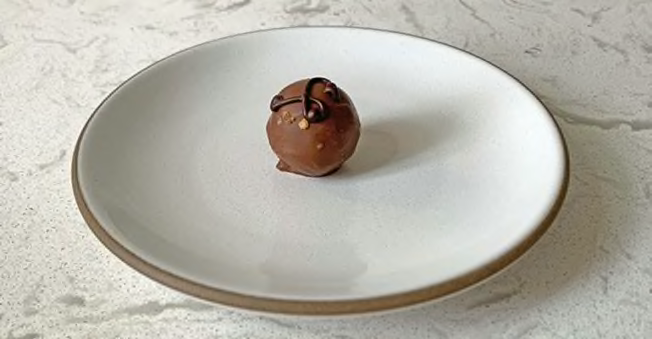 Though this doesn't mean the chocolate tastes bad, it does mean that there was an error when it was melted and poured—a bit like selling a misshapen cookie or a piece of banana bread that sank in the middle.
We also checked that the chocolate shell was thin—to provide the ideal snap—and that there were no gaps between the shell and the filling.
How the Chocolates Tasted 
This was, obviously, the fun part. We tasted at least six chocolates from each of the 10 boxes we purchased, and evaluated them by several indicators, including texture, flavor, and balance.
The chocolates should be snappy, not waxy or gummy. They shouldn't be (unintentionally) gritty, either, though some are gritty on purpose. Giller notes that some Mexican chocolate is stoneground, which gives it a slightly gritty mouthfeel. 
There were also some rather unpleasant flavors we kept a lookout for. "If you taste something rancid, plasticky, moldy, musty, or dusty, that's an off-flavor that indicates something went wrong at the farm or the factory," Giller says. "I once tasted a bunch of grocery-store chocolate bars that all smelled exactly like burned tires."
The ideal level of sweetness in a chocolate is typically a matter of taste; I prefer dark chocolate, as I generally prefer "less-sweet sweets." But others like a chocolate that's more sweet than bitter, and that's fine. What matters is that the sweetness doesn't overwhelm the richness and complexity of the chocolate shell or its filling.
"There are and can be the highest-quality, most premium, excellent confections or chocolate bars that are sweet," Askinosie says. "Balanced is the name of the game ... sugar should not be the first thing that you taste."
We looked for natural-tasting fillings. A coffee-flavored filling should taste like a real cup of coffee or an espresso, not like some suggestion of coffee whipped up in a lab. An orange-flavored chocolate should be reminiscent of the aromatic, bright taste of a real orange, not like orange-flavored Kool-Aid.
It was also important that the flavor be distinct: The aforementioned orange-flavored confection should be unmistakably orange, or at least clearly citrus. And it should be in harmony with the chocolate, not competing with it. In other words, the chocolate and the filling should be equally flavorful—you should be able to taste both—and their flavors should be complementary.
This product evaluation is part of Consumer Reports' Outside the Labs reviews program, which is separate from our laboratory testing and ratings. Our Outside the Labs reviews are performed at home and in other native settings by individuals, including our journalists, with specialized subject matter experience or familiarity and are designed to offer another important perspective for consumers as they shop. While the products or services mentioned in this article might not currently be in CR's ratings, they could eventually be tested in our laboratories and rated according to an objective, scientific protocol.
Like all CR evaluations of products and services, our Outside the Labs reviews are independent and free from advertising. If you'd like to learn more about the criteria for our lab testing, please go to the CR's Research & Testing page.
When you shop through retailer links on our site, we may earn affiliate commissions. 100% of the fees we collect are used to support our nonprofit mission. Learn more.