Best Chromebooks of 2021
If you want to add a low-cost computer to your home, these models can replace a traditional laptop at a nice price
When you shop through retailer links on our site, we may earn affiliate commissions. 100% of the fees we collect are used to support our nonprofit mission. Learn more.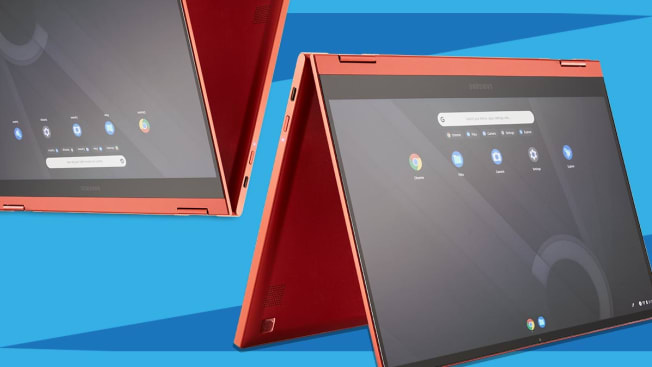 If you're looking for a low-cost way to add another computer screen to your home, a Chromebook may be the way to go.
As any kid who's used one in school can tell you, it's essentially a laptop that runs on Chrome OS, an easy-to-use operating system developed by Google. Chromebooks typically eschew high-end features like fast processors and big hard drives in favor of modest specs—and modest prices.
Many of the Chromebooks in our ratings hover right around the $500 mark, making them a good value for consumers who aren't too wedded to the macOS or Windows ecosystems.
"Chromebooks will run word processing and spreadsheet programs, and you can use them to browse the web," says Richard Fisco, who oversees electronics testing at Consumer Reports. "And if they break, nobody's going to cry too much because they don't break the budget."
Chromebooks rely heavily on web apps like Gmail and Google Docs, which lessens the need for the sorts of high-end specs you'd find on Mac or PC laptops. Those web apps are just as capable as their desktop counterparts, too, so you'll be able to take Zoom calls, participate in Slack chats, or trudge through your email in Outlook without skipping a beat.
There are almost 20 Chromebook models in our ratings, most of which are made by well-known companies like Acer and HP. And though many of these Chromebooks are priced right around that aforementioned $500 mark, we're seeing more models inch up in price. In fact, several options in our ratings, including the highly rated Acer Chromebook Spin and HP Chromebook 13C, are closer to $1,000.
While those devices ace our tests, the more modestly priced models highlighted below (in ascending price order) are plenty capable of tackling the everyday productivity tasks juggled by most students, families, and professionals.
This 14-inch notebook ticks most of the Chromebook boxes mentioned above: modest specs for a modest price, but enough power under the hood to take care of most "Chromebook-y" things, like browsing the web and handling office productivity files.
Those specs include an Intel Celeron processor, 4GB of memory, and 32GB of flash storage (similar to, but slower, than solid state). While 32GB is a bit of a squeeze, remember that Chromebooks rely heavily on cloud-based apps and storage, so you don't need as much space on the device itself as you would with a PC or Mac.
Our testers have mostly good things to say about this Acer model, particularly admiring its long battery life (nearly 16 hours while browsing the web) and light weight (3 pounds).
The display, to be fair, does have a tendency to wash out when viewed at an angle. That means it's not the best pick if you have to regularly share the screen with people nearby, perhaps reviewing documents together in person. But if you're flying solo, it shouldn't be as much of an issue.
This 14-inch notebook creeps higher in price but does give you a little bit more for your money, including an AMD Ryzen 3 processor, 4GB of memory, and 128GB of solid-state storage.
Once again, our testers point to the model's solid performance, long battery life (nearly 14 hours while browsing the web), and light weight (3.2 pounds). Even better, the display is one of the nicer ones available on a Chromebook: It is anti-reflective, gets plenty bright to use in direct sunlight, and has wide viewing angles, so it can easily be shared by multiple people at the same time.
This 13.3-inch convertible has a bright red design. Though we don't take that sort of thing into account when tabulating Overall Scores, there's no denying that it helps the Chromebook stand out from the crowd.
And thanks to the convertible hinge, you can fold the display behind the keyboard and prop the device up in tent mode for PowerPoint presentations. (See photo above.)
The specs and performance provide a good balance for the price. There's an Intel Celeron processor, 4GB of memory, 64GB of flash storage, and a battery that delivers 12.75 hours of web browsing. Again, not quite what you expect from a traditional laptop but more than enough to handle typical office tasks or schoolwork.