When you shop through retailer links on our site, we may earn affiliate commissions. 100% of the fees we collect are used to support our nonprofit mission.
Learn more.
Cleaning the kitchen or bathroom can be such an onerous job that some homeowners resort to the strongest cleaning supplies available. Commercial cleaners carry risks and should be used with care. Alternatively, you can make your own cleaning supplies at home using a few basic ingredients.
Typically, these formulas don't perform as well as the best commercial products (with the exception of the window and glass cleaner that Consumer Reports uses to compare with commercial products) and are not necessarily any greener or less toxic than store-bought cleaning supplies.
Here's a comparison of what you can buy and what you can make, adapted from Consumer Reports' "How to Clean Practically Anything."

Commercial Cleaners
All-Purpose Cleaner
Best for: Miscellaneous household tasks.
Careful! Don't buy versions that use antibacterial agents such as dimethyl benzyl ammonium chloride. The Food and Drug Administration says they're no better at preventing the spread of germs, plus they might help create forms of bacteria that are harder to kill.
Ammonia
Best for: Cutting through grease.
Careful! Many other cleaners also cut grease, including dish soap, so explore other options first. If you use ammonia, dilute it (eight parts water to one part ammonia). Wear gloves and work in a well-ventilated area. Wear goggles; ammonia can cause blindness when splashed in the eyes. When mixing, add the water to the ammonia. And never mix with bleach.

Bleach
Best for: Wiping away mildew or cleaning a kitchen surface after prepping raw meat, poultry, or fish. It's a powerful bacteria killer.
Careful! Don't mix bleach with products such as toilet bowl cleaners or ammonia. When they're combined, they can produce deadly fumes. Always wear gloves and work in a well-ventilated area to protect yourself when cleaning with bleach.
Glass Cleaner
Best for: Windows and mirrors.
Careful! Don't use full-strength ammonia-based window cleaners. Our tests show that you can dilute them and still get your windows really clean. Try our homemade version below.

Toilet Bowl Cleaner
Best for: Cleaning and disinfecting the bowl.
Careful! The American Association of Poison Control Centers lists corrosive toilet cleaners among the most dangerous toxins found in homes. Save them for when people in your house are sick or when you really need them—when you have rust and stains, for example.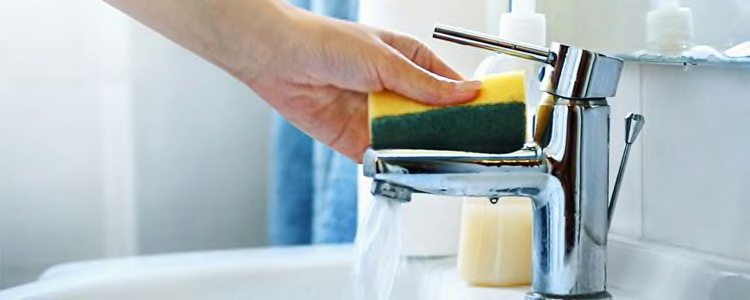 Homemade Cleaners
All-Purpose Cleaner
For everyday kitchen and bathroom cleaning, mix one part ammonia and eight parts water. Add a few drops of dish detergent. Use in a well-ventilated area; wear gloves and goggles.

Furniture Cleaner
Plain water and a little mild liquid dish detergent protect sealed wood furniture from common stains. Mix well and store in a spray bottle. Spray onto furniture, then wipe with a damp cloth and finish drying with a clean, lint-free cloth.

Glass and Window Cleaner
• 1⁄2 cup ammonia
• 1⁄2 teaspoon liquid dish detergent
• 1 pint rubbing alcohol
Add enough water to the ammonia and rubbing alcohol to make a gallon. Pour into spray bottles.

Silver Cutlery Cleaner
• 1 piece of aluminum foil
• 1 to 2 tablespoons baking soda
• 2 quarts boiling water
This technique removes the tarnish uniformly, so don't use it with antique or intricately patterned silver. Put a piece of aluminum foil into a plastic or glass container, lay the tarnished piece of silver on top, sprinkle it with baking soda, and cover with boiling water. Soak until bubbles stop, then rinse and polish with a soft cloth. What happens? The silver sulfide (tarnish) breaks down and transfers to the aluminum foil, which you can throw out. The result: shiny silver. You can treat larger pieces this way in the sink.
More on Cleaning Supplies
For more cleaning supplies, see the results of our tests of laundry detergent, dishwasher detergent, all-purpose cleaners, and paper towels.



Clean Your Kitchen Like a Scientist
Want a spotless kitchen that's free of dangerous bacteria? On the 'Consumer 101' TV show, Consumer Reports' Chief Scientist, James Dickerson, shows you how to make it happen.