How to Choose the Right Puffer Coat
There's a lot to consider when shopping for the right down jacket for yourself I'm originally from San Francisco, where the North Face fleece famously reigns supreme. When the weather dips below 50° F, which is rare, and the fashion expectations are relaxed at best, there's little need for much more than a soft, cozy fleece. 
Suffice to say, I was not prepared when I moved to New York City, even though I'd heard stories of bone-chilling wind and slick grey snow that never melts piled up on sidewalks and curbs. My wool-blend coat from a popular fashion retailer (read: not an outerwear brand), which I bought when I moved here, was never quite enough for the depths of January, even though I'd spent a good $350 on it. When the pandemic hit, and winter socializing was moved outside, I was miserable. 
Eventually, I settled on a puffer jacket from a brand that specializes in outdoor apparel, but it felt unreasonably difficult to decide that this was the coat for the job. I was only confident that I picked the right one because I went into an actual store and asked the employees there for help. This isn't a possibility for countless folks who don't have easy access to good in-person retail stores, especially when we're still in the midst of a pandemic that is hitting some areas notably harder than others. The store associate was helpful, but I wanted to know how to shop for a coat should I eventually decide to do it on my own.
So I did what I do best: a lot of research. A lot of interviews. And a lot of looking at coats of all stripes. Are you an urban commuter in New England? A parent in Seattle who needs the right jacket for overseeing soccer practice? A Chicagoan bird watcher? We're here to break down what makes a powerful coat so you can withstand the elements outside.
A Very Brief History of Down
Down seems, at least to me, like an eternal technology—we've been eating birds for millennia, so it seemed to follow that we'd be wearing them for millennia, too. But the down puffer coat as we more or less know it today wasn't invented until the 1920s. Its first incarnation came from an Australian alpinist named George Finch, who created what he called his "eiderdown coat" (shown below). It was a dramatic departure from what his colleagues on the mountain were wearing—wool, primarily—and he was mocked for it. Eddie Bauer hopped on that train and patented the first down coat in 1940.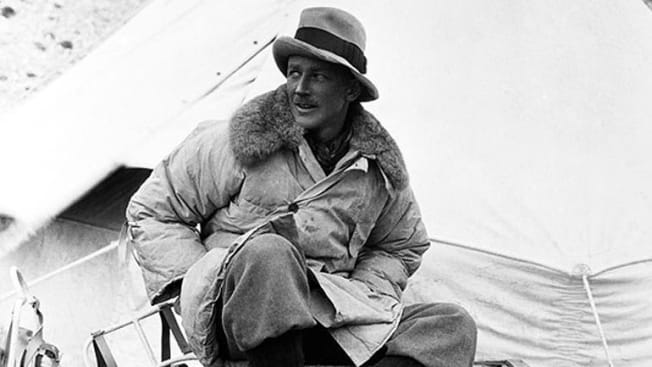 In 1973, fashion designer Norma Kamali invented the fashionable, rather than merely functional, down coat we're familiar with now. Emerging from her tent to pee in the middle of the night, she carried her sleeping bag over her shoulders to keep warm, discovering in the process that the fluffy sleeping bag could function nicely as apparel, not just as bedding. True to its origin, it's called the Sleeping Bag Coat.
Down coats have come a long way since Norma Kamali's wearable sleeping bag, but at its core, it's still the same: a very warm garment made from goose or duck down, which are a bird's soft, light under-feathers that help keep the animal warm. Compared with regular feathers, quality down is softer and lacks the sharp, hard quill that can poke through a coat's shell. 
You'll know whether a coat has more fluffy down instead of poky feathers by looking at what's known as "fill power." Scientifically speaking, fill power is measured by how much space in a cylinder an ounce of down takes up after it has been compressed. The more space the down takes up, the higher quality it is. 
Inside a coat, "it's the loft in the feathers that traps dead airspace, and dead airspace is really what results in warmth," says Corey Simpson, the communications manager at outerwear brand Patagonia. "So the higher the fill power, the more of that lofty feather is there and the less of the quill is in there." Fill power typically ranges from about 450 to 900 (see below), though that high range is expensive and usually isn't necessary for most people (unless you're climbing Mount Everest).
Trapped air is what keeps you warm with any material, even wool or knits, says Laura Akita, the category manager at The North Face. "So the reason that down is a really efficient insulator, and something that especially [technical designers] really like to use is because it is able to trap a lot of warmth, at a very low weight."
Low vs. High Fill Power
The higher fill power captures heat more effectively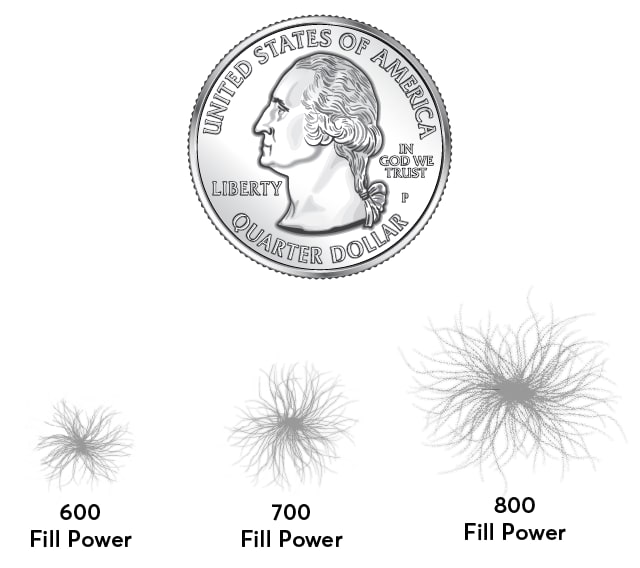 For a very warm coat, you want high-quality down that can hold all that body heat, making use of the natural furnace of the body to keep it comfortable. Unfortunately, you can't rely solely on fill power to determine how warm a coat will be. While fill power measures how much space the coat's insulation takes up, fill weight measures—you guessed it—how much it weighs. A higher down weight (in other words, a heavier down coat) means there's more down fill packed into a coat, which usually translates to a warmer product (see below).
This is why you can find super-slim down jackets with high fill power; the jacket is made with very high quality down, but there's not that much of it. 
"The best way to use weight factor is in combination with the fill power because more down with a lesser fill power can be warmer than a higher fill power that has less down in the coat," says Tanya Domina, a professor of ​​fashion merchandising and design at Central Michigan University. "The higher the fill power, the better the insulation will be, but that is affected by how much of the down is in the product by weight. Both of these being high is better for the warmth of the coat."
Low and High Fill Weights
The higher fill weight means a bulkier, and often warmer, jacket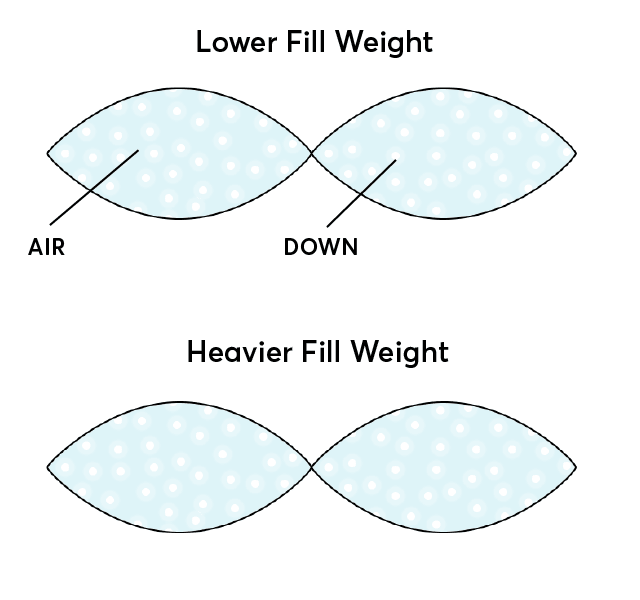 Shopping for Your Down Coat
Find the Fill Power and Fill Weight for You
Not every retailer will tell you the down fill power of a coat; even fewer will tell you the weight. The best thing to do in this situation is, quite simply, to ask. Email customer service, or if you live in an area with a decent store that carries winter coats, walk in and chat with the associates at the shop. 
If you can't or don't want to talk to anyone (or if the folks working the place don't know the particulars of down), you can evaluate a coat by its poofiness. A thick, bulky jacket "will show you that they put more down in something," says Deborah Beard, an associate professor of technical design at the Fashion Institute of Technology. 
For example: My poofy new winter coat has a 600 down fill power rating and weighs 834 grams. Though the brand has another 600 fill power coat that I liked better, because it's much thinner and weighs only 516 grams, I knew it wouldn't be quite as warm, even though they have the same quality down.
My heftier coat (which I like to think is poofy in a cute, retro way) isn't as compressible, so it wouldn't be the best option if I were backpacking, doing super active work that requires a lot of agility (like skiing), or traveling frequently and therefore needed to stash it in luggage. But it's an excellent option for me, who will be commuting in New York City during winter days that hover around freezing temperatures. 
In a colder environment, like Chicago or Montreal, a commuter like me might need a poofy, heavy coat with a higher fill power, like 650 or 700, depending on activity level and metabolism; folks in places like Seattle, where winter temperatures generally hover just below 50° F, can get by with down fill power on the lower end of the spectrum—or, conversely, they could get something with a higher fill power but which weighs a lot less, like the cute coat I was eyeing but decided against. 
Consider Precipitation
Because I live in a city with a moderately wet winter—it snows here—I made sure to choose a coat with a water-resistant shell. It's recycled nylon coated with a "DWR" (durable water repellent) finish that will cope with most light to moderate precipitation. If you're going to be battling the occasional rain or snowstorm, you're going to want to choose a coat that calls out its water-resistant properties, which is typically in the form of a coating on the coat's shell or inside the coat, on the down itself.
The conventional wisdom is that if down gets wet, the down clumps together in a damp mass and won't regain its loft, thereby losing its warmth, says Haskell Beckham, the senior director of innovation at Columbia Sportswear. But that's not necessarily true anymore. "There are lots of down products on the market that have been modified and finished so that they actually don't behave like that anymore. So there's quite water-resistant down—that's how you'll see it labeled," he says. In general, if you're not really active and you have a water-resistant or waterproof shell, then down is going to be fine, he says.
But in really wet climates, or if you're particularly active and may sweat in your jacket, synthetic down might be your best bet.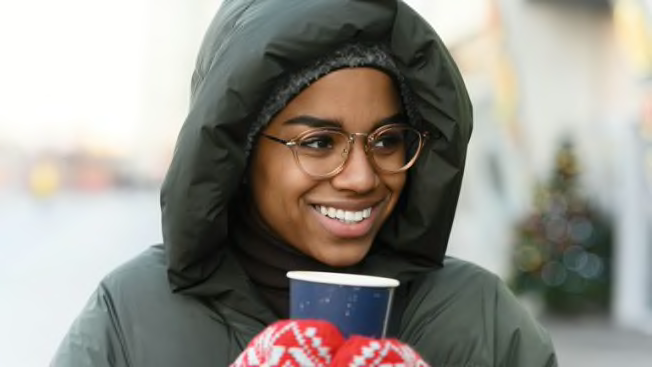 Other Features to Consider
As fascinating and critical as the insulation of your coat may be, unfortunately, it alone doesn't define how a down jacket or coat will perform. "It's really about taking in that overall picture because you really don't want to shop just on fill power," says Simpson.
Does the Coat Have a Hood?
A coat without a hood may have a sleeker look, but it won't keep you as warm as one that does. Consider a hood with drawstrings or other adjustment features, so you can ensure it fits snugly around your head in wind or rain.
How Does the Jacket Close?
The classic Norma Kamali sleeping bag jacket, as cozy as it may look, has one big flaw: It closes with a belt around the waist, if it closes at all. Look for jackets with zippers, preferably with a flap that extends beneath or over the zipper for additional protection from precipitation. A jacket that merely buttons or snaps, or has a cheaply made, exposed zipper, will let in cold air and moisture.
How Long Is the Coat?
Unless you're wearing ski pants, says Beard, you might want to consider a coat that's long enough to keep your legs warm. Simpson agrees. "If I'm sitting on benches or walking long blocks in windy, cold conditions, I'm going to want a longer parka length jacket that goes past my hips," he says. 
Is the Puffer Sustainable?
The question of how sustainable and ethical your puffer coat is has a complicated answer. Ultimately, your best bet is to find one that will last years and years, take good care of it, and avoid replacing it until absolutely necessary. 
What Does the Coat Cost?
Generally (though not always) pricier down coats will be higher quality. In the United States, down products must have a 75 percent down-to-feather ratio to be considered a down product. The higher the percentage, the higher quality down fill in a coat, and a usually better coat. "Everything is driven by price points, really," says Beard. Price determines what's in the coat—whether that's a high-quality down or an inexpensive synthetic—how much of it is in the coat, and how the coat is crafted, she says. Still, you can certainly buy a very expensive coat from a luxury brand that bases its prices off its designer cachet more than the quality of its materials, so if you're not sure, ask customer service about what features make it so great.