When you shop through retailer links on our site, we may earn affiliate commissions. 100% of the fees we collect are used to support our nonprofit mission.
Learn more.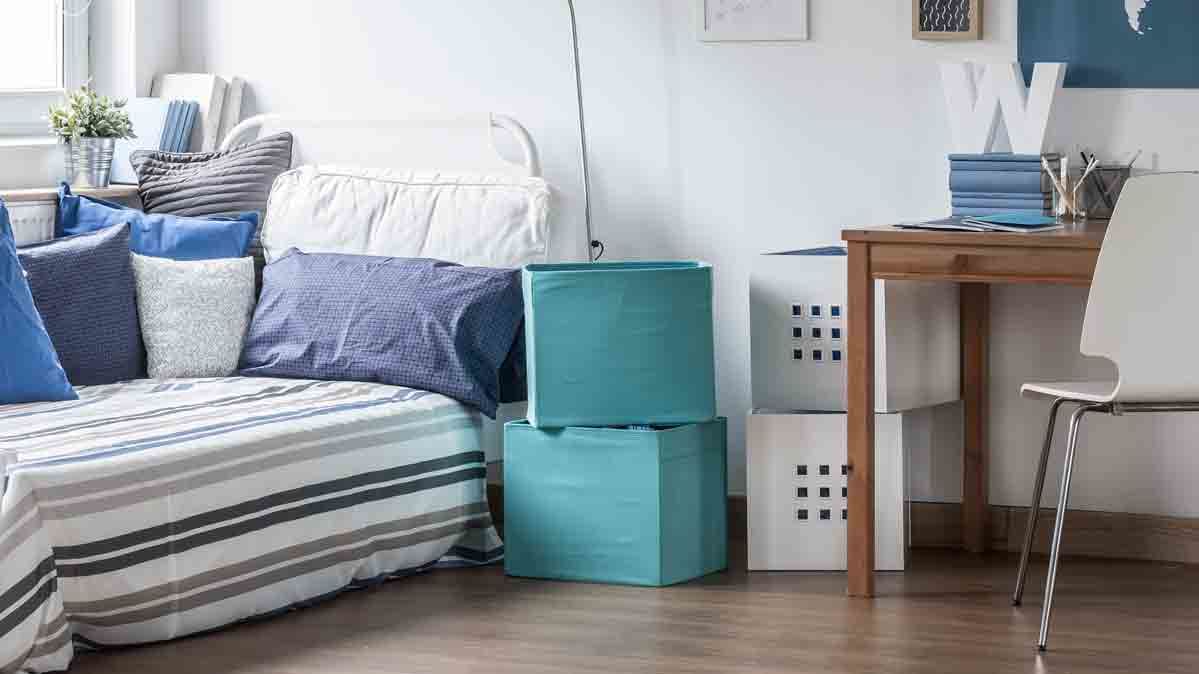 It's hard to believe, but your munchkin is all grown up and heading off to college in a few short weeks. That means there's lots of packing to do. If your child's list is long, she's not alone: Consumers planned to spend an eye-popping $55 billion on back-to-college gear in 2018, according to market research firm Mintel. But you don't want to go overboard.
"Most students bring too much stuff," says Mike Glowacki, assistant to the director of resident life at the University of Maryland. "Too many clothes, shoes, and comfort items. Parents should think of everything their child needs, and cut it by 25 percent or so."
Of course, it helps to know what not to bring. Search the college's website to see what each room offers, and whether students have access to communal items, like a refrigerator or microwave. Be sure to check the list of prohibited items, too, such as extension cords, halogen lamps, electric blankets, toaster ovens, and space heaters.
Ask roommates what they're bringing, and arrange to share things when possible. Another strategy to help lighten the load: Remember that the more you buy now, the more you will have to lug back home at the end of the school year or pay to put in storage.
So what should make it on the packing list? Here are seven essentials that your student is sure to appreciate, all of them recommended models from CR's tests.
Sheets
One of the most comforting things you can get for your student is a great set of sheets. After all, she needs whatever hours of sleep she gets to really count so she can wake up ready for class. And she needs sheets that last.
Check with her school to see what size sheets she needs; most dorm beds are 5 inches longer than the standard twin, so only twin XL sheets will fit. Cotton sheets, like the ones we recommend below, remain popular. We buy only queen-size sheets for our tests, and the prices we list in our CR's sheet ratings reflect this, so keep in mind that twin XL sheets cost less.
Humidifier
There's nothing sadder than a sniffly, stuffy child on the other end of the phone. Dorm rooms can get hot and dry in the winter, and a small cool-mist humidifier can help keep humidity levels to the ideal 30 to 50 percent. It keeps the air moist, alleviating dry throats and skin, as well as any cold or flu symptoms. Just remind your kid that it needs to be cleaned after every use to prevent bacteria from growing and being released into the air. The model highlighted below is for small spaces, check CR's humidifier ratings for additional details on this and other humidifiers we test.
Noise Canceling Headphone
Combine a small dorm room and a roommate with a wireless speaker blaring, and you can see where noise-canceling headphones come in handy. Below is a CR Best Buy from our noise-canceling headphone ratings, which gives your child above average sound at a great price. Your student can use them in the library when she's studying, too.
Portable Bluetooth Speaker
For when your child has friends over for a little party or to watch a movie, a speaker with good sound is key. He'll want one that is compact enough to keep on his desk, and you'll want one that has a reasonable price tag. In CR's wireless speaker ratings, the portable speakers we test cost as much as $600, but the one highlighted below gives you real bang for the buck. Bonus: He can take it with him to a friend's or even outside on a sunny day.
Handheld Vacuum
You dream of your child having a clean, sparkling dorm room? You can do better than hope. Give him a hand vac, and crumbs and other rodent-attracting debris will be gone in no time. CR has test results for 12 hand vacs in CR's vacuum ratings, and the one below is a CR Best Buy.
Coffee Maker
If your child's dorm allows coffee makers, or if your child lives off-campus, being able to brew her own joe anytime day or night is a real perk. You'll find over a dozen impressive drip coffee makers in CR's coffee maker ratings that are under $100, including the one we highlight below. We also test single-serve coffee makers, but most of the higher scoring models are $150 or more, and the cost for coffee refills can really add up.
Microwave
For that late-night frozen burrito snack, your child needs a microwave. If his dorm allows it, or if he drew the stick for getting a microwave to share with suite-mates, you want a machine that can handle plenty of use, and that won't break the bank. CR tests small, midsized, and large countertop microwaves for CR's microwave ratings, but you'll probably want to skip the large ones for space reasons. Small microwaves save space, but none of the models in our tests scored well enough to be recommended. Below, we recommend a midsized model.