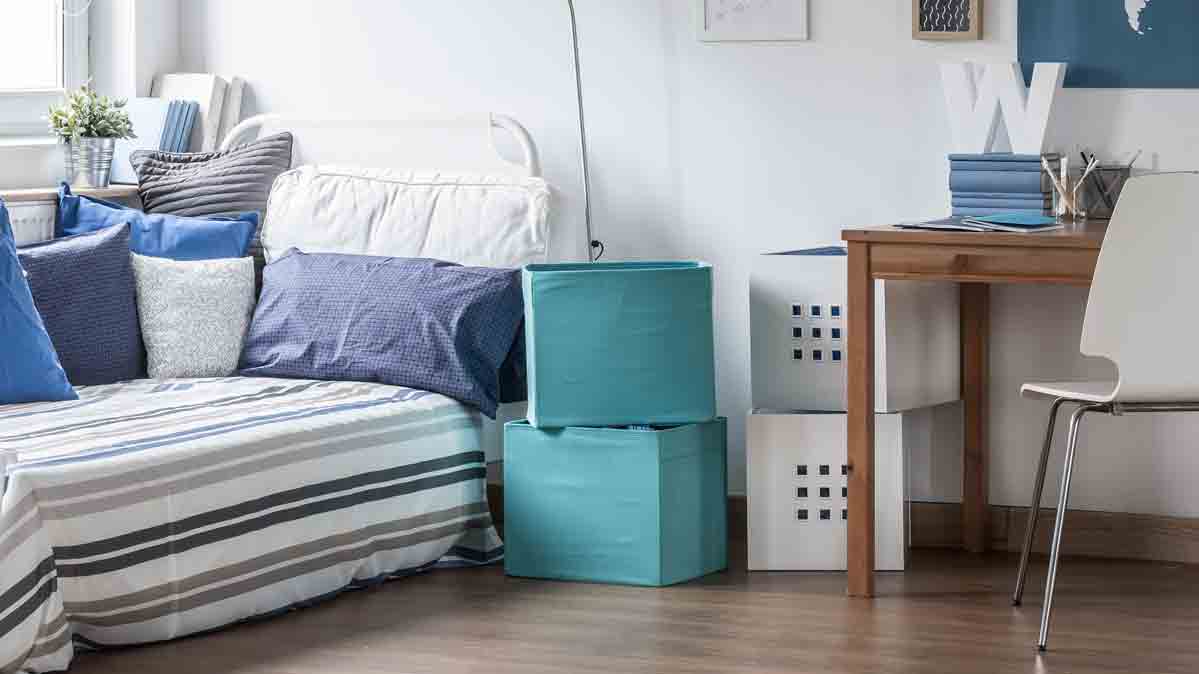 The list of stuff you're told to buy when sending your kid off to college is long, and it adds up fast—but some of it's unnecessary. Focus on the basics for a student living in a small dorm room or that first apartment to make packing easier and save money. And don't be tempted to go overboard.
"Most students bring too much stuff. Too many clothes, shoes, and comfort items," says Mike Glowacki, assistant to the director of resident life at the University of Maryland. "Parents want to have their children ready to go. But think of everything your child needs and cut it by 25 percent or so."
MORE FROM CONSUMER REPORTS
Start by searching the college's website to find out what each room offers and whether students have access to a communal refrigerator and microwave. Check the list of prohibited items, such as extension cords, halogen lamps, electric blankets, toaster ovens, and space heaters. Rule of thumb: Leave items at home if they present a safety hazard or an annoyance to others, or if they can damage a room or its furnishings.
Students should get in touch with roommates to find out what they're bringing and arrange to share things, when possible, to save space and money.
For a student sharing an apartment off campus, save by divvying up the essentials with roommates (one buys the coffee maker, another buys a microwave). And keep this in mind: The more you buy now, the more you will have to lug back home at the end of the school year or pay to put in storage.
Here's what you need and what you don't.
What to Buy
Bath towels. Expensive towels that'll look great for many years might be wasted on the young. Choose thicker but affordable towels for their absorbency. If your child uses products for treating acne, buy inexpensive white towels. The benzoyl peroxide in acne creams and gels bleaches colors towels, leaving orange blotches. Another option is towels that resist bleaching, such as the L.L.Bean Premium Cotton Towels that we tested. But know that bleach-resistant towels are not cheap.
Sheets. For dorm living, check the size of the bed online. Most dorm beds are 5 inches longer than the standard twin, so regular twin sheets won't fit. You'll need XL twin sheets and a longer mattress cover, too, along with a comforter or blankets. Sheets that are 100 percent cotton are your best choice.
Cotton-polyester blends also work well, but skip microfiber because it isn't as breathable as other fabrics and can make you feel hot while sleeping. Jersey sheets can stretch out after just a few washings.
Microwave. A dorm may offer access to a communal microwave or not allow microwaves, and the apartment may already have one, so check. We buy and test small, midsized, and large countertop microwaves, which may be too big for a small space.
The small microwaves we've tested do not heat as evenly as the best midsized models, and they aren't as speedy. But if counter space is limited, consider the Sharp SMC0710BB/BW, $80, and Panasonic NN-SD372SR, $150. Both can handle basics such as reheating, making popcorn, and defrosting.
A midsized model may work in an apartment if there's enough room on the counter. Take a look at the options in "Best Countertop Microwaves for $150 or Less."
Coffee maker. For off-campus living, you'll find a number of impressive drip coffee makers in our ratings that cost well under $100, like the Hamilton Beach 12-cup Programmable 49465, $25.
Single-serve coffee makers let you brew coffee right in your travel mug, but keep in mind that replenishing the coffee pods can cost more than buying regular ground coffee or beans. All our top-performing single-serve machines cost more than $100, with the exception of the Hamilton Beach FlexBrew 49988, $80. Our coffee maker ratings provide all the details.
What to Wait On
Minifridge. A compact refrigerator may be a waste for someone with a good meal plan, but others put this in the essential category for a dorm room. If there isn't a communal refrigerator, check the school's policy—some allow only rentals. Your student could split the cost of a rental with a roommate, but consider waiting a few weeks into the school year to see whether a fridge is necessary. If so, order online and have it shipped straight to the dorm.
Humidifier. If your child complains that the dorm room or apartment bedroom gets hot and dry in winter, order a small humidifier, such as the $30 Honeywell HUL520, online. Remind your student that a humidifier needs to be cleaned after every use to prevent bacteria from building up.
What to Skip
Iron. There's little time or space to iron, and you probably worry more about the wrinkled, rumpled look than they do. For the student who does seem to care, pack a spray bottle of Downy Wrinkle Releaser Plus. It did the trick in our tests.
Expensive bedding and decorative pillows. The extra pillows eat up valuable space. Fancy sheets and comforters may get ruined when washed, or they may be easily stained by food.
Extra set of sheets. Buying them assumes the sheets will be changed regularly. From our experience, college students are busy and change sheets when they finally do laundry, then put the same set of sheets right back on the bed.
Alarm clock. Essential to you but a relic to college students. Your child can set the alarm on his or her smartphone.
Consumer Reports is an independent, non-profit organization dedicated to helping consumers. We make it easy to buy the right product from a variety of retailers. Clicking a retailer link will take you to that retailer's website to shop. When you shop through retailer links on our site, we may earn an affiliate commission – 100% of the fees we collect are used to support our mission.
Learn more.
Our service is unbiased: retailers can't influence placement. All prices are subject to change.