When you shop through retailer links on our site, we may earn affiliate commissions. 100% of the fees we collect are used to support our nonprofit mission.
Learn more.
If you want to know what the future of virtual reality looks like, let me tell you.
It's a red kitchen.
Not a very cool kitchen, either. It has two small windows and four meager cabinets. The gleaming white countertop on the center island overwhelms the space. Mostly, though, I hate the color of the room. It's too dark. Too formal. Makes me feel like I should don a sport coat before I have my morning oatmeal.
But, hey, no big deal. It will only take a few moments to fix.
That's because I'm not seated in a real kitchen, but rather a virtual reality kitchen—one designed with software created by a company called Marxent.
By gazing into an Oculus Rift headset, I can survey the whole room, right down to the faucets, the light fixtures, the floor tiles, the art on the walls, and the red KitchenAid mixer in the foreground. All were assembled to precise scale using a renovation app developed for Lowe's, the home-improvement retailer.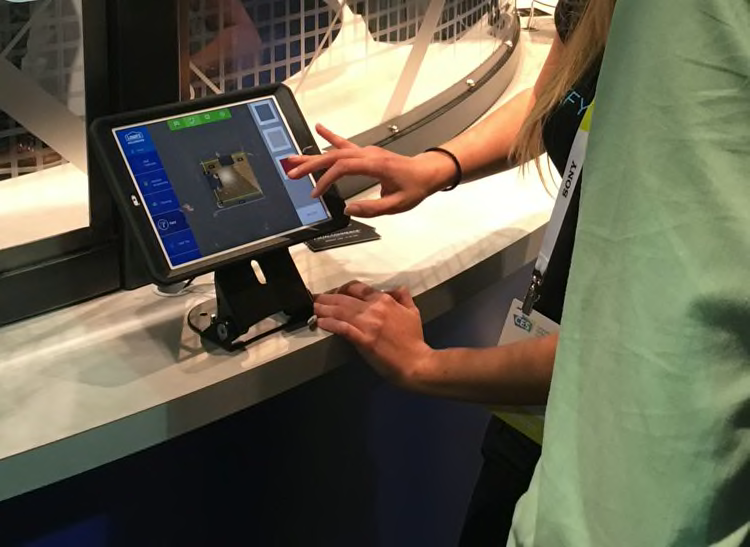 Given all the attention lavished on VR gaming, it's easy to overlook the technology's likely impact on the everyday consumer. In the years ahead, you may well try on wedding dresses via a virtual reality headset. Visit reception halls, too. Or tour 10 for-sale homes in a single afternoon—without ever leaving your sofa.
Lowe's new Holoroom program will soon let you download an app to a tablet, quickly create a grid mirroring the layout for a kitchen or bathroom in your home, and then renovate that room with hundreds (if not thousands) of items from Lowe's inventory.
Choose a sink cabinet and slide it along the wall until it's right where you want it. Now swap in a few faucets and Formica samples. Add a refrigerator, dishwasher, windows, floor tiles, light fixtures, cabinets, etc. Those products have all been laser scanned and uploaded to the app so they look much like the real thing.

Once you've got everything the way you want it, you upload your design to the cloud, then drive to a store to review it on a virtual reality headset. At the moment, those headsets are available at six Lowe's locations—three in Ohio and three in Colorado—but the retailer plans to expand the program in the next few months.

Inside the store, a Lowe's associate will seat you in the Holoroom booth, help you put on the headset, and get your impressions as you survey your work. If you look down in dismay at an overly busy floor pattern, he or she can replace it with a new one, using a monitor that reflects what you see.
After you've made those last few tweaks, you return home with a free Google Cardboard headset—just in case you want to run the design by your family and friends.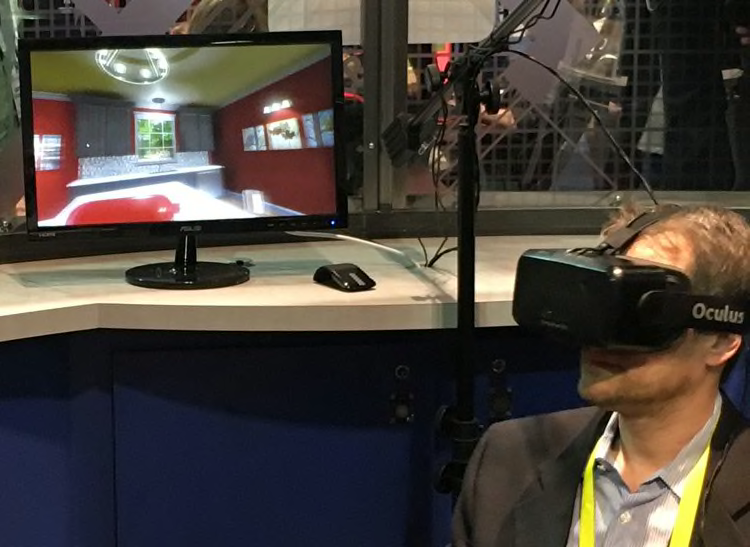 The very idea that I can create the kitchen I want with so little effort really appeals to me. And the fact that I can then see before my eyes a three-dimensional representation of that kitchen is even better. Marxent has designed similar apps for Toyota and TimberTech, which means that customizing cars (at least to some extent) and outdoor decks may be just as simple.
Imagine, if you will, checking out the view from Machu Picchu before you book a flight to Peru. In fact, who says you have to limit yourself to dry land? I recently took a virtual reality scuba dive. Explored an underground cave, as well.
That's not to say those experiences measured up to the real thing. In truth, the scenes in my headset looked a lot like the ones you'd find in a video game. Then again, it's way too early to disparage the picture quality, especially given the new camera tech unveiled at CES 2016, the huge technology trade show held last week in Las Vegas. (Who knows what VR content might look like in another year or two?) Plus, in the end, the images I viewed did reveal things I hadn't expected.
When the red on the kitchen walls in the Lowe's app reflected off the stainless steel sink, for example, it gave the room a pinkish hue. And, while the light fixtures on the ceiling looked nice, they lacked the oomph to brighten up the space. Strangest of all, I now have the urge to go spelunking.
But because the Lowe's experience also provided me with a pretty solid estimate of the material costs for my renovation, I knew where my money was going and what sort of adjustments I could afford to make. When I discovered the horror of those red walls, I simply selected another color from the Sherwin-Williams catalogue—something more like peach—and voila! Problem solved.
Tools like those are useful enough to offset any reservations I have about sharing my design wish-list with a retailer. And they make virtual reality seem less like a novelty, and more like, well, the future.