When you shop through retailer links on our site, we may earn affiliate commissions. 100% of the fees we collect are used to support our nonprofit mission.
Learn more.
The Future is Now:
Self-driving Cars
Consumer Reports has been testing automobiles since the 1930s, and in those early days, our staff would borrow their friends' cars to test! We've come a long way since then, and these days we purchase every vehicle we test, but our goal remains the same—we want consumers to have all the facts they need to make smarter decisions—and your support makes that important work possible.
Today, automakers and technology-sector partners are racing to make self-driving cars a reality and at our auto track and test facility in Colchester, CT, we have been rigorously testing driver-assist technology such as automatic emergency braking, forward-collision warning, blind-spot warning, lane-departure warning, and rearview cameras. While we may not see fully self-driving cars on every corner for a decade or two, CR is looking ahead.
In July, CR's Policy Analyst William Wallace provided testimony to members of Congress
considering bills that would affect future deployment of self-driving cars. Wallace urged a House subcommittee to put safety first, ensure the technology is fully understood and called for safety data to be made public.
Working to Protect Future Consumers
"We said these cars have enormous potential to save lives one day," said Wallace. "But some of the provisions being considered would not be good for consumers. For example, we don't want to exempt automakers from crash protection standards and we do want them to share testing data. That way, we can make sure these cars are rolled out safely."
Wallace said, "It's an honor and a privilege to work with decision makers to ensure consumers' voices are heard. And especially to do it at Consumer Reports, because of the passion and the dedication of our loyal supporters."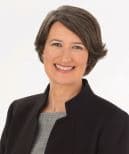 Dear CR supporter,
Thank you for contributing to the work of Consumer Reports! You go above and beyond by donating to help support our testing, reviewing, and rating.
I hope you enjoy this inside glimpse of how your donations are making a vital difference to the wellbeing and safety of consumers.
With gratitude,


Shar Taylor
VP, Development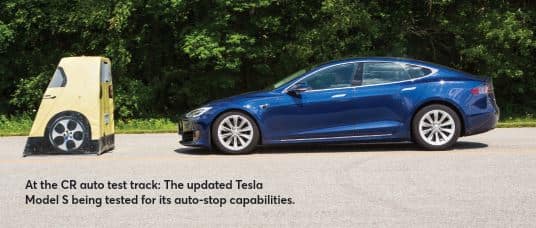 ---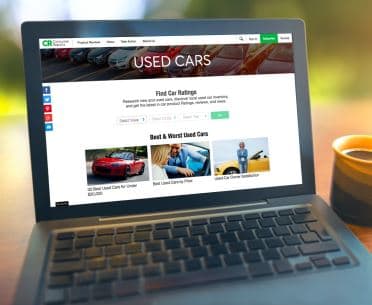 Buying a Used Car?
We're Here to Help
Many of you have long relied on Consumer Reports' ratings and reviews to help you select the best new car to meet your needs and budget. Now, we're happy to extend the same valuable information to you on used cars.
In the recently launched Used Cars section of our website, we've compiled a robust online resource to make the process of buying a used car easier and more transparent. Users can search cars by make, model, and year to uncover specific pros and cons associated with each vehicle, or consult guides identifying the best used cars by price, highest user satisfaction, and more.
Apart from real estate, automobile purchases can be some of the largest we make. And thanks to dedicated supporters like you, we're able to provide millions of people with the comprehensive, unbiased data they need to make well-informed purchases.
Protecting Our Children From Tip-over Injuries
On average, three children are injured every hour by a TV, an appliance, or piece of furniture falling on them; and each year, about two dozen children die as a result.
Donor support helps CR to rigorously test furniture for this safety hazard and to provide consumers with advice on avoiding tip-over hazards in their home, installing anchor devices on heavy items, and making sure remote controls and other tempting items are not left in high places that young kids might climb to reach.
But more needs to be done. So we are pressing to strengthen the furniture industry's voluntary safety standard for chests, dressers, and other items, and calling on manufacturers to take more meaningful actions to improve the stability of their products. We plan to ratchet up our efforts aimed at companies in the coming months and we'll be using your donations to support that work.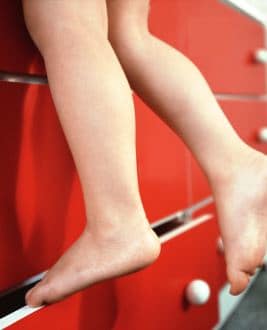 ---
Meet David Friedman: Director of
Cars and Product Policy and Analysis
Consumer Reports is thrilled to welcome David Friedman as its first Director of Cars and Product Policy and Analysis. Before joining the team at CR, David held senior government positions for both the National Highway Traffic Safety Administration (NHTSA) and the Department of Energy. We sat down to talk to David about his work and his plans to make cars safer for both people and the environment.
What attracted you to this job?
This job is a culmination of the last 25 years of my life. I think of myself as a geek who can speak. Consumer Reports is a place where I can use my voice to move the market and change policies to save lives. CR's deep scientific rigor appeals to me as an engineer, but I like that they also translate the science so real people can understand it. I love to dive into the details of how things work, but I also love communicating that information to people who can use it for good.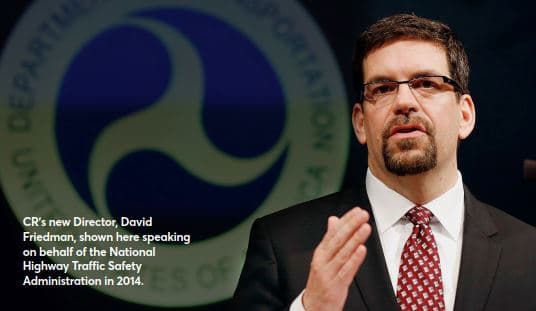 What are your first priorities at Consumer Reports?
I have several. Auto safety work is a big one—in 2015, 35,092 people lost their lives in car crashes across America. That's a significant increase over the previous year, so we know something is going wrong. I want to make sure we are doing everything in our power to reduce the number of car-related deaths.
Consumer choice around energy and the environment is another big topic for me. People may not realize it, but U.S. consumers spend about $1 billion every day on gasoline. Whether you want to drive a gasoline-powered vehicle or go for an electric car, we want to
make sure consumers have great options that meet their needs and help them save on gas. We also want to make sure consumers can save money through more efficient appliances.
Any observations about Consumer Reports so far?
I'm impressed with how much CR accomplishes with the resources it has. We make every dollar stretch to get maximum impact and the extra support we get from our donors really matters.
And, we would be remiss not to ask: What kind of car do you personally drive?
I drive a Ford C-MAX plug-in electric car. It gets over 20 miles on all-electric power, which means I only ever use gas on weekend trips when I'm heading out of town.
Prior to joining Consumer Reports, David Friedman served as both Deputy and Acting Administrator of the NHTSA, and as Principal Deputy and Acting Assistant Secretary for the U.S. Department of Energy's Office of Energy Efficiency and Renewable Energy. He has also worked at the Union of Concerned Scientists, University of California, Davis, where he is a PhD candidate. He is based in Washington, DC.
---
A Legacy of Consumer
Advocacy: Kenneth Baran
Like many people, I first discovered Consumer Reports through the magazine. I subscribed in the 1980s, right after I finished engineering school. I enjoyed reading the magazine—especially the product reviews.
Over time, I became increasingly aware of CR's work on behalf of consumers. And the more I learned, the more grateful I was that there was an organization dedicated to truth and transparency around products, business practices, and consumer protection policies.
Big businesses have a lot of power and a lot of resources to hire lawyers, or contribute to political campaigns. If it weren't for CR, people like you and me wouldn't have a voice in conversations that affect our lives—like product safety, Internet data privacy, and more.
For as long as there are companies focused on making a profit, everyday people will need a group like Consumer Reports. So, when I created my will, I decided to leave a gift to Consumer Reports. It feels good knowing that my contribution will support product testing and consumer advocacy efforts for many years to come. As the world continues to change rapidly, there is no doubt that this organization will be increasingly vital.
Kenneth Baran lives in Indiana with his wife and five cats. They have been long-time subscribers and donors to Consumer Reports.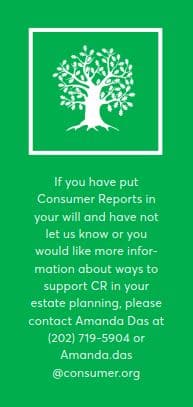 ---