Health insurance giant Aetna recently alerted thousands of policyholders of a change to their pharmacy benefits. Problem is, Aetna sent those letters out in envelopes that revealed that the recipient is HIV positive.
The Legal Action Center and the AIDS Law Project of Pennsylvania today called on Aetna to correct the issue, apologize, and stop the mailings after customers in several states say their privacy was violated by the insurance company.
According to the consumer organizations, on July 28 Aetna sent mailings to about 12,000 customers informing them of changes on how to fill the prescription for their treatment of the HIV virus. However, customers say that when they received the letters, their names and medical information — including that they were receiving treatment for HIV — were visible through a large window on the front of the envelope.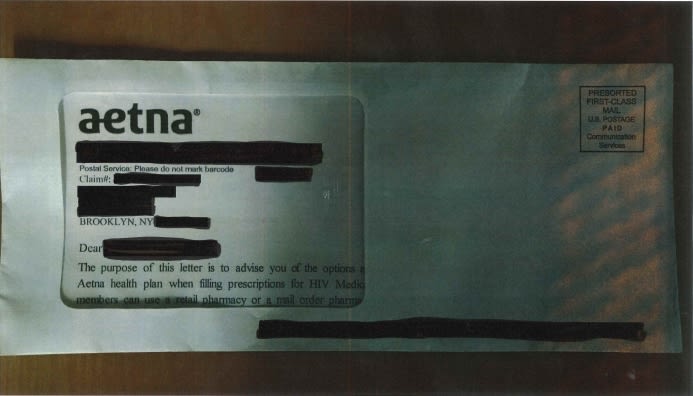 "Aetna's privacy violation devastated people whose neighbors and family learned their intimate health information," Sally Friedman, legal director for Legal Action Network, said in a statement. "They also were shocked that their health insurer would utterly disregard their privacy rights."
The groups say they have heard from consumers in Arizona, California, Georgia, Illinois, New Jersey, New York, Ohio, Pennsylvania, and Washington, D.C, who have been affected by the mailings.
The revealing envelopes have caused "incalculable harm" to Aetna beneficiaries, the group said in a letter [PDF] to the insurer.
"We demand that Aetna immediately cease and desist from sending any mail that reveals beneficiaries' medications or other protected health information to anyone other than the individual who opens the envelope," the organizations wrote.
For its part, Aetna tells Consumerist that the mistake is unacceptable.
"We sincerely apologize to those affected by a mailing issue that inadvertently exposed the personal health information of some Aetna members," the spokesman said. "This type of mistake is unacceptable, and we are undertaking a full review of our processes to ensure something like this never happens again."
Aetna notes in a letter sent to customers, and viewed by STAT News, that the issue could have been caused by the paper shifting in the envelope. The company suggested that the personal information visible through the window did not name a particular medication or that customers had been diagnosed with a specific condition.
However, a photo (above) of the mailing provided by Legal Action Center and the AIDS Law Project of Pennsylvania shows more information was visible.
Consumerist has reached out to Aetna for additional information. We'll update this post when we hear back.
Editor's Note: This article originally appeared on Consumerist.