Update: In March 2016, American announced that it was phasing out the hold option and transitioning to the 24-hour cancellation window option.
Even the most prepared traveler occasionally has to change their itinerary for unforeseen circumstances. While dealing with airlines to make a simple change can be both a test of your patience and a drain on your bank account, if you catch the issue soon enough you might save hundreds of dollars in change fees. That's thanks, in part, to Department of Transportation rules that allow a ticket to be held at the same price for 24 hours before purchase or canceled within 24 hours after purchase — most of the time.
Although DOT guidelines [PDF] on the 24-hour reservation requirements have been effect since 2012, not every traveler knows their rights or, more importantly, that the interpretation of these rules can vary from airline to airline.
Consumerist reader "B." found this out the hard way recently after booking and trying to cancel a flight on American Airlines within that 24-hour period.
Under the DOT's regulations, as long as a customer books a non-refundable ticket at least seven days ahead of the scheduled departure, an airline is required to offer one of two options: allow that customer to change or cancel the trip within 24 hours without penalty, or hold that reservation at the current price for 24 hours without payment.
While the regulations seem fairly straightforward, it should be noted that airlines are not required to offer both of the options, just one of them. That's where things can get tricky, especially in the case of American Airlines – B.'s airline of choice for his flight.
Unlike nearly all the other domestic airlines which subscribe to the policy of allowing a passenger to purchase a flight and make changes within 24 hours at no charge, American only allows customers to hold their seat and fare for 24 hours without payment.
Customers who pay for the fare without selecting the hold option will not be able to cancel or change their flight during the subsequent 24-hour period free of charge.
B. tells us that he purchased a flight with the airline, and thought the process would be the same as other airlines. Except it wasn't.
When he decided he needed more time to confirm with friends about the upcoming trip, he attempted to cancel the flight, as it was still within the timeframe afforded by all the other major carriers.
"I lost $550 to American Airlines recently after booking a flight and then canceling it within the 24-hour required period," he says. "When canceling the flight there was no notification that the cost would not be refunded."
He attempted to find confirmation on the airline's website about the cancellation policy, but he couldn't. That's, of course, because the airline only allows the holding of a fare for 24 hours, not the purchase and refund option.
"Because there was no indication that there would not be a refund, I assumed there would be and pressed the button," he says. "I didn't receive any form of notification and only realized that it wasn't refunded on my credit card several weeks later."
While B. does concede that he could have been more careful and that American allows the 24-hour hold option, he believes that choice isn't as visible as it could be.
"I went through the order process twice and asked two friends to do the same," he says. "None of us could figure out how to do it."
Part of the reason for this confusion is because the "hold reservation" selection is included with other payment options, like "Credit/Debit Card," and "PayPal":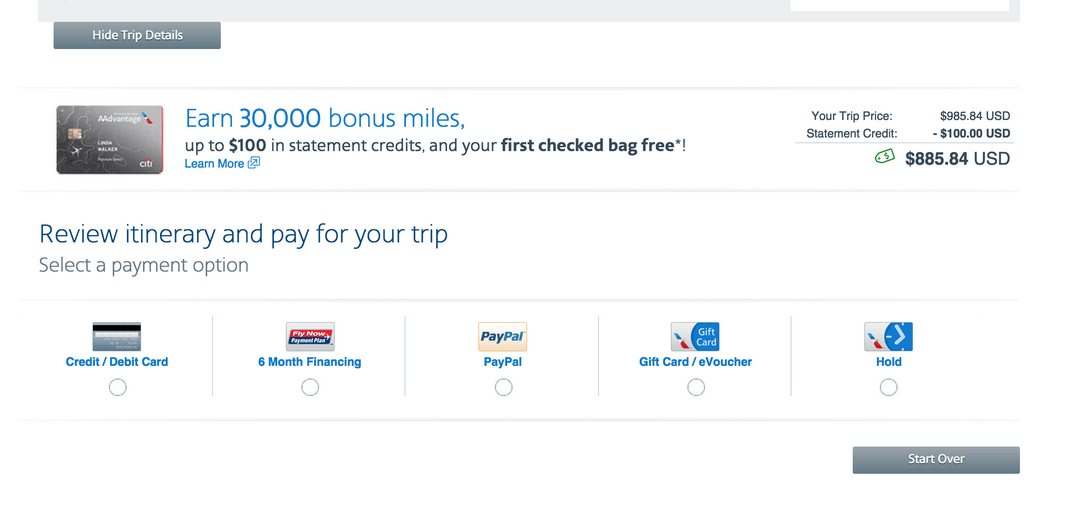 "I wouldn't normally consider a 'hold' a payment option," writes B., "and given its credit card-like symbol and location on the far right I just ignored it like I would ignore a specialized type of credit card that I didn't have."
Although American's hold reservation option may be lumped in with other payment options, it isn't technically running afoul of the DOT guidelines.
According to the requirements, carriers are expected to include information about their specific policy "in their customer service plans and to post the plans on their websites; they are also expected to incorporate the 24-hour reservation requirement into their general cancellation policies and make appropriate disclosure wherever those polices are provided to the public."
And American does indeed do that, dedicating a page to the hold policy.
To ensure airlines abide by the 24-hour reservation hold or cancellation policy, the DOT checks websites periodically and investigates consumer complaints. Any airline found to be in violation of the rules is subject to a civil penalty of up to $27,500.
For B. the confusion over American's policy ends on a happy note. After contacting the airline, a representative suggested B. file a complaint with customer relations, and he was eventually notified that a refund would be processed.
While it's possible that airlines may choose to change their preferred option under the 24-hour hold or refund regulation, here are the current policies (as of June 2015) for major U.S. airlines:
Alaska Airlines: 24-hour free cancellation.
Allegiant Airlines: 24-hour free cancellation.
American Airlines: Keeps reservations on hold for free for 24-hours.
Delta Airlines: provides a full refund if cancellation is made by midnight the day after purchase of most flights.
Frontier Airlines: 24-hour free cancellation.
JetBlue: 24-hour free cancellation.
Southwest Airlines: No fee for cancellation, customers receive full credit toward future flight.
Spirit Airlines: 24-hour free cancellation [PDF].
United Airlines: 24-hour free cancellation.
Travelers hoping to take advantage of the 24-hour rule will only be able to do so if they book directly with the airline – either through their website, on the phone or in person.
Third-party websites and outside ticket agents do not have to comply with the regulations, according to the DOT.
This means, if you book through a site like Airfare.com or others that compare ticket prices, you may be out the entire cost of your ticket, plus any fees imposed by that company.
However, the DOT has, in the past, proposed rules that would require certain companies – specifically those with revenue of $100 million or more – to adhere to the same 24-hour regulation. So far, those rules have not been approved.
Editor's Note: This article originally appeared on Consumerist.