Just a month after Amazon announced it would partner with Wells Fargo to offer Prime members a discount on private student loans, nearly all traces of the criticized program have disappeared. 
With the exception of news releases announcing the partnership, there is no sign of the Amazon/Wells Fargo student loan discount option on either company's websites.
When reached for comment by Consumerist, a rep for Well Fargo would only say that the "promotion for Prime Student members has ended." The bank declined to explain the reason for ending the program or say whether the offer was supposed to be so short-lived. Amazon also confirms, without explanation, the end of the program.
Previously, Wells Fargo hosted an entire page dedicated to the promotion, touting the ability for eligible college-aged Amazon Prime members to received up to a 0.75% interest rate discount on new loans.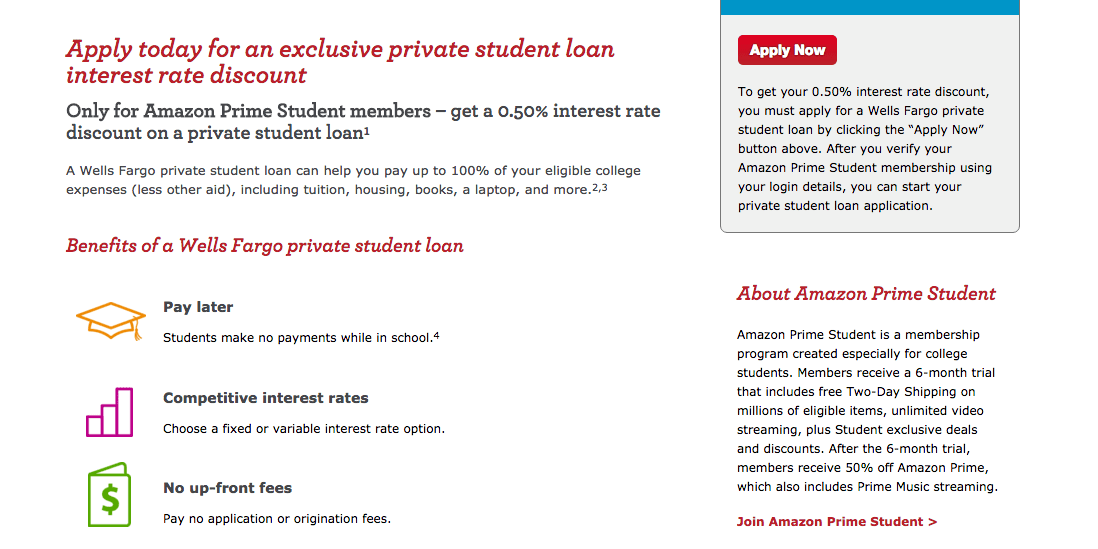 That page, www.wellsfargo.com/amazon, now redirects to the bank's regular private student loan page.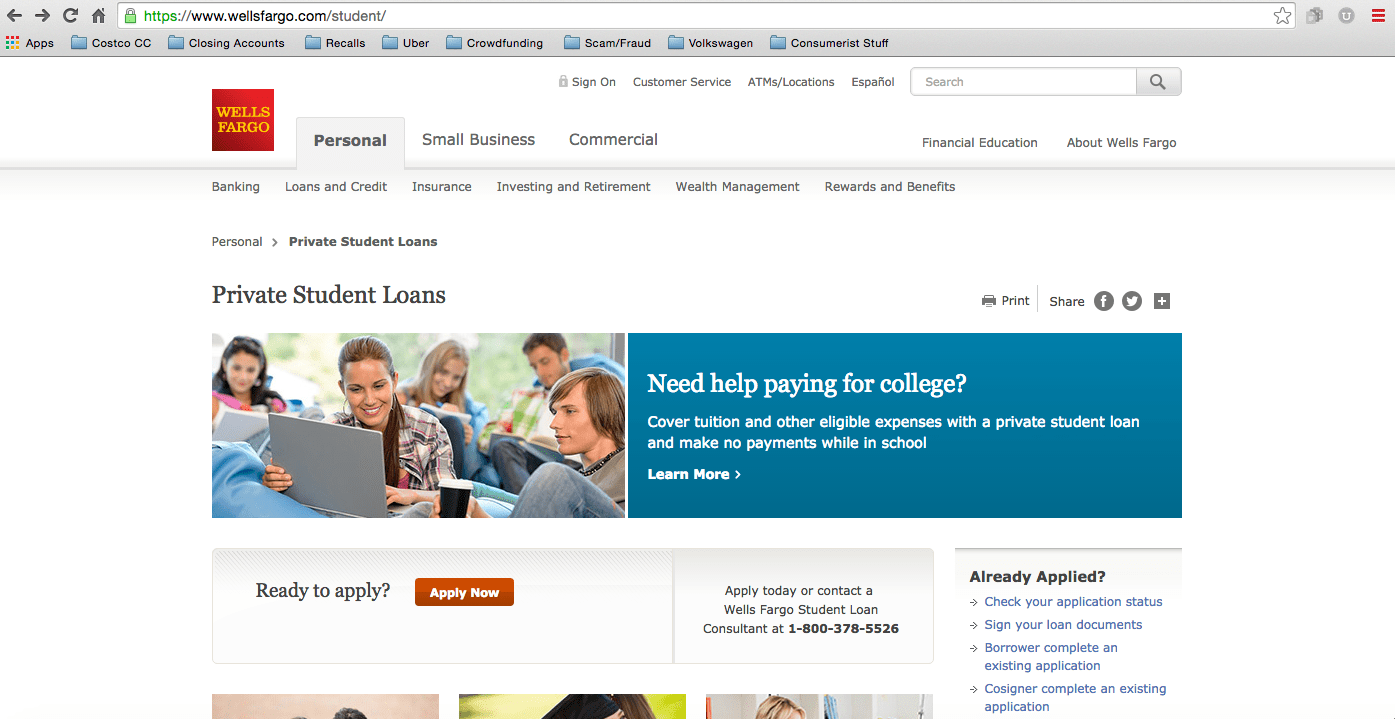 We've reached out to both Wells Fargo and Amazon for information on the current state of the partnership. We'll update this post when we hear back.
The Institute for College Access & Success (TICAS) applauded the end of the program Wednesday.
"We congratulate Amazon for deciding to stop promoting Wells Fargo's costly private education loans," Pauline Abernathy, executive vice president for TICAS, said in a statement. "Private loans are one of the riskiest ways to pay for college, with none of the flexible repayment options and consumer protections that come with federal student loans."
Our colleagues at Consumers Union welcomed the end of the partnership.
"These kinds of business partnerships can mislead students by overstating their benefits, while nudging students into signing up for riskier loans," Suzanne Martindale, staff attorney for CU, tells Consumerist. "Given the CFPB's recent legal action against Wells Fargo for its education loan servicing practices, it is troubling to think that the promise of Amazon Prime and a slight interest rate reduction could have lured even more students into taking out loans that might cause them problems later down the road."
Under the partnership, announced July 21, Amazon Prime Students were eligible to receiving a 0.50% discount on new loans, as well as an additional 0.25% interest rate discount offered when they enrolled in an automatic monthly loan repayment plan.
The discounts were available only for new student loan applications received on or after July 21, 2016. That means borrowers who had current Wells Fargo student loans are not eligible for the discount.
At the time, the head of Wells Fargo's Personal Lending Group called the Amazon cross-promotion a "tremendous opportunity to bring together two great brands."
However, the program was roundly criticized by consumer advocates for touting private loans over more affordable options with better protections.
While saving 0.75% on your student loans might seem like a great deal, many advocates say it really isn't when you consider most students headed for college are eligible for less costly federal student loans.
Private loans like the one previously touted by Amazon and Wells Fargo don't offer the flexible repayment and discharge options found in federal student loans.
Other warned that the Wells Fargo/Amazon offer could mislead consumers into thinking they were getting a good deal when they might not be.
For example, federal student loans currently have a fixed interest rate of 3.76%, while private loans can reach as high as 13.74%.
Additionally, the fine print for the program included a notice that Wells Fargo "reserves the right to modify or discontinue interest rate discount program(s) for future loans or to discontinue loan programs at any time without notice."



That means that while you might receive a discount when taking out the loan, it wasn't guaranteed to stick.
Financing one's higher education can be a difficult and information-packed endeavor. And with nearly two-thirds of students who take out student loans unprepared for the financial obligations associated with the debt, advocates advise that they should look at all options available to them.
(Updated to include confirmation from Amazon.)
Editor's Note: This article originally appeared on Consumerist.