When repainting a room in your home, color is probably the first thing you think about, but a close second might be whether or not the paint you choose is safe. To that end, four paint companies have settled charges that they misled customers on the safety of products by deceptively promoting them as emissions-free. 
The Federal Trade Commission announced today that Benjamin Moore & Co., ICP Construction, YOLO Colorhouse, and Imperial Paints each agreed to settle charges they misled customers by claiming that products were free of emission and containing zero volatile organic compounds (VOCs), including during and immediately after application.
According to the FTC complaints against Benjamin Moore & Co. [PDF], ICP Construction [PDF], YOLO Colorhouse [PDF], and Imperial Paints [PDF], each of the companies made unsubstantiated claims that their paints were free of emissions and/or that they contained no VOCs.
Where's The Evidence?
All paints emit chemicals during the painting process and while drying. Some of these paint chemicals can be harmful to the environment and people, especially to sensitive groups such as babies and those suffering from asthma or allergies, the FTC notes.
Despite this, the companies made explicit claims that the products were safe for use around babies, children, pregnant women, and other sensitive populations, the complaints state.
In all of these instances, the FTC claims that the companies did not have evidence to support the claims.
The FTC also claimed that the companies disseminated misleading information — through advertisements and packaging — to retailers selling their products, leading customers to believe the products may have been safer than they were.
For instance, a Benjamin Moore Natura paint commercial focuses on a baby sleeping in its crib while painters enter the room to create a mural. A voiceover claiming that "if you want to paint with no harsh fumes; if you want to paint without harmful chemicals; if you want a paint that is safer for your family and the environment, only this can."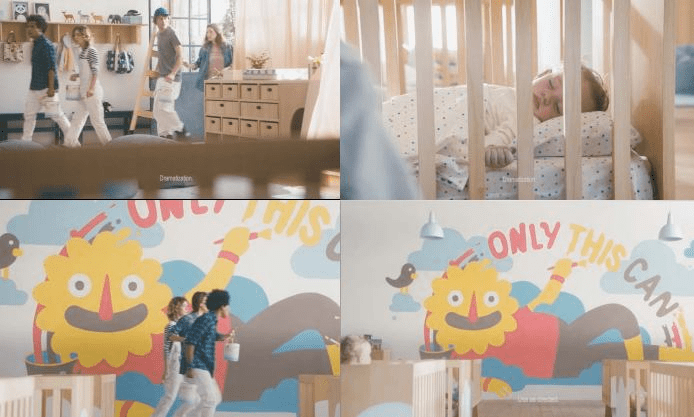 According to the FTC, the claims made in the commercial — including that Natura paints are emission-free, don't emit any chemical or substance, or cause material harm to consumers — were not substantiated at the time the representations were made.
In the case of Imperial Paints, the FTC claims that the company made misleading claims related to its Lullaby Paints. In fact, on the company's website claims Lullaby Paints is "The World's Finest Baby Safe Paint!"
"There's no good reason why a premium quality, hard wearing, beautiful paint needs to contain toxic chemicals," the company's safety page states. "Know how we know that? At Lullaby Paints, after years of development, we have proven it. We are pioneers in paint-making and extremely proud of our final product: the safest paint available."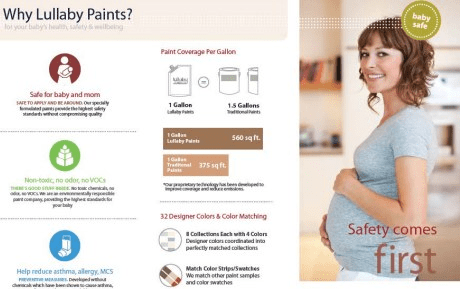 The FTC complaint alleges these claims were unsubstantiated.
ICP Construction claims that its Muralo BreatheSafe paint was "formulated with no harmful solvents and based on a sustainable chemistry technology, for interior use."
YOLO Colorhouse claimed that it was "proud of what is not in our paint — NO VOCs. VOCs are the 'stinky stuff' in paint that is emitted as vapor when paint is drying. VOCs can be harmful to human health and the environment."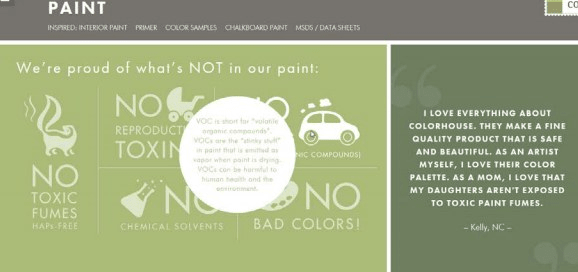 In both of these cases, the FTC claims the companies did not have evidence to support the claims at the time they were made.
Seal Of What?
Additionally, in its complaints against Benjamin Moore and ICP Construction, the FTC alleged that the companies marketed their paint using environmental seals without disclosing to consumers that they had awarded the seal to their own products.
In Benjamin Moore's case, the company slapped a "Green Promise" seal on its Natura paints. However, the company did not reveal that the seal was the company's own designation.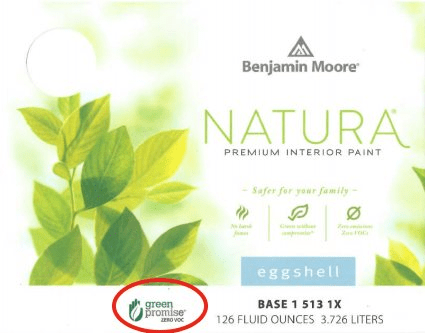 ICP included an "Eco Assurance" logo on its BreatheSafe paints, giving the impression that the products were endorsed or certified by an independent third-party. In reality, the seal was created by ICP.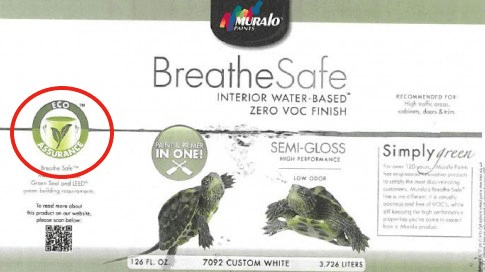 Making Changes
In settling the FTC charges, the companies agreed to four provisions designed to ensure the companies do not engage in similar conduct in the future.
Under the first provision, the companies are prohibited from making unqualified emission-free and VOC-free claims, unless both content and emissions are actually zero, or emissions are at trace levels, beginning at application and thereafter.
They are prohibited from making claims about emission, VOC levels, odor, and other environmental or health benefits, unless they are true and not misleading, and unless the companies have competent and reliable scientific evidence to back them up.
In order to correct the current unsubstantiated claims, the companies must send letters to distributors, instructing them to stop using existing marketing materials and providing stickers or placards to correct misleading claims appearing on product packaging or labeling.
Finally, the companies are barred from providing third parties with the means of making false, unsubstantiated, or misleading representations about material facts regarding paints.
Editor's Note: This article originally appeared on Consumerist.