Every store has two sets of policies: the official ones distributed to customers, and the policies from the other end that employees learn in training. A source inside Best Buy contacted us recently to explain how it's possible to return items to Best Buy without a receipt. Yes, it is possible. No, customers aren't supposed to know that.
The official policy, for employees' eyes only, is that customers can return an unopened item that the store currently keeps in stock without any proof of purchase. This is possible as long as the SKU (Stock Keeping Unit, a number that represents an exact item) is one that Best Buy currently keeps in stock. The item also must be listed on BestBuy.com.
The screengrabs from an employee training module are tiny, so we've transcribed the relevant parts.
An unopened product with a SKU in the current assortment can be returned at any time beyond the return and exchange window for store credit with or without proof of purchase.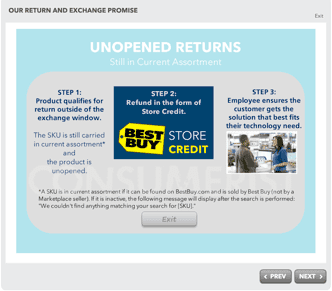 Step 1: Product qualifies for return outside of the exchange window. The SKU is still carried in current assortment* and the product is unopened.
Step 2: Refund in the form of Store Credit.
Step 3: Employee ensures the customer gets the solution that best fits their technology need.
* A SKU is in current assortment if it can be found on BestBuy.com and is sold by Best Buy (not by a Marketplace seller.) If it is inactive, the following message will display after the search is performed: "We couldn't find anything matching your search for [SKU]."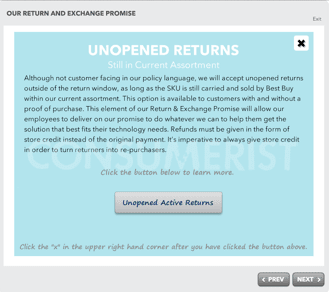 Although not customer facing in our policy language, we will accept unopened returns outside of the return window, as long as the SKU is still carried and sold by Best Buy within our current assortment. This option is available to customers with and without a proof of purchase. This element of our Return & Exchange promise will allow our employees to deliver on our promise to do whatever we can to help them get the solution that best fits your technology needs. Refunds must be given in the form of store credit instead of the original payment. It's imperative to always give store credit in order to turn returners into re-purchasers.
That is an entirely reasonable policy, and we even agree with the part about why returns without a receipt should be in store credit only.
Now, we're releasing this information to the public with the following disclaimer: do not use it for evil. Restrictive return policies come into existence when people abuse more lax ones. It's possible under this policy to buy items at a much lower price or on sale at a different retailer and return them for store credit, but you shouldn't do this because that would make you a bad consumer and a terrible person.
Instead, reserve this policy for moments of true need. Our source used the example of an item that's unopened, but you missed the return window. Simply bring it to the store without a receipt, as long as it's a current item.
Update: Another Best Buy employee wrote in with some additional notes for anyone who might want to attempt this. "Please make these clear in your article, as I'll be the one to have to deal with people who try to abuse this policy," they asked us. Fair enough, Anonymous Employee.
A no-receipt return requires an override from a manager, and both the manager and employee will probably tell you that returning an item without a receipt isn't possible. If you're allowed a return, don't count on store credit: "it won't even be a store credit, but most likely an exchange only," writes the tipster.
Since this isn't a customer-facing policy and not posted online, you will have no proof to show to a manager who refuses your return.
While this policy is on the books, it's at the discretion of the store's general manager, and the tipster notes that "most don't follow it."
The refund amount will be the item's current price, not what you originally paid: which makes sense, because the store has no way of knowing what you originally paid.
The item has to be unopened. We pointed this out, but the tipster urged us to emphasize it more.
If you do use this secret information, let us know at tips@consumerist.com if you succeed with this method or hit roadblocks.
Editor's Note: This article originally appeared on Consumerist.