The Retail Equation
, a company that logs
information about people who return merchandise
at a variety of retailers. What he didn't expect was to be told that his return of some cabinet parts would be denied after he had only ever returned one $10 item to Home Depot before.
Surely he had a long and mildly sordid pile of returns at other retailers that use TRE, then? Nope. He sent away for his own report, which is
a thing that you can do
, and the only item on it was that $10 return at Home Depot.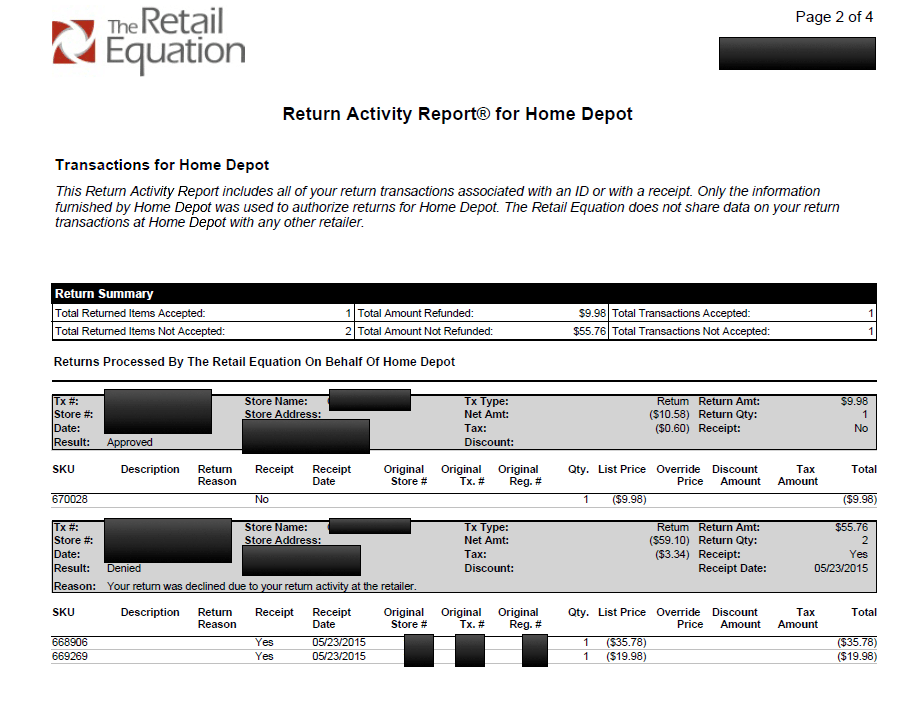 Once his return was flagged in the system as potentially-fraudulent, there was nothing that Home Depot could do for him. "The store manager informed me that store managers do not have the authority to authorize a return if The Retail Equation has rejected them," he explained to Consumerist. Really? Could that be true?
Home Depot's own in-store purchase return policy says:
We require a valid ID for non-receipted returns and returns generated from purchases made with store credits. The Home Depot uses a refund verification system. All returns are subject to system approval.
That "system" would be TRE. The company says that less than 1% of the transactions that go through its systems are flagged as potentially fraudulent, which is great unless you're the person trying to bring back a bunch of cabinet parts.
All queries to that company result in a representative pointing back at the company's frequently asked questions page. Specifically, they pointed out the section on disputes, which says that they can "facilitate" between retailers and customers when certain facts are in question.
TRE offers consumers the ability to dispute their Return Activity Report and facilitate a dialogue between the consumer and retailer to reach a proper resolution. With this process, TRE acts as an advocate, on behalf of the consumer, to ensure the consumer's request to the retailer is met and resolved within a timely manner, typically within 30 days.
TRE doesn't mediate between bloggers and retailers, though, so we took our question back to Home Depot. They checked into the transaction and came back with an answer that makes a lot of sense:
For security reasons, we don't discuss the details of the TRE system. I can tell you that we only issue store credits for non-receipted returns, and therefore returns of merchandise originally purchased with a store credit are closely scrutinized. The merchandise this customer returned was purchased with a store credit.
Aha! Maybe it was even the same store credit from that $10 return. The conclusion that we can draw here is that shoppers should always keep their receipts, possibly gluing them to our foreheads, or hoarding them in an envelope indefinitely.
Editor's Note: This article originally appeared on Consumerist.
Having returned stuff to Home Depot before, Stephen knew that he could expect to have his driver's license scanned and the transaction logged by