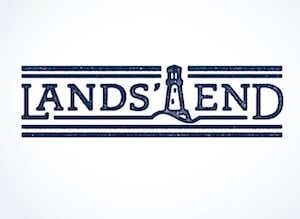 After twelve years together, Sears and Lands' End have officially split. They've been through a lot together: Sears bought the former sailing gear retailer in 2002, before the formation of the sprawling disaster that is Sears Holdings. For a while at least, absolutely nothing will change for consumers.
Sears is in the process of selling off its parts in order to…well, we're not quite sure what Sears' endgame is, but we shared the news of this breakup back in October when it was only a rumor. The day is finally here: the split happened on Friday, and the new Lands' End stock starts public trading today.
Sears shareholders received .3 shares of stock for the new, independent Lands' End. Once that happened, the price of Sears stock has fallen almost 20% as of this writing. We don't normally follow the daily ups and downs of the stock market, but it's interesting to note that investors find Sears shares a lot less appealing now.
That's because Lands' End is one part of the company that actually makes money, with $79 million in net income for the year. Now, um, not so much.
For now, the clothing company will keep its physical retail locations inside Sears stores. As of right now, their website still has Sears/Kmart logos and a promotion for ShopYourWay Rewards, but surely that will change later on.
Meanwhile, maybe Sears aims to become the corporate equivalent of a small Rust Belt town, sending away its best and most promising citizens so they have a chance to succeed, impoverishing its own future. Which is more poetic than saying that the board is "stripping the company for parts." Isn't it?
Lands' End spun off from Sears, starts public trading today [AP]
Sears Completes Lands' End Spinoff [Forbes]
Editor's Note: This article originally appeared on Consumerist.