A year after lovers of fruit-flavored donuts sued Krispy Kreme alleging the company's blueberry donuts didn't contain any real blueberries, another donut chain is facing a similar lawsuit: Customers in Chicago have filed a class-action seeking lawsuit against Dunkin' Donuts, claiming the company's bakery items lack any actual blueberries.
The lawsuit [PDF], filed in July in district court for Northern Illinois, alleges that Dunkin' violated Illinois' Fraud and Deceptive Business Practices Act by misrepresenting the blueberries in its donuts, donut cakes, and donut holes, known as Munchkins.
According to the lawsuit, Dunkin' has long sold fruit-flavored donuts with the descriptive names "glazed blueberry" donuts or Munchkins, "blueberry butternut," and "blueberry crumb cake."
It's In The Name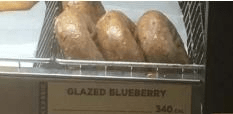 In selling these products, Dunkin' displays placards on trays describing the items as "blueberry." Additionally, in advertisements the pastries are often depicted next to real blueberries.
Based on these descriptions and marketing materials, the suit claims that Dunkin' has given customers indication that the products contained real fruit.
This, the suit notes, led customers to purchase the products for a premium, as they sold for a higher price than the company's original glazed donut.
What's A Blueberry?
However, in reality, the lawsuit alleges, the products didn't actually contain blueberries, but imitation blueberries that are specifically made to resemble actual blueberries or pieces of actual blueberries.
"Due to their blue color and round shape, the 'flavor crystals' and 'blueberry flavored bits' are inserted strategically on the inside and outside of the Blueberry Products to induce unsuspecting consumers into believing that the products contain actual blueberries," according to the lawsuit.
To make matters worse, the suit contends that customers who believe they are purchasing a healthier bakery item — because it contains fruit — simply aren't.
In fact, the suit notes that the imitation blueberries contain "inferior and potentially harmful ingredients such as sugar, com syrup, and Blue #1."
The lawsuit notes that because some of Dunkin's other products — including the blueberry muffin — contain actual fruit, the company is capable of formulating products with actual blueberries. Additionally, because of this, the suit contends that the chain knew or should have known that the blueberry products did not contain blueberry and that its representations would deceive unsuspecting consumers.
A Specific Case
The lead plaintiff in the case claims that he discovered the product issue in Dec. 2016 when he purchased a glazed blueberry donut from a Chicago-area Dunkin' Donuts location.
He contends that he would not have bought the donut, or would have paid significantly less for it, had he known that the blueberries were not the real thing.
The lawsuit alleges that Dunkin's marketing and sale of the products constitute misleading and deceptive practices.
To this end, the suit seeks $5 million in damages, restitution, and court fees.
A rep for Dunkin' Donuts tells DNAinfo that the company is unable to comment on the matter due to pending litigation.
Editor's Note: This article originally appeared on Consumerist.