When Keurig quietly discontinued its Rivo Cappuccino & Latte System in Dec. 2016, the company said customers would still be able to purchase Lavazza brand pods — the only ones the Rivo accepts — in its online store, as well as from a few other retailers. Soon after, however, customers started bumping into "out of stock" notices almost everywhere online. What's the deal?
Consumerist reader John wrote in saying he'd heard Keurig has had supply chain issues, noting that all the caffeinated pod products for the Rivo have been out of stock for months at Keurig.com.
On Keurig's site there's a warning that at least one of the out of stock products is unavailable "until February 2017."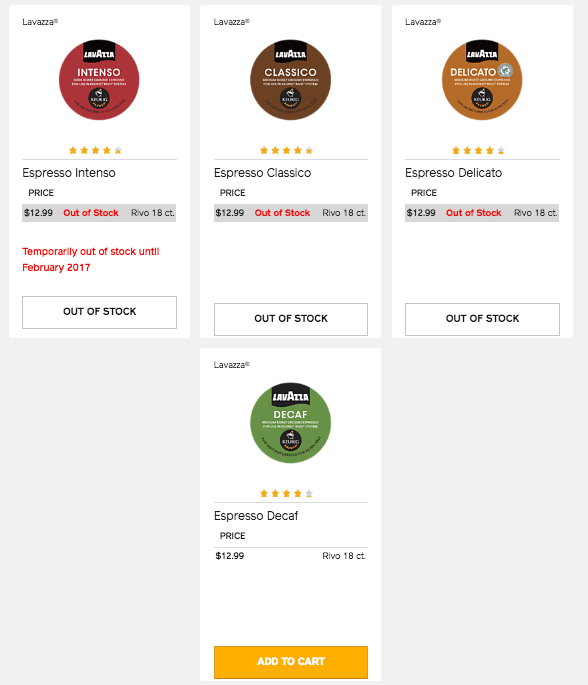 While caffeinated varieties are also out of stock on Lavazza's website and on BedBathAndBeyond.com, as of Feb. 27, there are still pods available in certain flavors on Amazon — albeit at a hefty price.
Keurig pulled the plug for Rivo late last year, but it sounds like it some customers never got the memo and only realized it once they were on the hunt for coffee pods.
"@Keurig has the rivo been discontinued?" a Twitter user wrote on Feb. 14. "Out of stock pods and brewer hard to find on website."
In response to complaints that Rivo pods are out of stock in many places, Keurig has told some customers that it's "still supporting production and we expect Rivo pods to be available for at least the next three years."
Despite that, complaints have been circulating for months about the out-of-stock pods.
Over at coffee product review blog Coffee Stylish, readers started posted their gripes in December.
"It's very difficult to find anything other than the no decaffeinated pods, my local Bed bath and beyond stated they can't get any other kind shipped, is my only option to purchase online?" one reader wondered on Dec. 15.
"I hope they plan or giving the people who bought this maker their money back when they no longer make the pods," another wrote on January 22. "They have been out of stock at Keurig for some time."
"I'm with you," someone else agreed on Jan. 30. "I have been PISSED for months now. No warning, nothing. Last I saw was 'sometime in Feb' they'd be back in stock. So I guess I have a $229 brick on my countertop now. Good luck finding pods online for even close to retail price. This isn't right at all."
"Please offer a full refund/exchange or at least reusable capsules to calm the angriness of some of us who stupidly bought the Rivo last year and can't use it anymore," an angry customer wrote on Feb. 11.
"I barely finished the coffees that came with it and just found out it's now discontinued," another reader wrote that same day." WHAT?! Bed Bath and Beyond used to carry them but they're took them from the shelf, Amazon is way too expensive, and Lavazza is out of stock."
Others have noticed elsewhere on the internet.
"I got this Keurig Rivo in December of 2016 as a Christmas gift, and it still works great," an Amazon reviewer wrote on Feb. 12. "However, Keurig has stopped productions of the Keurig Rivo and it's pods. So now my awesome Rivo is becoming absolutely worthless."
"I am extremely sad I had to read about the Rivo platform being discontinued on Facebook via a visitor post," one customer wrote to the company on Facebook on Feb. 24. "To make matters worse the Rivo pods have been out of stock since December."
Consumerist reached out to Keurig to ask if there were potential supply issues for the pods, and when the product would be back in stock. A company spokeswoman did not mention any supply issues, but said the pods are due back on Keurig.com on March 3.
We also asked whether or not customers had been informed of the company's decision to discontinue the Rivo, and if not, what the reasoning behind that decision was.
"We communicated that we're no longer manufacturing the Rivo system to retailers at the end of last year," a Keurig spokeswoman said, without addressing whether or not the company had informed customers.
"We continue to support the system by selling pods and providing customer service for the system," she said.
Editor's Note: This article originally appeared on Consumerist.