The recent recall of potentially contaminated rawhide dog chews has been expanded to now include products sold by Petco, Walmart, and others.
United Pet Group announced Friday that it had expanded the voluntary recall of several brands of rawhide dog chews following reports that some pets became ill after chowing down on the chews.
According to a notice posted with the Food and Drug Administration, United Pet Group expanded the recall to cover retail partners' private label brands, including those sold by Walmart, Petco, H-E-B, and SuperValu.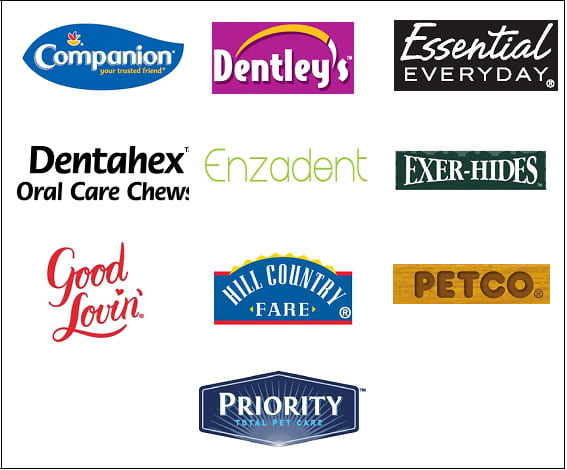 As with United Pet Group's original recall, the company says it initiated the campaign after learning that some of its manufacturing facilities in Mexico, Colombia, and Brazil were using an anti-microbial chemical to aid in the manufacturing process of the rawhide chews. While the quaternary ammonium compound mixture is approved for use in those countries, it is not approved in the U.S. as a processing aid.
Exposure to the quaternary ammonium compound through direct ingestion may cause reduced appetite, and gastric irritation including diarrhea and vomiting in dogs.
So far, United Pet Group notes that it has received "very limited" reports of pet illness, including vomiting and diarrhea. The most prevalent complaint related to the rawhide chews related to an unpleasant odor, the company says.
The recalled Companion, Dentley's, Enzadent, Dentahex, Essential Everyday, Exer-Hides, Good Lovin', Petco, Hill Country Fare, and Priority Pet products were shipped nationwide from United Pet Group's Illinois distribution facility and delivered to customers through various retail establishments and online outlets.
Customers who purchased the products are urged to dispose of them or return the chews to United Pet Group or the retailer where they were purchased for a full refund.
Customers with questions about the recall can contact United Pet Group consumer affairs team at 1-855-215-4962.
The following products are covered by the expanded recall:
| | | | |
| --- | --- | --- | --- |
| Private Label Product Brands | Production Lot Code (located on back label) | Expiration Date | Distributed By |
| Companion | AH, AV, A, AI, AO, or AB | 06/01/2019 to 05/31/2020 | Foodhold |
| Dentley's | AH, AV, A, AI, AO, or AB | 06/01/2019 to 05/31/2020 | Pacific Coast Distributing |
| Enzadent or Dentahex | 17030030181, 17030030167, 17030030174, 17030030198, 17030030228, 17030030235, 17030030242, 17030030259 | 06/01/2021 to 05/31/2022 | Vetoquinol |
| Essential Everyday | AH, AV, A, AI, AO, or AB | 06/01/2019 to 05/31/2020 | SuperValu |
| Exer-Hides | AH, AV, A, AI, AO, or AB | 06/01/2019 to 05/31/2020 | Walmart |
| Good Lovin' or Petco | AH, AV, A, AI, AO, or AB | 06/01/2019 to 05/31/2020 | International Pet Supplies Distribution |
| Hill Country Fare | AH, AV, A, AI, AO, or AB | 06/01/2019 to 05/31/2020 | H-E-B |
| Priority Pet | AH, AV, A, AI, AO, or AB | 06/01/2019 to 05/31/2020 | Lucerne |
Editor's Note: This article originally appeared on Consumerist.