Sears, once the place to purchase home appliances, will soon have a smaller inventory to offer the few customers it has left: After a nearly century-long relationship, Sears and Whirlpool have cut ties. 
The Wall Street Journal reports that Sears has stopped selling Whirlpool products — including those from the Maytag, Jenn-Air and KitchenAid brands — after the manufacturer made pricing demands the beleaguered retailer wasn't ready to accept.
While Sears has faced a range of credit issues in recent years — often taking loans from its CEO's hedge fund to stay afloat — the disagreement that ended the retailer's relationship with Whirlpool was about passing on costs to customers.
"Whirlpool has sought to use its dominant position in the marketplace to make demands that would have prohibited us from offering Whirlpool products to our members at a reasonable price," a Sears internal memo stated, as reported by The Wall Street Journal.
According to the memo, Sears is working to deplete its current Whirlpool inventory.
The change has already started to take shape at the department store. For starters, Sears' website no longer carries many of Whirlpool's products.
For instance, a search of "Whirlpool" on the Sears' main search menu continuously redirects to the appliance home page. However, a few Whirlpool products do appear when you search specifically in an appliance category. For example, by selecting refrigerators and then selecting Whirlpool in the brand section, you can see just two Whirlpool-branded fridges.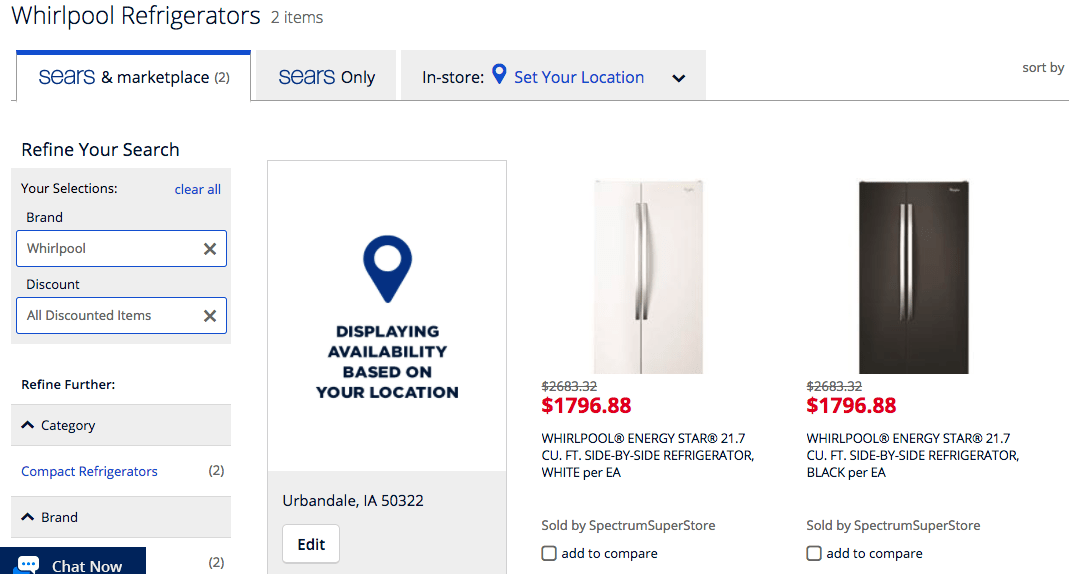 Additionally, a search of "Jenn-Air" on the company's websites results in a marketplace — which includes products sold by third-parties — listing for refrigerator baskets, water filters, other small accessories, and a few appliances. However, toggling to "Sears only" results in no results.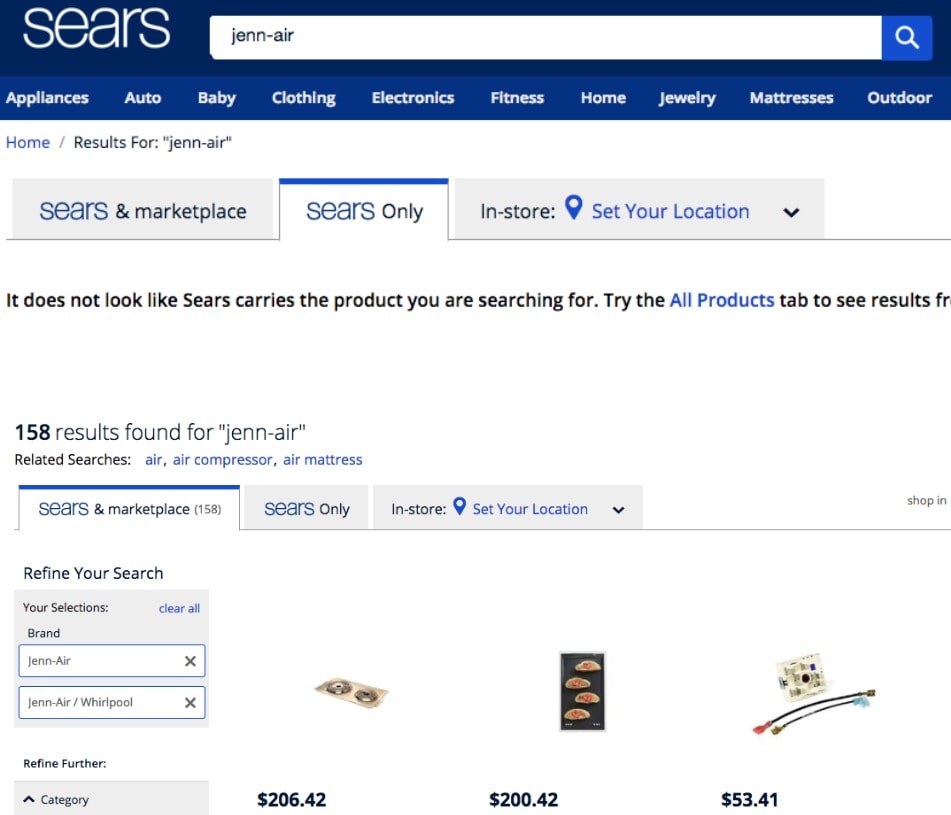 The WSJ reports that Sears' call center representatives have already begun pushing Sears' own and other appliances, such as GE and Kenmore, noting that "We don't carry any Whirlpool appliances anymore."
The End Of A Long Story
Sears began selling Whirlpool appliances back in 1916, when the manufacturer first got into the washing machine business.
In 1921, Sears took a stake in Whirlpool, The WSJ reports. From there, the two companies enjoyed an entwined relationship, working on new products together.
Whirlpool eventually began making many of the products for Sears' Kenmore brand, often adding new features to those appliances before its own Whirlpool brand, The WSJ notes, adding that Whirlpool will continue to make some parts for Kenmore appliances moving forward.
What's The Impact?
It's unclear how Sears' decision to stop carrying Whirlpool will affect both company's financials.
Whirlpool announced its third quarter earnings Tuesday, recording $5.4 billion in net sales, a 3% increase from the $5.2 billion it saw at the same time last year.
As for Sears, the retailer has been experiencing a prolonged death spiral for several years now. Just this month, Sears Holdings — parent company of both Sears and Kmart — disclosed in a Securities and Exchange Commission filing that it had borrowed another $100 million from its own Chairman and CEO Eddie Lampert's ESL Investments company.
Another $100 million loan was waiting in the wings, to be possibly be taken out in the next few weeks.
The loan was just the recent made by ESL Investments. Lampert provided his flagging retailer with the $500 million line of credit in January.
Sears has also brought in much-needed cash off of its long-held house brands. It unloaded the Craftsman tools brand on Black & Decker for $900 million earlier this year. It's now selling Kenmore appliances through Amazon, and expanded the Kenmore and Die-Hard brands to cover TVs and car tires, respectively.
Editor's Note: This article originally appeared on Consumerist.