Mylan, the makers of the EpiPen emergency allergy treatment are expanding a previously announced overseas recall to now include EpiPen and EpiPen Jr. devices distributed in the U.S. over concerns they may not function properly when needed.
Like the earlier recall, the affected EpiPens were manufactured in the U.S. for Mylan by Pfizer subsidiary Meridian Medical Technologies. Mylan says certain epinephrine auto-injectors may have a defect that could "make the device difficult to activate in an emergency." More precisely, the EpiPen could fail to function or could require additional force.
If a person in need of a epinephrine injection doesn't get the correct amount of the drug, their symptoms could worsen, with potentially lethal results.
Mylan says its testing of the recalled devices has not turned up any units with this defect, but the recall is "being expanded to include additional lots as a precautionary measure out of an abundance of caution."
The devices affected by the recall are EpiPens with strengths of 0.3 mg and 0.15 mg.
According to Mylan, these are the specific lot numbers and expiration dates that make up the U.S. part of the recall: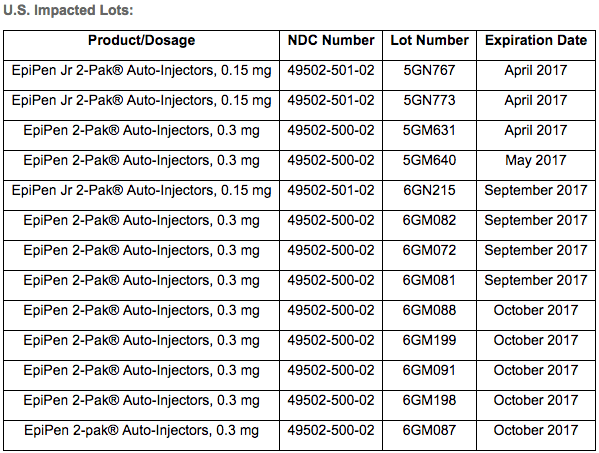 Note that the recall does not include the generic version of the auto-injector released by Mylan in late 2016.
Rather than discard the recalled EpiPens, Mylan is suggesting that patients who have one of the devices on the above list to hold onto their injector until they have secured a replacement.
Replacement EpiPens can be obtained from your pharmacy, if it has the auto-injector (or its generic equivalent) in stock.
People with questions about the recall can call Mylan Customer Relations at 800-796-9526 or via email at customer.service@mylan.com.
Mylan says it will be posting more information on this recall on Mylan.com/EpiPenRecall.
Editor's Note: This article originally appeared on Consumerist.