With college tuition continuing to increase, it probably won't surprise many people to learn that college graduates are leaving school burdened with more loan debt. According to a new report, the average amount of student loan debt for new graduates has passed $30,000 for the first time.
The latest annual student debt survey [PDF] from The Institute for College Access & Success (TICAS) found that nearly 7-in-10 graduating seniors (or 68%) of 2015 graduates of four-year public and nonprofit colleges owed an average of $30,100, up 4% compared to $28,950 in 2014.
As with previous TICAS debt reports, it's important to note that this study does not include debt rates for for-profit colleges because most choose not to report what their graduates owed.
This year's report was compiled by data provided by 56% of public and nonprofit bachelor's degree-granting four-year colleges, representing about 82% of graduates.
LOAN TYPE MATTERS
While previous TICAS reports focused on the level of employment of students shortly after graduation, the most recent study attempts to examine their debt at a granular level.
For example, 19% of students who graduated with debt did so with private, non-federal student loans. While many of these loans are provided by banks, TICAS found that some states also have loan programs designed for college students.
TICAS notes that the relatively high number of students using private loans — and states' willingness to facilitate those loans — is a cause for concern, as they are typically more costly and provide far fewer consumer protections and repayment options than federal student loans.
Federal student loans, on the other hand, come with consumer protections and options like income-driven repayment plans that assist borrowers in avoiding default.
According to TICAS, 67% of student debt from state-run programs comes from just three states: New Jersey, Texas, and Minnesota. Despite this, the study found that those states only awarded 11% of bachelor degrees in 2015.
"In addition to how much they owe, it matters what kinds of loans students have," Debbie Cochrane, report coauthor and TICAS vice president, said in a statement. "Compared to federal loans, private loans – whether from banks, states, or schools – can be much harder to repay, especially if the borrower hits hard times."
STATE BY STATE
TICAS also examined which states graduate students with the most average student debt.
According to the TICAS report, the average student's graduating debt varies drastically at the state level from about $18,850 (Utah) to $36,100 (New Hampshire). Likewise, the probability that a graduate will have debt ranges from 41% to 76% depending on the state in which they reside.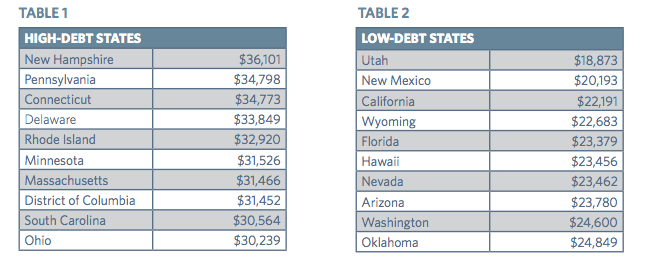 In 12 states, the average debt was more than $30,000 – up from six states the year before — while only one state had an average debt of less than $20,000.
Students graduating from schools in New Hampshire had the highest average debt in 2015, at $36,101. Delaware, which recorded the highest average debt in 2014, came as the third-highest this year at $34,733, just dollars behind Pennsylvania, which has $34,798.
Again, most of the highest debt states were located in the Northeast and Midwest, with the lowest debt states in the West.
Students graduating in Utah had the lowest debt with an average of $18,873, which represents a slight decrease in debt from the 2014 level of $18,921.
MORE CHANGES NEEDED
TICAS began issuing the Project on Student Debt to call attention to an issue of that affects millions of consumers. The organization will continue to issue the reports, as student debt has not been decreasing in recent years.
Additionally, TICAS issued a slew of recommendations that it believes could help undo some of the education debt burden students carry.
First, the organization suggests that the most effective way to reduce student debt is to reduce college costs, so that students and their families can more easily cover them with available savings, earnings, and grants.
To achieve this TICAS suggests increasing Pell Grants and creating a new federal and state partnership that would work to maintain or lower the price of public college for low- and moderate-income students.
TICAS also believes that streamlining and improving repayment plans for federal student loan borrowers will help make payments more manageable, thus allowing graduates to avoid delinquency and defaults.
Other policy recommendations focus on ways improve consumer information, strengthen college accountability, and reduce risky private loan borrowing.
While the main recommendations for reducing the burden of student debt are focused on federal policy, the TICAS also includes options for state policymakers to consider, such as basing state grant eligibility on financial need and exempting forgiven student loan debt from state income tax.
"Student debt is still rising. We need to make college more affordable and debt less burdensome for students and families," TICAS president Lauren Asher said in a statement.
Editor's Note: This article originally appeared on Consumerist.