We have no idea why you would want to buy a gift card to Sports Authority right now. The big-box sports retailer, with 460 stores across the country, filed for bankruptcy earlier this year and is liquidating and closing all of its stores starting on Wednesday. If you did want to buy one, today is the last day, and the stores will stop accepting gift cards on June 26 June 28.
In a mid-April court filing, the company said that it had $92.5 million in gift cards outstanding. That figure is probably a lot lower now after the news that all stores will close by the end of the summer broke, but the company will probably stop accepting gift cards while there are plenty still out there, stuffed in wallets.



Sports Authority could set up a fund for future gift card claims to avoid what happened to RadioShack: the crusading attorney general in the company's home state of Texas led other states in suing the company and having the value of all outstanding gift cards put aside before other debts were paid.
If you find a gift card in the back of your junk drawer at some point in the future, or if you're reading this article after June 28, 2016, there isn't much that you can do with your card. The standard procedure that gift card holders usually follow is to file a claim as an unsecured creditor in the bankruptcy proceedings, but you'll be way at the back of the line behind companies that are owed thousands or millions of dollars.
Another option for you in the future may be to take the card to a competitor. They won't be able to give you the cash value, but another sporting goods store may offer an impressive discount in exchange for a Sports Authority gift card. Dick's Sporting Goods is welcoming customers with Sports Authority loyalty cards with a $20 reward credit, which you'd normally have to spend $600 to earn.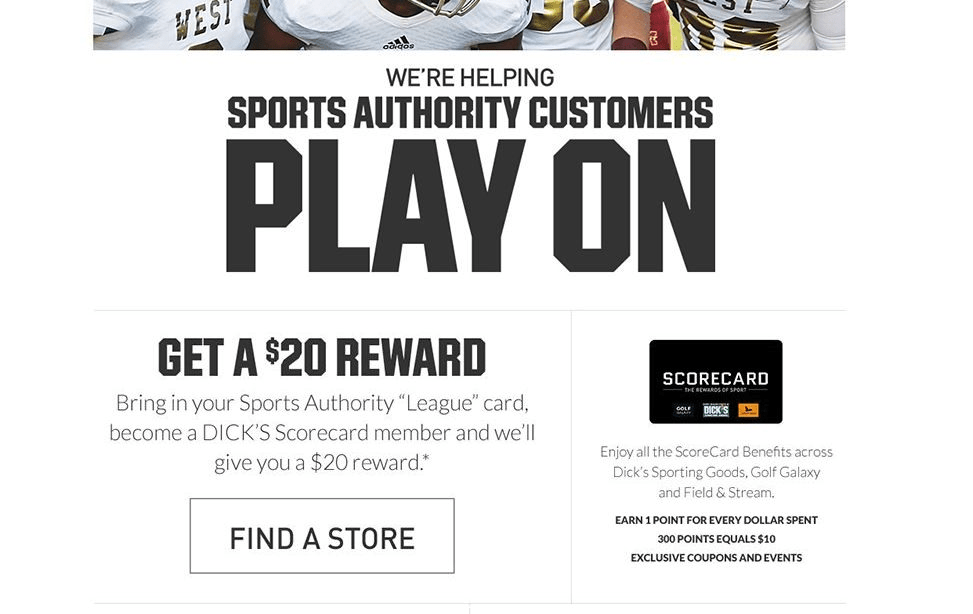 Editor's Note: This article originally appeared on Consumerist.