Magazine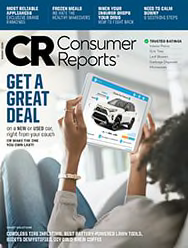 Consumer Reports
We all want to make the right choices. Every issue is packed with information and investigative reports on topics that matter most in your life including health, food, safety, technology and money. Check the latest ratings and reviews on products and services you use every day like appliances, electronics, cars, lawn and garden equipment, and more. Enjoy monthly delivery straight to your door, as well as digital tools and services that help you stay safe and informed.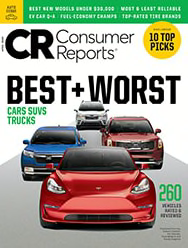 Consumer Reports April 2020 Issue
Our best-selling issue features our exclusive 10 Top Picks, best new models under $30,000, fuel economy champs, and top-rated tire brands. Find out which cars, SUVs, and trucks we ranked Best and Worst, get answers to your electric vehicles questions, and follow our 6 tips to jump-start your test drive. Over 260 vehicles rated and reviewed for predicted reliability, road-test results, handling, advanced safety features, and more.
Special Publications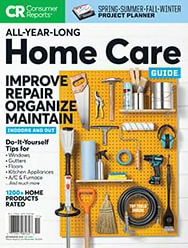 All-Year-Long Home Guide
Get hundreds of expert DIY tips from the home pros at Consumer Reports. Improve, repair, organize and maintain everything from windows and gutters to floors, kitchen appliances, and outdoor equipment. Our seasonal project planners make it easy for you to keep track of your "to-do" list, plus our exclusive ratings for 1200+ home products reveal the best home gear for you.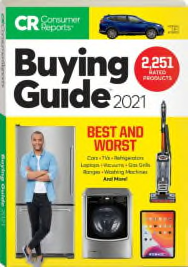 Consumer Reports Buying Guide 2021
Shop smart with this invaluable guide filled with 2000+ expert reviews, ratings and buying advice on electronics, home appliances, cars, and more. Save hundreds, even thousands of dollars and get the best products available when you compare brands based on reliability, safety, and effectiveness. Check the Buying Guide before you buy! 224 pages.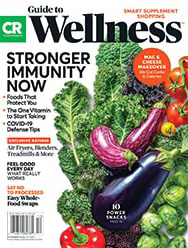 Consumer Reports Guide to Wellness
Keep your body strong and well with easy-to-follow, proven advice from wellness experts. Learn important stay-well strategies that help you feel good and boost immunity, from how to keep leftovers safe and smarter supplement shopping to new pain relief options and the best home fitness equipment.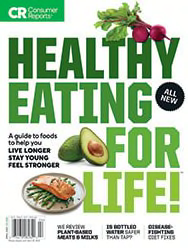 Healthy Eating for Life!
This all-new guide to foods will help you live longer, stay young, and feel stronger! Follow the advice of our team of Ph.D.s, dieticians, and researchers to sort the truly healthy foods from the popular diet of the week. You'll learn the best nuts for your health, get the scoop on plant vs cow's milks, discover the not-so-sweet truth about sweeteners and so much more. In this world of confusing food choices, we'll help you eat better to live better.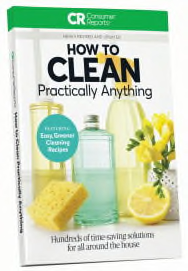 How to Clean Practically Anything
500+ easy, expert fixes to get rid of stains, germs, grime and spills. This guide provides hundreds of time-saving solutions to keep your home—and everything in it—clean, fresh, and looking new. Plus use the Keep-It-Clean calendar for daily, weekly, monthly, and seasonal to-do's in this 228-page guide.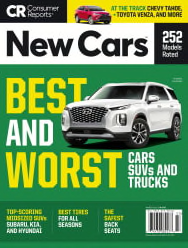 New Cars
What are the best and worst cars, SUVs, and trucks for 2021? The latest New Cars guide will tell you! Consumer Reports tested more than 250 vehicles at our very own auto track to give you exclusive ratings and reviews on performance, safety, comfort, and fuel economy that you can't get anywhere else. The guide also reveals top-performing tires, the cars with the safest back seats, best midsize SUVs for under $45k, plus important crash-test data and a handy safety glossary on new advanced driver-assist features. Start your new car search with our trusted information in this 201-page guide!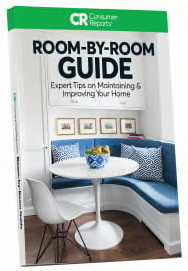 Room-by-Room Guide
Keep your home in tip-top shape with expert tips on maintaining and improving your home. From remodeling your bathroom and organizing your kitchen to painting your bedroom or updating fixtures, this guide helps you master both small and large projects. You'll also find strategies for finding the best appliances, hiring the right professional, and avoiding common DIY mistakes in this 220-page guide.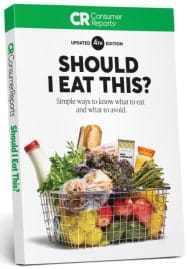 Should I Eat This?
Is that cup of coffee good for you, or bad? What about alcohol? And potatoes? Get to the bottom of today's most controversial food debates and find out which foods really should have a place on your table. You'll discover what foods are best for weight loss, brain function, keeping your arteries free of plaque build-up, warding off type 2 diabetes, reducing the risk of cancer, and helping you look and feel younger in this 220 page guide.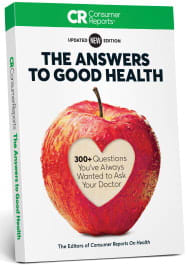 The Answers to Good Health
More than 260 questions you've always wanted to ask your doctor! Whether you want to know more about diet and nutrition, cancer, heart and lung problems, headaches, sleep, or common aches and pains, you'll find the answers in this valuable reference guide. Each major topic is listed alphabetically, with specific problems included. You'll consult this newly revised and updated source time and again to answer your most pressing questions.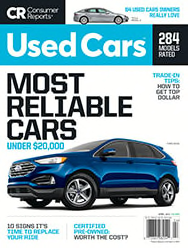 Used Cars
Take the risk out of buying a used car and get top dollar for your old one. Our latest 241 page guide helps you find a reliable used car at the best price with reviews, ratings, & reliability information on 750+ models. Plus, get tips on stretching your fuel economy, how to get the lowest interest rate on a car loan, top ways to get the most for your trade-in, and which cars are the owner satisfaction champs.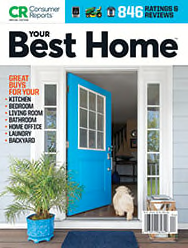 Your Best Home
Home advice you can trust from the experts at Consumer Reports. Step inside our latest 96 page guide to find the best roomiest refrigerators, top mattress cooling pads, how to outfit your home gym on a budget, plus exclusive ratings and review on over 800 home products. Our team can help you improve every room in your house, and your yard and outdoor space too!
Digital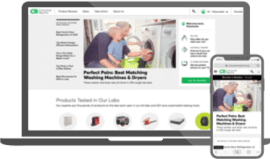 Consumer Reports Digital Membership
With digital access, you get independent ratings and reviews for over 8,500 products and services. Easily compare products side-by-side and access member benefits and features that help you be safe and stay informed.