9 Kitchen Gadgets That Chefs Always Have On Hand
Whether they cut down on prep time or perfectly slice an onion, these are the tools the pros can't live without
When you shop through retailer links on our site, we may earn affiliate commissions. 100% of the fees we collect are used to support our nonprofit mission. Learn more. Browse the kitchen section of a department or home goods store and you might find yourself feeling overwhelmed by the sheer array of gadgets and tools lining the shelves. From citrus zesters to food choppers and a whole lot in between, it seems as if for every culinary task there are a handful of instruments geared toward making the experience more seamless, simple, or simply efficient. 
So which ones are worth buying to share the precious real estate in your kitchen drawers or cabinets? We turned to chefs of various disciplines to see which tools they can't live without. Here's what they had to say.
Immersion Blender
KitchenAid Variable Speed Hand Blender
Paola Velez, a pastry chef, loves immersion blenders for their versatility and ease of use. "It can essentially do everything a conventional tabletop blender can do, but in a much smaller and easier-to-store form," she says. "Instead of dirtying another vessel that takes up half the kitchen sink, I can blend and whip things right in their own pot, bowl, or jar." 
And whether Velez is making breakfast smoothies, a velvety soup, or whipped cream or chocolate ganache, the immersion blender is her go-to. The best part? It's a cinch to clean and store compared with a traditional blender. 
For more options: The best immersion blenders from CR's tests.
Digital Kitchen Scale
Greater Goods Digital Food Kitchen Scale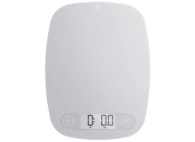 Jesse Szewczyk, a food stylist and cookbook author, uses this digital kitchen scale almost every day and can't imagine baking without it. "The difference between a baked good made by weighing your ingredients vs. using cup measures is night and day," Szewczyk says. "A standard cup of flour can be wildly inconsistent depending on how you fill the measuring cup (scooping into a bag vs. spooning it in), but by weighing your flour, you remove the inconsistency factor and ensure your baked goods come out perfect every time."
Mise en Place Bowls
OXO Good Grips Glass Prep Bowl Set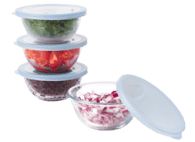 Mise en place is a French culinary term that refers to the practice of "putting in place" or gathering all the ingredients one will need for a recipe. It's a great way to streamline the cooking process by having everything measured and ready to use.
"Nothing is quite as dreamy as a beautifully prepped mise en place when cooking," says Kim Pham, co-founder of Omsom, a brand that offers spice kits—meant to serve as a meal base—containing a combination of sauces, seasonings, and oils inspired by the multitude of flavors in Asian cuisine. For Pham, these little glass bowls from Oxo help prevent a cluttered cutting board and ensure that there are fewer ingredients to clean off the floor and counter, which tends to happen when pushing ingredients around.
Kitchen Scissors
SD Queen Cutting Scissors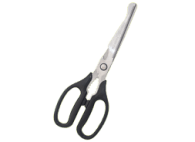 Chef Jamie Bissonnette of the Boston-based restaurants Toro, Coppa, and Little Donkey loves a good pair of kitchen shears. Whether it's for snipping herbs, veggies, or mushrooms, or breaking up canned tomatoes, this tool is versatility at its best. "I love how easy it is to use, and that things do not need to be moved to a cutting board," Bissonnette says. "It's a must-have for no-fuss cooking."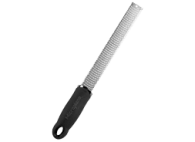 Microplane graters are a staple in the kitchen of Paul Hope, CR's resident chef. Ideal for zesting citrus and grating, the culinary tool can be a great substitute when you don't feel like breaking out a food processor or dirtying a knife and cutting board. Hope uses it to grate ingredients like a nub of ginger or a few cloves of garlic without having to finely mince them with a knife. And if that weren't reason enough, "It also produces enormous piles of grated hard cheese like Parmesan in just a few seconds," he adds. 
Hope prefers this one, which can easily fit in a drawer, unlike a box grater. Plus, it seems to stay sharp forever. "I have one I've used for more than 10 years and it's still going strong!" he says.
Digital Meat Thermometer
ThermoWorks Thermapen Digital Meat Thermometer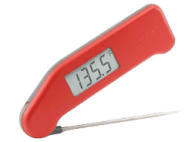 "Whether I'm grilling at home or smoking meats at the restaurant, my go-to gadget is a high-quality digital meat thermometer," says the pitmaster Rodney Scott of the restaurant Rodney Scott's Whole Hog BBQ in Charleston, S.C. For those who are serious about barbecue, a digital meat thermometer will be your grilling best friend, the chef says. The Thermapen is Scott's favorite; he finds it to be quick, durable, and accurate. 
For more options: See the top meat thermometers from CR's tests. 
Bench Scraper
OXO Good Grips Stainless Steel Scraper & Chopper
For the chef Marc Forgione, a bench scraper is a must, with uses that go beyond the intended. They're not just for removing sticky dough from a counter. Bench scrapers can also be used to gather chopped veggies, herbs, and other small ingredients, making it easier to transport them to a larger bowl or surface.
Mandolin
Benriner Mandoline Slicer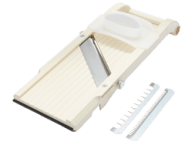 Carolina Santos-Neves, the executive chef of American Bar in New York City, finds mandolins to be a total game changer, and this one is a favorite. Aside from guaranteeing consistency in the thickness of any ingredient it cuts, it also makes the task of slicing so much easier, be it shallots, onions, or radishes. 
Oyster Knife
Victorinox Oyster Knife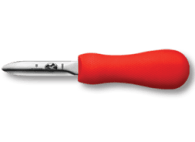 An oyster knife may not immediately come to mind as a kitchen staple. But it does for the chef Ji Hye Kim of the restaurant Miss Kim in Ann Arbor, Mich. "Of course, it's used to shuck oysters, but I love this tool because it can be so versatile in other tasks," Kim says. "I use it to peel ginger or seed delicata squash. It is narrow enough to get into nooks and crannies, but not super sharp that it will damage the product."