5 Recipes From Black Chefs to Celebrate Juneteenth
These mouthwatering dishes, perfect for a Jubilee Day celebration, can each be made in a small kitchen appliance Across the country, Juneteenth represents a celebration of freedom and a commemoration for the ancestors lost to the harms of slavery. Also known as "Jubilee Day" or "Freedom Day," the 19th of June marks the moment enslaved Americans in Texas were notified of their freedom, two and a half years after President Abraham Lincoln abolished slavery with the signing of the Emancipation Proclamation.
Chef Alexander Smalls, owner and executive chef of The Cecil and Minton's Playhouse in Harlem, New York, explains that red food has always played a part in the celebration. "It was symbolic of blood on the field and the blood of our ancestors," says Smalls, a James Beard Award winner and author of "Grace the Table: Stories & Recipes From My Southern Revival." "So you would have dishes that were rich, and a red hue, which makes barbecue anything pretty perfect."
Today in the U.S., Juneteenth—now a national holiday with President Joe Biden having signed the Juneteenth National Independence Day Act into law—is marked by parades, picnics, and cookouts. Celebratory food can include watermelon, red velvet cake, red beans and rice, and yes, anything barbecue. "Food is currency, particularly for African Americans, and was for the generations of folks who were enslaved," Smalls says. At a time when Blacks did not own themselves, they took ownership and pride in their foods and recipes. "Not only was it a form of celebration," he says, "but it was the form of dignity and respect. For the person who created that food, it was ownership that could not be taken away."
For Juneteenth, CR tapped five Black chefs to share a recipe that can be made in a small kitchen appliance, a dish that's perfect for a Freedom Day gathering. (No need to turn on the oven.) They shared typical cookout dishes such as mac and cheese and fried fish, as well as Juneteenth favorites like red beans and rice and barbecue—even vegan ribs.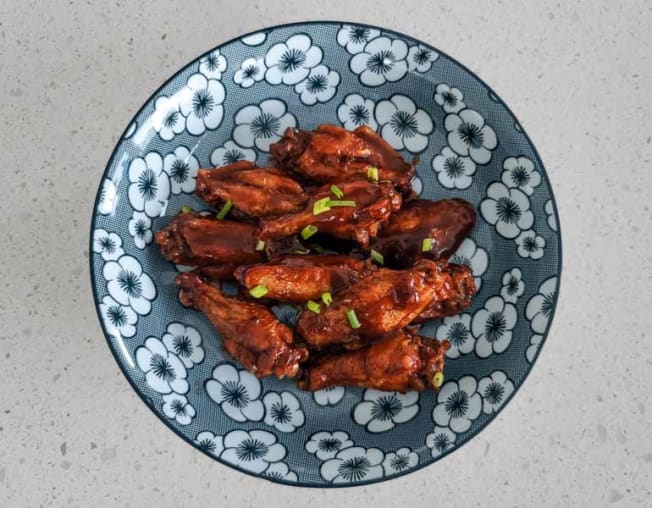 Smalls insists that barbecue is the perfect food for a summer day. "There's something about that spicy sauce and sticky fingers with a nice cold glass of bourbon or ice tea with fresh mint and a thick lemon slice that's such a heavenly joy," he says. His restaurants in Harlem serve up flavorful food reminiscent of a soulful southern kitchen. These barbecue chicken wings, prepared in an air fryer, will give you that same feeling.
1.5 to 2 lb. chicken wings
For Chicken Marinade
¼ cup olive oil
¼ cup white wine
2 tablespoons lime juice
1 tablespoon rice vinegar
½ teaspoon cayenne powder
½ teaspoon ground cumin
⅛ teaspoon smoked paprika
1 teaspoon garlic powder
1 teaspoon minced garlic
¼ teaspoon salt
⅛ teaspoon ground pepper
1 tablespoon chopped fresh cilantro
For Barbecue Finishing Sauce
¼ cup vegetable oil
4 garlic cloves, minced
¼ teaspoon ground cloves
3 cups ketchup
1 cup dark brown sugar
¼ cup mustard
1 cup honey
¼ cup Worcestershire sauce
juice of one lemon
1 small onion, minced
2 tablespoons tabasco sauce
3 teaspoons chili powder
1 teaspoon celery seed
salt and pepper to taste
Directions
Mix all the ingredients for the chicken marinade in a bowl. Pat the chicken dry with a paper towel and place into a large food-safe plastic bag. Pour the marinade over the chicken. Seal the bag tightly and refrigerate overnight or for a minimum of 4 hours.

Meanwhile, to make the barbecue finishing sauce, heat the vegetable oil in a large pan and sauté garlic until golden. Add all ingredients for the barbecue finishing sauce. Bring to a simmer, stirring constantly. Cook over medium-low heat for 45 minutes, stirring occasionally. Remove from the heat and let cool. Refrigerate until ready to use.

When you're ready to cook the chicken, remove it from the plastic bag and discard the marinade. Remove wings from the refrigerator and discard the marinade. Preheat the air fryer for 10 minutes at 380° F. Spray the air-fryer tray with nonstick cooking spray and place chicken, seasoned with salt and pepper, in a single layer. Cook wings for 24 minutes, flipping halfway through the cooking time.

Pour a cup of the barbecue sauce into a large bowl. Add the cooked wings and toss gently to coat. Serve hot. Optional: Add blue cheese crumbled and chopped scallions.

"This recipe is simple, bold, and full of brilliant flavor. The barbecue sauce complements and sticks to the chicken with every bite. It's a complete home run."
Chef Alexander Smalls
Sinful Crockpot Mac & Cheese
Chef Nicole "Nikki" Hicks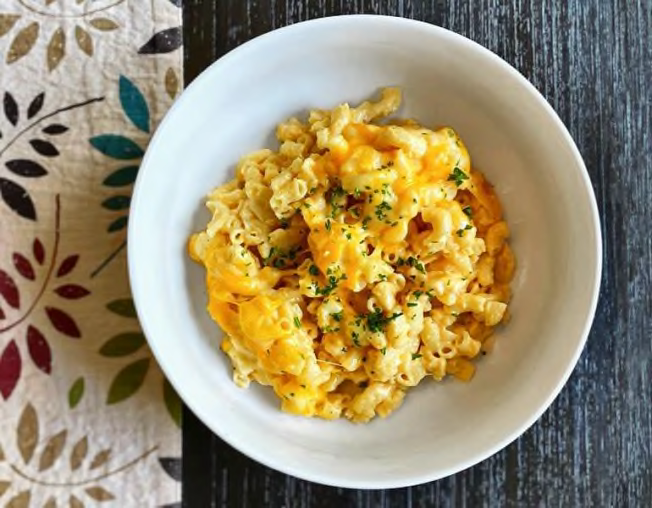 Chef Nikki, as her friends, family, and clients call her, is a trained chef, private cook, and caterer. The business owner, who's based in Atlanta, says that most of her dishes are inspired by the richness of the places she's lived, and this indulgent mac and cheese is no exception.
1 lb. macaroni
4 tablespoons salted butter
1 tablespoon kosher salt
2 tablespoons garlic powder
8 oz. cream cheese
8 oz. Velveeta, cubed
2 cups evaporated milk
4 cups shredded Monterey jack cheese
Directions
Bring a large pot of salted water to a boil, then cook the macaroni according to the package directions. Once al dente (it should still have a little "bite" to it), drain it and place it into the slow cooker.
Add the butter, remaining salt, and garlic powder, then stir. Once the noodles are coated, add cream cheese and cubed Velveeta. Stir until ingredients are mixed. (Don't worry if the cheese doesn't fully melt. It will during the cooking process.)
Pour in evaporated milk and 3 cups shredded cheese. Stir to blend. Top with the remaining cup of shredded cheese and cover with lid. Cook on low for 1 to 1½ hours and serve.

"I love this dish because it's the ultimate comfort food. Slow cooking the macaroni in a Crockpot makes this dish easy to prepare and serve."
Chef Nicole "Nikki" Hicks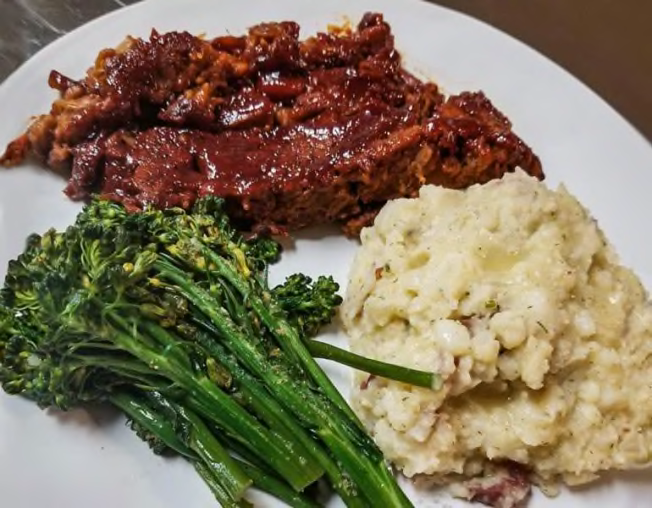 For a Juneteenth celebration, cookbook author and aspiring restaurateur Cheryl Peterson says her jackfruit ribettes are a go-to "because they are the perfectly messy, good mood type of food to enjoy with family and friends at any type of gathering, especially barbecues." Vegans love the texture of this exotic fruit because it mimics that of shredded meat. Peterson adds that when paired with barbecue sauce, this dish is a great plant-based alternative to ribs and "tender southern smokiness at its finest."
20 oz. can jackfruit, rinsed and drained
¾ cup barbecue sauce, plus additional ¼ cup (or ½ cup if you want them really saucy)
3 tablespoons nutritional yeast
¼ up water
1¼ cups vital wheat gluten
3 tablespoons soy sauce or tamari
1 teaspoon smoked Spanish paprika
1 teaspoon onion powder
1 teaspoon garlic powder
½ teaspoon smoked salt or to taste
1 teaspoon liquid smoke
Directions
Heat a nonstick pan over medium-high heat. Add the rinsed jackfruit, 1/4 cup barbecue sauce, and 1/4 cup water. Lower heat, cover, and simmer, stirring every few minutes and mashing jackfruit with a spatula or fork until jackfruit is tender, about 10 minutes. Remove cover and mash jackfruit, allowing water to evaporate. Allow to cool.
Preheat toaster oven to 375° F. Oil an 8x8-inch or 9x9-inch glass baking dish.
Combine the vital wheat gluten and all the dry ingredients in a large mixing bowl and stir well. Add the water (3/4 cup), soy sauce, and/or tamari, and cooled jackfruit. Knead well until all ingredients are evenly combined and all vital wheat gluten is absorbed. Add one to two tablespoons of water, if needed for minimal moisture.
Spread the mixture evenly in the prepared glass baking dish. Bake for 30 minutes, then remove from the oven. Use a knife to loosen the ribettes along the edges of the dish. Spread 3/4 cup barbecue sauce evenly over the top and flip over. Spread the other side with barbecue sauce and return to the oven. Bake for 15 to 20 minutes, until ribs are firm.
Cut into riblike pieces and serve with additional barbecue sauce and sides of your choosing.

"These plant-based ribettes, cooked and seasoned to perfection, are impossible to resist."
Chef Cheryl Peterson
Slow Cooker Red Beans and Rice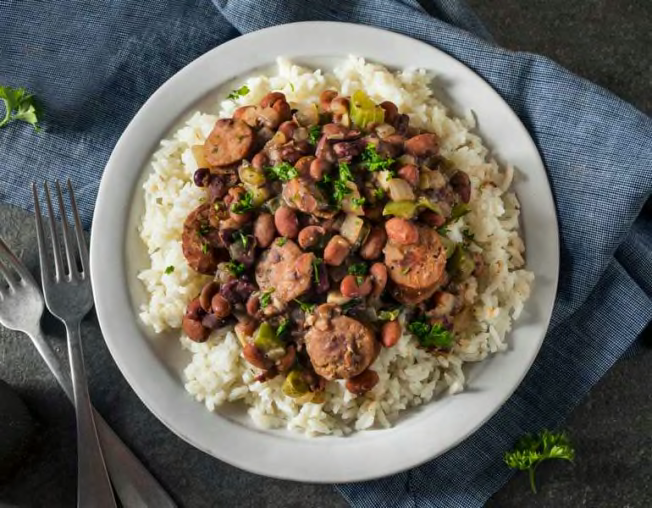 Because red foods traditionally commemorate Juneteenth, Chef Chris Williams says red beans and rice is an instant hit. The head chef at Lucille's, a cozy eatery in Houston's Museum district offering Southern-style cuisine, whips up flavorful dishes every day that pay tribute to a culinary legacy started almost a century ago by his great-grandmother.
1 lb. dried beans, soaked overnight
1 lb. chicken sausage, sliced into rounds
1 green bell pepper, chopped
1 jalapeño pepper, chopped
1 sweet onion, chopped
8 cloves garlic, chopped
1 teaspoon fresh ground black pepper
1 teaspoon Creole seasoning (or to taste)
1 smoked turkey neck
10 cups water
4 cups cooked rice
Directions
Place the beans and water into a slow cooker. Heat a skillet over medium-high heat and brown the sausage in the skillet. Once browned, remove sausage from the skillet with a slotted spoon and transfer to the slow cooker. Reserve drippings.
Add onion, green pepper, jalapeño and garlic to the drippings; cook and stir until tender, about 5 minutes. Transfer everything from the skillet to the slow cooker.
Season the mixture with pepper and Creole seasoning. Add the turkey neck. Cover and cook on low for about 8 hours, or until beans are tender. If the bean mixture seems too watery, take the lid off the slow cooker and set heat to High to cook until it reaches a creamy texture.

"This take on red beans and rice not only provides big flavor perfect for a celebratory meal, but this set-it-and-forget-it recipe is seamless enough for anyone to cook through."
Chef Chris Williams
Fried Fish With Not-Your-Grandma's Coleslaw
Chef Kathleen O'Brien Price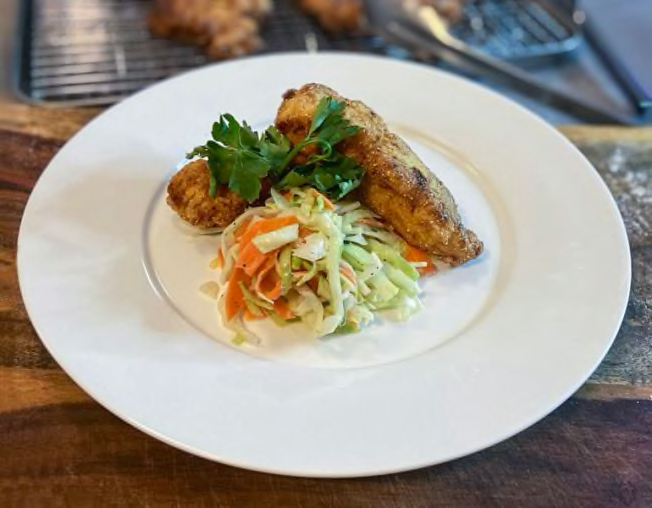 Chef Kathleen O'Brien Price, better known as @chefleen, is all about teaching people how to navigate their kitchen. She's done it for her celebrity clients, as well as amateur cooks who sign up for her virtual classes. The "Chopped" champion says this versatile dish can be eaten alone or on bread as a sandwich. "Although fish shouldn't sit out long at a cookout," O'Brien says, "you won't have to worry because it will be the first thing to go."
For the Fish
1 lb. fish, such as whiting or catfish
1 teaspoon garlic powder
½ teaspoon oregano
salt to taste
1 teaspoon paprika
1 lemon
milk
1 cup cornmeal
½ cup flour
For the Coleslaw
2 cups shredded cabbage
1 cup shredded carrot
2 limes or rice vinegar
2 tablespoons honey
¼ cups mayo
1 green onion
mint
hot chili flakes
garlic clove, minced
Directions
Cut fish into 1-inch pieces. Season with garlic powder, oregano, salt, and paprika. Add lemon zest if desired. Cover with milk. Let the fish sit for at least 30 minutes at room temperature, up to overnight in fridge.
Heat an inch of oil in a skillet. Combine cornmeal, flour, and salt on a shallow plate. Coat fish in flour mixture and fry in oil for 2 to 3 minutes on each side. Season again with salt once out of oil. Drain on paper towel or baking rack.
While fish is frying, combine lime juice or vinegar, honey, minced garlic, and mayo in a bowl and stir. Separately, in a food processor, add green onion and 5 to 8 leaves of mint, then pulse. Set mixture aside. Toss cabbage and carrot into food processor and pulse until shredded. Mix all ingredients together and season with salt, pepper, and chili flakes, if desired. Serve with fried fish and garnish with lemon.

"This perfect-for-summer dish is super easy to make. I love how the bright and light coleslaw perfectly complements the fried fish."
Chef Kathleen O'Brien Price