When you shop through retailer links on our site, we may earn affiliate commissions. 100% of the fees we collect are used to support our nonprofit mission.
Learn more.
For the past three years the Thermador SGSX365FS has topped Consumer Reports' tests of 36-inch gas cooktops with very good scores for boiling and excellent for simmering. But Thermador recently got knocked off its perch by one of the first gas cooktops made by Samsung. It bested the Thermador in both our high- and low-heat tests and costs almost $400 less.
It wasn't a complete surprise, based on our tests of the company's ranges where Samsung has some winners—the Samsung NE58F9710WS, $1,800, is our top double-oven electric range and the Samsung NY58J9850WS, $3,010, the top dual-fuel range.
The new Samsung cooktops include 30- and 36-inch versions of otherwise identical gas and electric models. We tested the 30-inch versions (burner output and configuration is the same for each pair), and applied the same results to the 36-inch models. The wider cooktops simply add additional space around each burner, which is useful if you're using a 12-quart stockpot and a 14-inch pan at the same time.
All of the cooktops have five burners, with the highest-output burner in the center. The lowest-output burner is in the back righthand corner, which is convenient for simmering a big pot of soup for hours without interfering with the other burners.

Using WiFi and Bluetooth, the cooktops can be programmed to communicate with certain Samsung range hoods so that the exhaust fan turns on automatically when a burner is activated. You can also use an app on your smartphone to check burner status—a plus if, say, you tend to worry that you left a burner on after you've left home.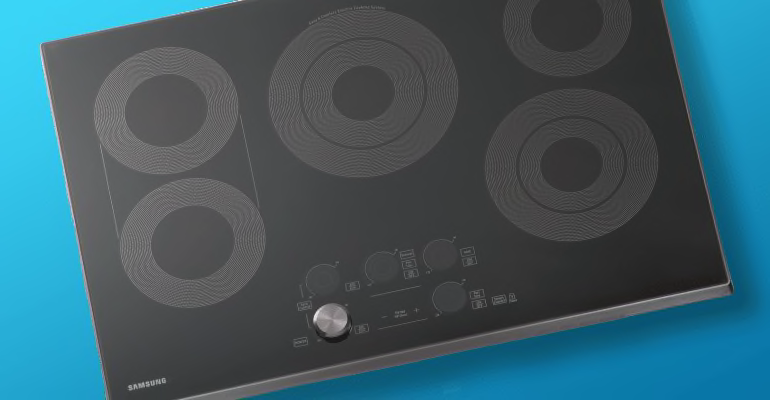 How They Performed
Cooktops tend to do well in our tests because they don't have an oven and in our range tests, it's the performance of the oven that accounts for the biggest differences. The electric Samsung NZ30K7570RG/AA, $1,250 (shown above), slightly outperformed the gas Samsung NA30K7750TS/AA, $1,350 (shown at top), by heating faster, but that's to be expected. "We typically find electric smoothtops will heat faster than gas cooktops," says Tara Casaregola, who oversees our tests of ranges, cooktops, and wall ovens. "That's because some of the energy of a gas burner is lost to heating heavy, cast-iron grates."
Despite the electric cooktops' narrow edge in performance, we think the gas models are the real standouts here—they brought 6 quarts of water to a boil in a mere 12 minutes, faster than any other 30-inch gas cooktop in our ratings. That's only a bit faster than the previously top-rated Thermador, but some cooktops take as long as 17 minutes, making the Samsung about 30 percent faster than those at the bottom of the pack.

That's in no small part because of the 22,000-Btu burner found at the center of the gas model, one of the largest gas burners we've evaluated. In our tests, this cooktop also simmered with near-perfect steadiness, which a Samsung spokesperson attributed to "burner caps . . . designed to ensure that the flame is uniformly ejected without concentrating in one place." That helped the 30-inch gas cooktop take the top spot in our ratings. The 36-inch version is the Samsung NA36K7750TG/AA, $1,525.

"Balance between the burners was considered carefully when designing the cooktop," said the spokesperson. That makes sense. If the high-output burner was much larger, it could affect gas flow to the other burners and would almost certainly limit what cookware you could use on the highest setting. "As it is, you'll really only see the full benefits of such a large burner when you boil a giant pot of water," Casaregola says.

The 30-inch electric cooktop brought water to a boil in a zippy 10 minutes and simmered just as steadily as the gas model. As good as it is, it landed slightly behind our top-rated KitchenAid KECC604BBL, $900, and Jenn-Air JEC4430BS, $1,400. The 36-inch version is the Samsung NZ36K7570RG/AA, $1,350.
We don't currently test range hoods but found that the WiFi connectivity worked as promised—correctly identifying which burners were on and allowing us to set a timer.
The Advantages of Cooktops
Though ranges dominate the cooking market, cooktops have their advantages and are often preferred by homeowners who want a high-end look with built-in appliances. By separating the cooktop from the oven, you can cut down on kitchen traffic in families with too many cooks. And you can install a cooktop in an island and put the wall oven at eye level, where it's easier to peer in and to move heavy pans in and out.

Another advantage: You can mix and match brands of cooktops and wall ovens, in order to choose the best-performing models of each appliance, an approach we have long recommended if performance is your main concern.