When you shop through retailer links on our site, we may earn affiliate commissions. 100% of the fees we collect are used to support our nonprofit mission.
Learn more.
Starting the year with a new set of cookware can mean years of enjoyable cooking, especially if you treat your pots and pans with care. With proper cleaning, cookware should last for years. It's important, though, to keep the material from which it is made in mind and clean accordingly. Start by reading your owner's manual. Here are some cookware care tips from the pros at Consumer Reports, adapted from "How to Clean (Practically) Anything."

Aluminum. Wash as soon as possible after use, and dry thoroughly to avoid pitting. Aluminum dulls easily, so shine up the surfaces with a soapy non-scratch scouring pad.

Cast iron. Season cast-iron cookware before using it. Brush the sides of a pot, pan, or saucepan with unflavored vegetable oil, then pour in enough oil to cover the bottom. Heat in the oven at low temperature for an hour. Remove, let cool, pour out the oil, and wipe away any residue with a paper towel. After each use, wash with hot water and dishwashing liquid, and dry thoroughly to prevent rusting. If you notice rust spots, scour with steel wool and a little vegetable oil.

Copper. Instead of scouring, which can destroy the tin lining, wash pots and pans with warm water and dishwashing liquid, and soak in the same solution, if necessary, to remove baked-on food. Clean the exterior of the cookware with a solution of white vinegar and salt, then rinse and polish. Or use a commercial copper cleaner.

Enamel. Aluminum, cast-iron, or pressed-steel pans and baking dishes covered with enamel can be washed by hand or in the dishwasher. Avoid abrasive cleaners and scrub pads to prevent scratching.

Nonstick. Check care instructions. Most are not meant to be washed in the dishwasher but are easily cleaned with hot water and dishwashing liquid. Use plastic or nylon scrubbers on burnt-on food.

Stainless steel. Wash stainless steel with detergent and water as soon as possible after use to reduce the chance of staining. Don't use scouring powder or steel wool, which may scratch surfaces and leave them prone to staining, and don't leave stainless-steel pans to soak for long periods, because mineral salts in the water may cause them to pit.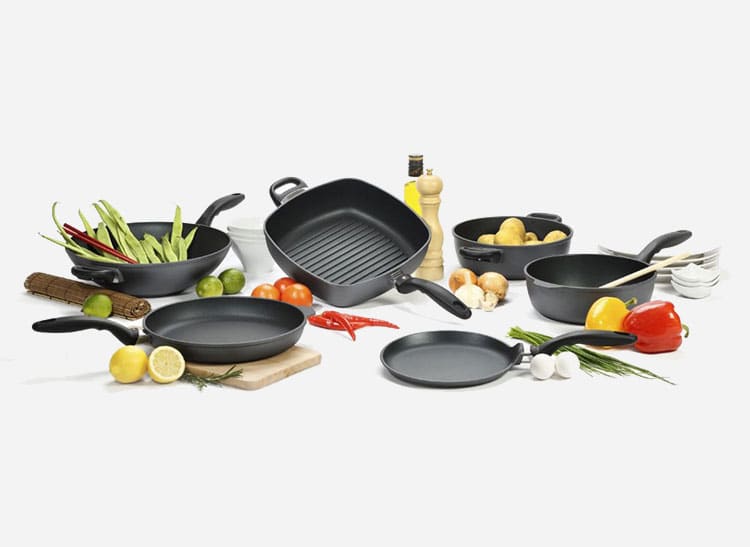 Best Cookware Sets
When buying cookware, keep in mind that the number of pieces in a set includes the pots, pans, and lids so a 10-piece set may only have five or six pans. One 16-piece set we tested included six spoons and spatulas in the count. Here are the top five nonstick cookware sets from our tests (all aluminum):
If you only need a pan or two, you can buy individual pieces from the same sets from open stock, including our top-rated frying pans.

Bonus: How to Clean Bakeware
Be sure to follow the care instructions that come with most bakeware. As a rule of thumb, avoid steel wool and abrasive cleaners. It's usually best to simply wash bakeware with detergent and a damp sponge. Soak in a solution of water and a little baking soda to loosen stubborn deposits; if they remain, remove them with a plastic-edged scraper, not a knife.