When you shop through retailer links on our site, we may earn affiliate commissions. 100% of the fees we collect are used to support our nonprofit mission.
Learn more.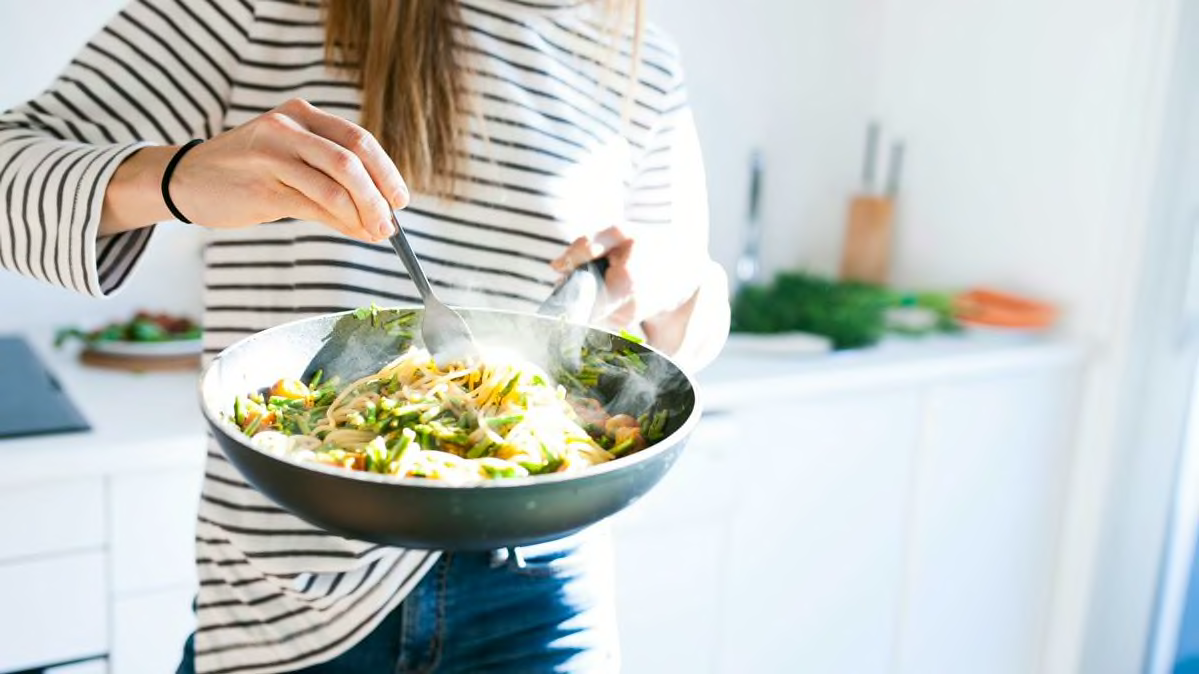 Building a great lineup of pots and pans is not about quantity. It's about functionality. So whether you're setting up a kitchen from scratch, replacing worn-out cookware, or paring down over-full cupboards, it's great to know what the go-to cookware pieces are.
Cookware is sold individually and in sets. For the sake of efficiency, CR tests cookware sets, but you can buy some of the pieces in our rated sets on their own.
Sets can be tricky: The number of pieces mentioned on a box doesn't necessarily match how many pots and pans a set contains.
"Manufacturers count a lid as a piece," says Marion Wilson-Spencer, a market analyst covering cookware for CR. "Even utensils and a cookbook may count as pieces."
We turned to Paul Hope, a classically trained chef and CR reporter, for advice on taking inventory of pots and pans and filling in the blanks—with a set or with single pieces. Hope says a set of cookware can be a good place to start—as long as it's the right set.
"Look for a small set with large-sized pieces—the biggest frying pan, saucepan, and stockpot you can find," he advises. "Don't worry about a sauté pan. You can do everything in a fry pan that you'd do in a sauté pan."
Cookware Essentials
Here is Hope's list of must-have cookware pieces. Between what you already have and what you might add, you'll be in good shape in the kitchen with the following:
A 3-quart saucepan. "This size is big enough for making pasta for a family of four, but not so big that it takes forever to boil and eats up storage space."
A 10- or 12-inch cast-iron fry pan. "Great for cooking steaks and searing. Cast iron can withstand high heat and holds heat well—you're never going to damage it."

A 10-inch nonstick fry pan. "Handy for cooking eggs, pancakes, and fish, which is more delicate than steak and doesn't need high heat."

A 5- or 6-quart Dutch oven. "Ideally porcelain over cast iron. Use it for braising or making stew. A Dutch oven, with its high sides and ability to retain heat, is also good for deep frying."

A roasting pan. "The disposable ones are cheap and make cleanup easy, but a roasting pan with solid construction and sturdy handles makes it much easier to put a heavy turkey or roast in the oven, and take it out. Though it's an essential for holiday cooking, a roasting pan is used infrequently, so no need to buy an expensive one."
At CR, we don't rate most of these pieces individually—though some pieces within the cookware sets we do rate are available for individual purchase. Here are the top three nonstick and uncoated sets from our cookware ratings.
Best Cookware for Your Meals
A huge part of cooking is picking the right tool for the job. On the 'Consumer 101' TV show, Consumer Reports' expert Sara Morrow explains to host Jack Rico what type of cookware you should be using for your meals.