When you shop through retailer links on our site, we may earn affiliate commissions. 100% of the fees we collect are used to support our nonprofit mission.
Learn more.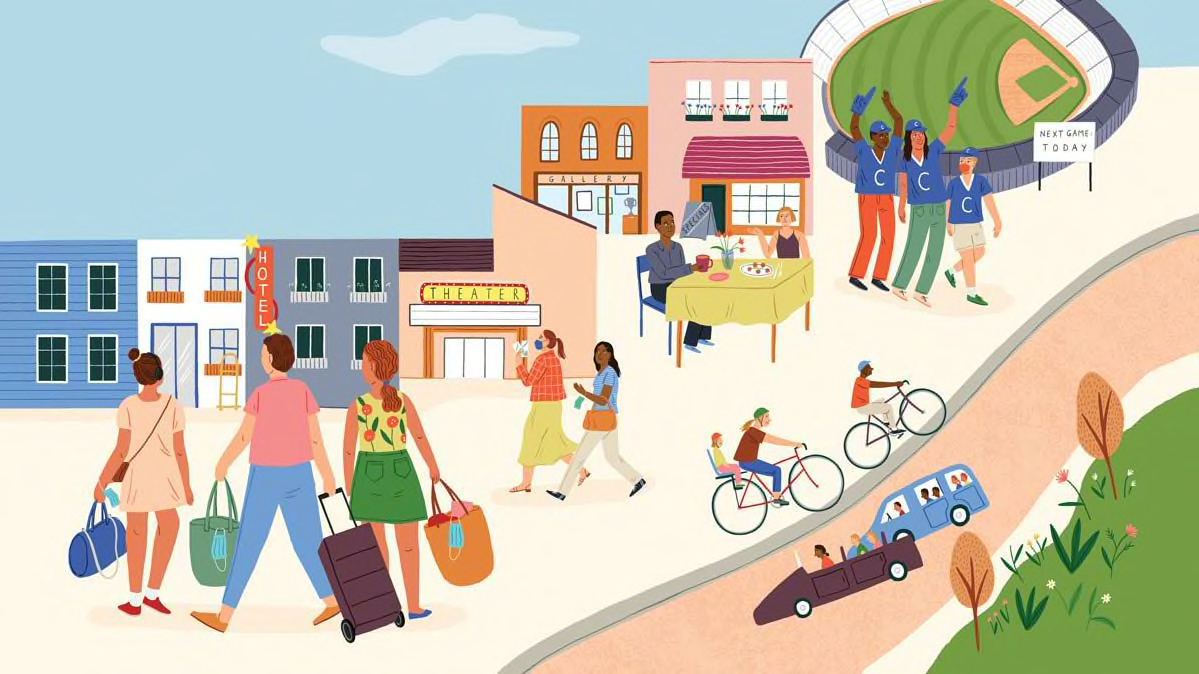 Illustration: AMELIA FLOWER
Americans who spent the past year or longer yearning to get back to their usual activities are now getting the chance. With COVID-19 infection rates trending down in many places in the U.S., restaurants, gyms, hotels, and other venues are reopening. In May, the Centers for Disease Control and Prevention announced that people who are fully vaccinated against the coronavirus—meaning at least two weeks past their final shot—can go unmasked and without social distancing in most situations, with little risk.
The vaccines don't guarantee you won't contract the virus, but research suggests that they provide near total protection against severe COVID-19. "Even if cases are occurring, they're now increasingly being decoupled from hospitalizations and deaths," said infectious disease specialist Amesh Adalja, MD, a senior scholar at the Johns Hopkins University Center for Health Security in Baltimore, at an Infectious Diseases Society of America (IDSA) press briefing.
For these reasons, it's important to continue taking some precautions to protect ourselves and others—notably, older adults, people with chronic medical issues, the immunocompromised, and those who can't be vaccinated—says James Dickerson, PhD, Consumer Reports' chief scientific officer. After all, "you can't distinguish fully vaccinated people who don't wear masks from unvaccinated people who don't wear masks," he says. To this end, the IDSA urges local officials to consider their area's transmission and vaccination rates when setting policies. And though many masking and distancing requirements have been relaxed, some federal, state, and local laws, as well as individual businesses' policies, may still call for these measures. So the new normal could look different, depending on where you are. It's also likely to continue changing.
Here medical experts cover the safest strategies for vaccinated and unvaccinated people in different situations. We're not fully back to normal yet, but we're well on the way. Following this expert advice could help us get there faster.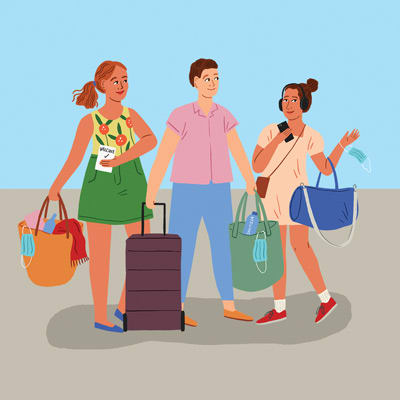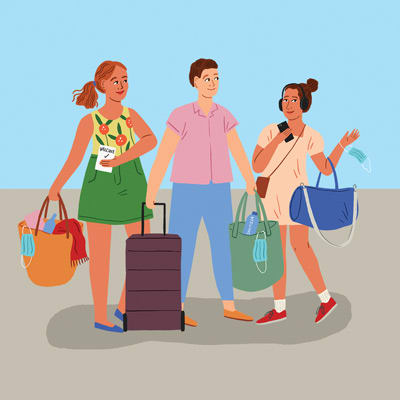 Illustration: Amelia Flower
Planes, Trains & Automobiles
Travelers in the U.S. began dusting off their suitcases in April, when the CDC announced that fully vaccinated people can travel safely within the country. There's ample interest: In a Consumer Reports nationally representative survey (PDF) of 2,288 Americans conducted in April, 22 percent said a vacation was the social activity they missed most before full vaccination (or the most eagerly anticipated activity afterward).
The federal government still requires everyone 2 and older to wear a mask on planes, trains, and other public transportation. As of mid-May, destinations such as Hawaii and Chicago were asking that all visitors, or those from certain states, present a negative COVID-19 test. For unvaccinated domestic travelers, the CDC advises getting a COVID-19 test one to three days before travel and three to five days after, and self-quarantining for seven days after returning home. The agency also recommends that all travelers have a COVID-19 test three to five days after returning from a foreign country. And most airline passengers must have a negative test result no more than three days before traveling back to the U.S. or proof of COVID-19 recovery within the prior three months. (Rules and CDC guidance change often, so be sure to check before travel.)
Should You or Shouldn't You?
"For anyone who's fully vaccinated, the risk of being on an aircraft, train, bus, or other mode of public transportation is low to very low," says infectious disease specialist W. David Hardy, MD, an adjunct clinical professor at the Keck School of Medicine at USC in Los Angeles. For unvaccinated travelers, he says, the risk is at least medium "because of the close seating arrangements and the fact that other unvaccinated passengers don't always wear their mask correctly."
Driving? "Of all the modes of travel, the most secure is in the cocooned environment of an automobile," says William Schaffner, MD, a professor of infectious diseases at the Vanderbilt University Medical Center in Nashville. The risk in a taxi or another for-hire vehicle is also low for vaccinated and unvaccinated people if occupants are masked, passengers sit in back, and "windows are at least partially open, so fresh air can freely circulate," says infectious disease specialist Ravina Kullar, PharmD, IDSA spokesperson.
Smart Steps
Even if you're fully vaccinated, remove your mask only for eating and drinking—briefly and only if others are masked. "Other passengers are basically at the end of your nose," Hardy says. "If they sneeze or cough while you have your mask off to eat, that's where an exposure could occur." Restrooms pose no heightened risk if you stay masked and wash your hands.
Be clear on cancellation and change policies. Airlines are reinstating some penalties waived earlier in the pandemic: If you bought the least costly tickets after certain dates on American, Delta, or United, for instance, you can no longer change or cancel them free of charge. Amtrak has waived change fees for reservations made by Sept. 6, 2021, but cancellation penalties may apply.
Many travel insurance policies now cover cancellations due to COVID-19 illness, says Meghan Walch, product manager at InsureMyTrip, a comparison website. "But standard coverage will not cover cancellations due to fear of COVID-19 or border closings." The Cancel for Any Reason protection in some policies has no exclusions but has eligibility requirements, can be pricey, and typically reimburses only 50 to 75 percent of costs. Note that rental cars may be scarce and expensive, so book ahead and check prices at off-airport locations. They might charge lower rates and have fewer fees. Go or
Not?
International Travel & Cruises
The current advice from the Centers for Disease Control and Prevention is that people put off international travel until fully vaccinated. "I've traveled internationally and think it's probably okay as long as you take precautions and have been fully vaccinated," says infectious disease specialist Maria L. Alcaide, MD. Infectious disease expert Ravina Kullar, PharmD, has a somewhat different view: "I would not recommend international travel until we see a consistent decrease in cases."
As for cruises from U.S. ports, the CDC projects that some could resume as early as mid-July. However, cruise lines will first need to meet several conditions, such as conducting test sailings or attesting that 98 percent of crew members and 95 percent of passengers are fully vaccinated. Will it be safe? "If a cruise line is requiring all passengers and crew to be fully vaccinated and test negative for COVID-19 before boarding, you'd be in a bubble and the risk would be low," Kullar says. But shore excursions could hike risks, so for now it may be best to wait to cruise.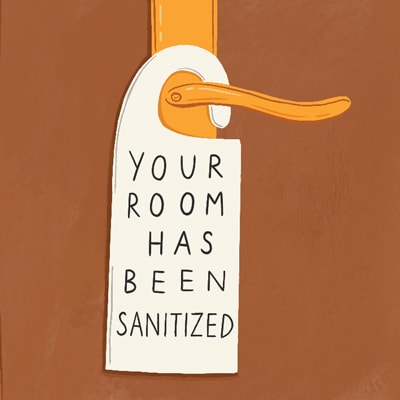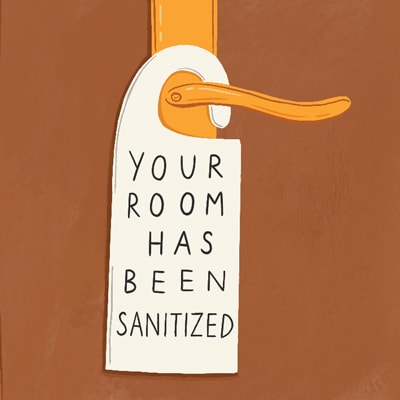 Illustration: Amelia Flower
Hotels & Home Rentals
If a hotel stay is in your future, it's a good idea to confirm that cleaning and ventilation measures to minimize COVID-19 transmission are in place. "Hotels have a high rate of individuals traveling from all parts of the world, so disinfecting is important to prevent even the remote chance of COVID-19 infection from surfaces," says Kullar at the IDSA. Barring local and state rules, many chains no longer require fully vaccinated guests to wear masks in indoor public areas such as elevators.
Should You or Shouldn't You?
More than half of Americans in CR's survey—60 percent—said they'd be comfortable at a hotel where other guests might be unvaccinated. And experts say staying in a hotel room or home rental is a fairly safe bet for both vaccinated and unvaccinated travelers. "As long as the room has been properly cleaned and it has been 3 or 4 hours since the previous inhabitants were in the room, I would consider that low-risk," says Hardy at USC, adding that those hours should allow any floating viral particles to dissipate.
Smart Steps
Even if you're fully vaccinated, some experts, like Kullar, advise that you "continue to wear a mask and practice physical distancing in all public areas." She also recommends that you try to dine outdoors and at least 6 feet from other tables when at a hotel. When booking, remember that the liberal cancellation policies of earlier in the pandemic may have been lifted, that prepaid reservations might be ineligible for refunds under any circumstance, and that policies for hotels and home rental platforms such as Airbnb vary from property to property.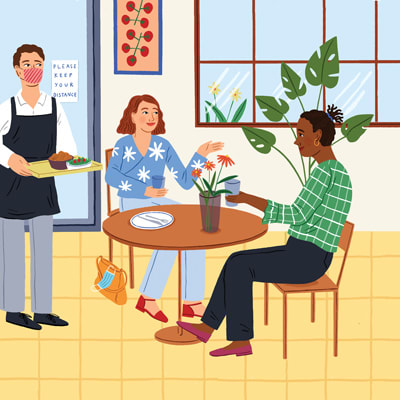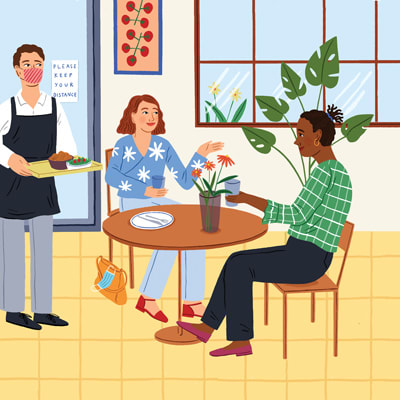 Illustration: Amelia Flower
Restaurants & Bars
After a year of closures, takeout, creative outdoor seating setups, and limited indoor capacity, restaurants and bars are taking steps to return to normalcy, and people are eager for it: Seventy-eight percent of Americans in CR's April survey said they plan to eat indoors at a restaurant at least once every other week after the pandemic is declared over.
At this point, the rules on how many people are permitted inside restaurants and bars vary widely by community, but you're likely to see plenty of anti-COVID-19 measures for a while, such as enhanced ventilation and mask requirements while you're not eating or drinking. That's because evidence has shown that in-person dining contributed to early COVID-19 spread, thanks in part to the close proximity of diners to each other and their tendency to linger at the table.
Should You or Shouldn't You?
Whether you're vaccinated or not, having a meal or a drink outdoors with your household can be low-risk because the fresh air helps dissipate any coronavirus particles, especially if tables are spaced well apart and servers wear masks.
But according to the CDC, the risk rises for unvaccinated folks who eat outside with unvaccinated people from different households, so if you haven't gotten your shots yet, you may want to stick to fresh-air dining only with your household, pod, or fully vaccinated friends. Also, be wary of setups that mimic the indoors: "Just because you're on a street doesn't mean you're 'outside' if there are walls and ceilings and doors," says Melissa Hawkins, PhD, professor in the department of health studies at American University in Washington, D.C.
When it comes to indoor dining and drinking, the overall risk is low if you're fully vaccinated, according to Monica Gandhi, MD, an infectious disease physician at the University of California, San Francisco, even in louder or more crowded situations, such as at a bar or club with live music. But if you're not vaccinated, indoor dining remains high-risk.
Smart Steps
If possible, make reservations to avoid potentially crowded waiting areas and to ensure that you get a table if capacity limits are in place. If you're unvaccinated, except for using the restroom (where you'll want to wear a mask), stick to your party, rather than moving about the dining or bar area.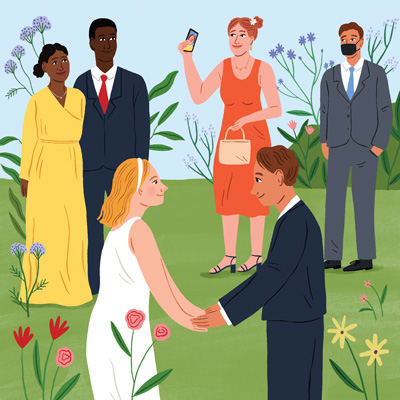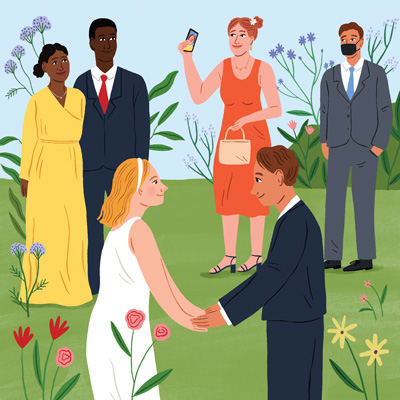 Illustration: Amelia Flower
Parties & Celebrations
Many weddings, reunions, and other celebratory gatherings postponed in 2020 and early 2021 are now planned for this summer and fall. If you're hosting or considering attending one, check rules and regulations ahead of time because they vary from place to place. For instance, in New Jersey, where private catered wedding venues were prohibited from opening dance floors until recently, guests can now boogie if they're masked and socially distanced.
Should You or Shouldn't You?
At indoor and outdoor events where everyone is fully vaccinated, masks and staying 6 feet apart are now unnecessary, according to the CDC. (Want to get your nails or hair done beforehand? The CDC says these are low-risk activities for fully vaccinated folks—even without masks.)
If you and some other guests are unvaccinated, the risk is at least medium. So if you go to such a gathering, wear a mask and practice social distancing. And note that risks climb as the event size and number of households rise, especially if attendees come from different states, says Amanda Castel, MD, a professor in the department of epidemiology at the George Washington University Milken Institute School of Public Health in Washington, D.C.
Smart Steps
Unvaccinated? Find out whether the hosts are asking guests about their vaccination status and requesting that they be tested shortly before the event. This may help make a potentially iffy situation somewhat safer, Castel says, along with masking and social distancing.
Hosts may want to consider that plenty of fully vaccinated people are still wary about gathering in large groups inside without masks. "If it's possible, have it outside," says Hawkins at American University, to take the burden of making a hard decision off the guests.
Oh, and are you wondering whether it's really okay to hug someone when you see them at a celebration? (Seventeen percent of Americans in CR's survey said they missed this most before full vaccination or were looking forward to it most afterward.) As long as you and the huggee are fully vaccinated, hug away!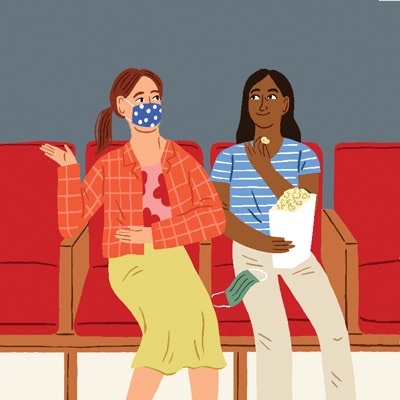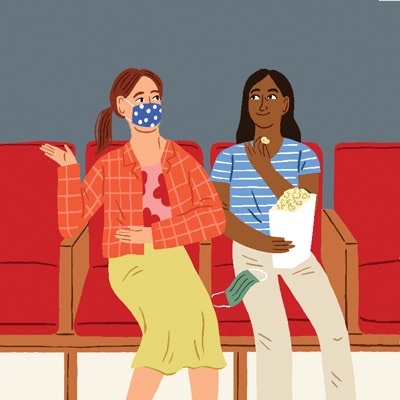 Illustration: Amelia Flower
Movies, Museums & Theaters
In CR's survey, 42 percent of Americans said they plan to see a movie on the big screen at least once every two weeks after the pandemic is over. So they'll be glad to know more and more theaters are reopening, many with safety measures in place. The CinemaSafe program from the National Association of Theatre Owners encourages theaters to not only limit the number of people (there may be local restrictions, too) but also improve ventilation and eliminate communal condiment stations—so no self-serve popcorn butter. Regal Cinemas and Cinemark, for instance, say that they're using their heating, ventilating, and air conditioning systems to bring in more fresh air, and that seats around those that are reserved will be kept empty.
Should You or Shouldn't You?
Indoor events such as movie and theater performances, and visits to an uncrowded museum are among the activities the CDC considers low-risk for vaccinated people. But communities or businesses may require masks. If you're not yet vaccinated, indoor theaters could be iffy, so Hawkins recommends outdoor options such as drive-in movies and concerts, and theater performances in a park—particularly those where masks are required and reasonable distancing measures are in place. Museum-going may be only a medium-risk activity for unvaccinated people wearing masks: Many institutions have timed and ticketed entry, reduced capacity, and mask requirements.
Smart Steps
Some movie theaters rent screening rooms for small private events. If you want to see a film on the big screen but are concerned about being surrounded by people whose vaccination status is unknown to you, this may be an option, Hawkins says. Invite nine or 10 people (the fully vaccinated don't have to mask up or socially distance in small indoor gatherings of vaccinated and unvaccinated friends and family, per the CDC's guidelines) to split the cost, and you're likely to come close to a typical ticket price. Otherwise, Cinemark recommends buying tickets at limited-capacity theaters in advance to make sure you get the seat you want. Essential
Items:
Your Summer Take-Along Kit
Whether you're doing a nearby activity or taking a trip, the following items may come in handy.
Masks: Many places may still require them. If you're going on an overnight or multiday trip, be sure to pack enough to wear a fresh one each day.
Hand sanitizer: Cleaning your hands often and well is critical for preventing all kinds of infections. Soap and running water are best, but hand sanitizer will also do the job.
Vaccination card: Have a photo of both sides of your COVID-19 vaccination card on hand in case you need it for entry to a venue.
Medical info: If someone in your group starts feeling ill, you may need to contact their doctor or seek help. So be sure everyone has their insurance card, doctors' contact info, and a list of their current medications. In fact, a copy of regular prescriptions is a good idea for travel.
A first-aid kit: It's wise to have one in your car or travel bag. Make sure your kit includes a thermometer and fever-reducing medications.
Illustration: Amelia Flower
Live Music & Sports
A number of these venues are open but may limit guests and ask for documentation of vaccination or a recent negative COVID-19 test. Or, like the San Francisco Giants, they might have separate sections for the fully vaccinated and the unvaccinated.
Should You or Shouldn't You?
Sports games and concerts—along with movies and plays—were among the events that 15 percent of Americans in CR's survey said they missed most before vaccination or were looking forward to most afterward.
For those itching to get back into the stands, the CDC says big outdoor events are low-risk for vaccinated people without masks. For the unvaccinated, big, crowded events pose risks, but even a large event can be reasonably safe if it's outdoors, with limited numbers of people and with masking and distancing, says Preeti Malani, MD, chief health officer and professor of medicine in infectious diseases at the University of Michigan in Ann Arbor.
Smart Steps
To avoid crowding at concessions, see whether mobile ordering is available, try flagging down concession sellers in the stands, or eat ahead of time. If you're unvaccinated and want to give the band a "woo hoo" or join in a chant at an outdoor concert or sports game, go ahead as long as you're masked, says Linsey Marr, PhD, a professor of civil and environmental engineering at Virginia Tech University in Blacksburg who studies airborne virus transmission. Cheering and chanting expel viral particles more than normal breathing and talking.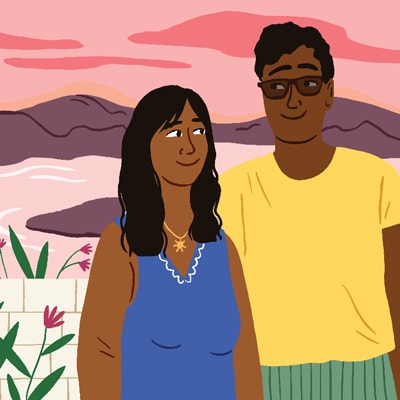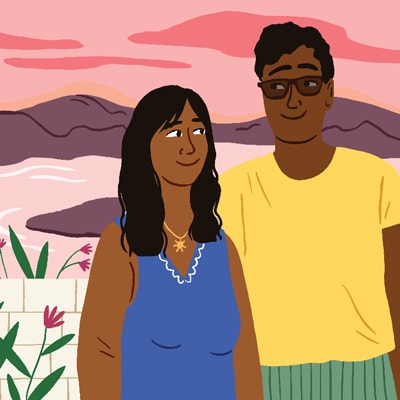 Illustration: Amelia Flower
Beaches & Parks
Fun fact: Great Smoky Mountains National Park in North Carolina and Tennessee had its second-busiest year on record in 2020—despite being closed for 46 days because of the pandemic. Outdoor activities such as hiking, camping, and swimming have provided vital outlets for fun and relaxation in natural settings since the pandemic hit, and the same should hold true this summer, according to Marr, especially now that we know how uncommon it is for the coronavirus to spread in fresh air.
Still, social distancing and other safety measures are in place at many of these popular summertime destinations: The 423 national parks in the U.S., for instance, have unvaccinated visitors wear masks inside buildings and even outside when keeping distant from others isn't possible (such as during a photo op at a crowded overlook). They've also instituted timed and ticketed entry to certain attractions. Some swimming areas limit the number of visitors and have guests stay at least 6 feet apart. (That's a bit longer than a pool noodle.)
Should You or Shouldn't You?
Experts give the activities above a thumbs-up, whether you're vaccinated or not. If you're unvaccinated, however, the swimming site, park, or campground should allow for some separation of visitors and require masking in indoor areas, such as changing rooms. With such measures, these are among the lowest-risk places to spend time this summer.
In fact, the wind at the beach—blowing off a lake or an ocean—may make it safer than some other spots, says Schaffner at Vanderbilt, because it helps diffuse virus particles in the air. Even outdoor community pools, hot tubs, and water parks are pretty low-risk when operated properly, the CDC says: The chlorine used to disinfect them should kill the coronavirus and other germs.
Smart Steps
Find out ahead of time what rules are in place where you're headed—you may need to take your own food and drinks if concessions are closed. Or you might need to make reservations, as with some of the national parks. If you're unvaccinated, leave your mask on the towel during swims—a wet face covering might not work as well and can make it harder to breathe.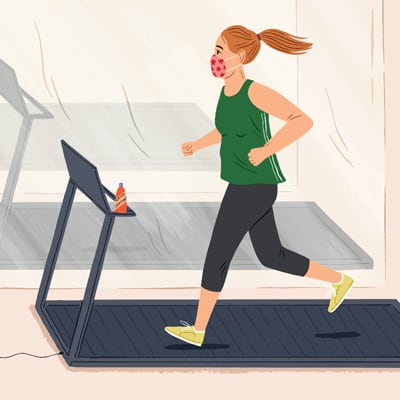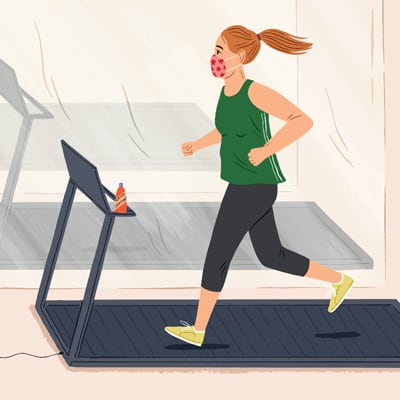 Illustration: Amelia Flower
The Gym
Exercise often means heavy breathing, which can contribute to the buildup of viral particles in the air—putting gyms in the higher-risk category during the pandemic. But many fitness centers have taken creative steps to help protect exercisers, such as using large areas like basketball courts to space out stationary bikes. The CrossFit chain has instructed its gyms to install carbon dioxide monitors and ensure that CO2 stays below a certain level—a sign that the space is well-ventilated with outside air.
Should You or Shouldn't You?
The CDC says indoor gym workouts—even high-intensity group classes—are pretty safe for the fully vaccinated. But it may still be wise to mask up at the gym because heavy breathing could help viral aerosols spread, says CR's Dickerson. For the unvaccinated, an indoor gym is a risky prospect, particularly in a group setting.
Smart Steps
If you're unvaccinated, it's best to exercise outdoors for now. Ask whether your gym offers classes outside or look for a class that meets in a park. (You'll need a mask for either.) Workouts are also available on video or on demand.
Consider an indoor workout before full vaccination only if the facility requires masks, limits the number of patrons, and has plenty of space around equipment—and skip group classes, Castel says. It's best to stick with lower-intensity activities, too.
Also, suss out the ventilation. While open windows and doors certainly help, Marr suggests asking what HVAC filters the gym uses and how often the facility's air is completely replaced. Good signs are the use of a MERV-11 (or higher) filter and air that's replaced at least every 10 minutes, she says.
For everyone at a gym, it's good practice to wipe down any equipment you use—for politeness if nothing else; surfaces aren't a significant driver of COVID-19 spread. Take your own water bottle because water fountains might not be open. (Plan on showering at home for the same reason.)
What If You're Vaccinated—and They're Not?
How safe is it to socialize with friends and family members who aren't yet vaccinated against COVID-19? If you're fully vaccinated and others aren't, smaller and larger outdoor visits are generally considered okay.
And the Centers for Disease Control and Prevention says fully vaccinated folks don't need to wear a mask or socially distance at a "small indoor gathering of fully vaccinated and unvaccinated people from multiple households." Unvaccinated attendees, however, should mask up and distance from others both indoors and outdoors, to reduce their likelihood of infection, says CR's James Dickerson, PhD. This is especially important for anyone at higher risk for severe COVID-19.
How about younger children who might not yet be eligible for the COVID-19 vaccine? "Unless they have an underlying condition, kids do not typically develop severe COVID, so it's okay for them to go to gatherings" as long as all the adults have been vaccinated, says infectious disease expert Maria L. Alcaide, MD. It's best if these get-togethers are outdoors, she adds.
Editor's Note: This article also appeared in the July 2021 issue of Consumer Reports magazine.