How Much Should It Cost to Get Tested for COVID-19?
U.S. rules allow labs to charge whatever they want for tests, and companies are making billions as the latest spike in cases strains testing availability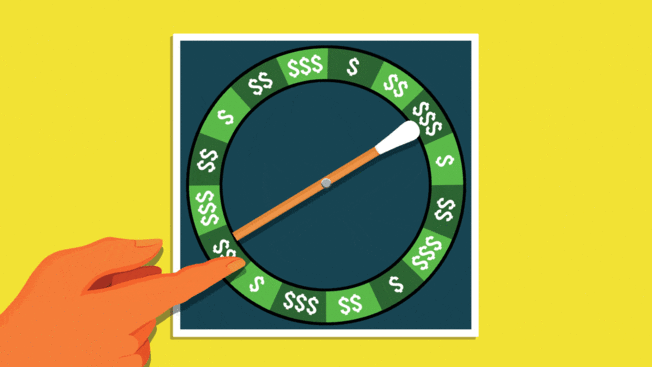 The next time you get tested for COVID-19, it might cost $130, $385, or no money at all. Some labs tack on additional fees such as those for "specimen collection"—the act of inserting a cotton-tipped plastic swab in your nose for a few seconds. Others may even bundle together several tests for almost a thousand dollars. 
The Wild West system that has evolved during the two-year-old pandemic allows labs and testing facilities to charge whatever the market will bear, fueling a multibillion-dollar industry. Perhaps you will have to fork over the money yourself, or your insurance will pay, or the government will cover the cost.
And the current U.S. rules allow for-profit, pop-up sites offering simple rapid tests to operate without any experience in health care or science.
For COVID-19 Test Prices, the Sky's the Limit
When Congress passed the more than $2 trillion Coronavirus Aid, Relief, and Economic Security (CARES) Act in March 2020, it required health insurance companies to pay whatever price labs advertise on their websites for medically appropriate testing. That essentially means that insurers must pay if you feel symptoms or were exposed to someone with the virus. The law does not set any upper price limit. 
In addition, the rules allow anyone, in a few easy steps, to offer rapid antigen tests, the same kind you can buy over the counter in a pharmacy. Such tests can be processed quickly on the spot with simple equipment, as opposed to more accurate molecular tests (such as PCR) which require lab processing with expensive machines.
On average, COVID-19 tests cost $130 within an insurance company's network, and $185 out of network, according to a July 2021 study by America's Health Insurance Plans, an industry trade group. Seven percent of labs charged more than $390 for a test. "Price gouging on COVID-19 tests by certain providers continues to be a widespread problem, threatening patients' ability to get the testing they need," the group said in a press release.
A Peterson Center on Healthcare and Kaiser Family Foundation study of prices at 93 hospitals in April 2021 found COVID-testing prices ranging from $20 to $1,419, not including additional fees such as those for specimen collection, which ranged from $18 to $240. Consumer Reports detailed the problem in July 2020 in an article titled "How 'Free' Coronavirus Testing Has Become the New Surprise Medical Bill."
Since then, several state attorneys general and other officials have also warned of COVID-testing scams, telling consumers to be on the lookout for tests that are not just overpriced but also may yield unreliable results. "Unfortunately, scam artists seeking to take advantage of the increase in demand will attempt to con hardworking Georgians into paying for fake tests," Georgia Attorney General Chris Carr said in a late December statement. "Do your research to ensure you are visiting a legitimate operation and receiving results from a valid provider."
Los Angeles County's Department of Public Health outlines a series of COVID-19 scams and fraud, including "an imposter posed as an American Red Cross volunteer going door-to-door offering home COVID-19 testing. They were really trying to gain entry and rob residents."
The potential to earn money while offering a needed service has attracted many COVID-testing newcomers, some without a background in science or medicine. For example, the co-owners of the parent company of GS Labs, which is based in Omaha, Neb. and started testing in October 2020, previously invested in real estate, car dealerships, and car washes. GS Labs now operates in seven U.S. Midwest and Northwest states.
The lab group, which is licensed to perform both rapid and PCR tests, charges $380 for a rapid antigen test made by CareStart that has sold for $24 for a two-pack at Rite Aid. Starting on January 15, the price difference becomes even more dramatic when new federal government rules oblige health insurance companies to pay for up to eight at-home tests per person per month for their customers.
Several insurance companies have refused to reimburse GS Labs for such high prices, resulting in lawsuits and countersuits.
"GS Labs charges extraordinarily high prices ranging from $380 to $979 per test," Premera Blue Cross alleged in a lawsuit filed in October. "These prices are in some cases ten times higher than those charged by other labs. Under normal circumstances, GS Labs would have no expectation that any insurer would pay its extraordinarily high prices."
GS Labs officials say they have invested many millions to provide an important service by making testing more widely available, and say the insurance companies have acted unfairly in not paying them as mandated by the CARES Act.
"People think we're getting paid $380. We're not. Nobody's paying us that $380 from insurance," says GS Labs operating partner Kirk Thompson. "In some scenarios, it's a starting point for negotiations, and we negotiate a much lower rate with them. But in the vast majority of circumstances they just refuse to pay us."
"If providers are not getting reimbursed, they can't continue to provide the service, and that puts the country at jeopardy," Thompson says. "We need testing accessibility right now."
The CEO of Alliance Health, which charges $150 for a rapid test and $175 to $395 for a PCR test in Florida and New York, is also CEO of Lice Troopers, a company that removes hair lice. The two companies operate in many of the same cities such as Glen Cove, N.Y., and Plantation, Fla. One local television station reported that the companies used one facility in Plantation, Fla., to remove lice and test patients for COVID-19 at the same time.
Alliance/Lice Troopers CEO Arie Harel did not respond to requests for comment, nor did Alliance Vice President Daniel Harel.
Billions for the Big Companies
Even the big medical testing and medical devices companies offering tests at relatively standard prices are seeing a surge in revenue due to overwhelming demand.
Abbott, a leading maker of COVID-19 tests, says it is now making 70 million tests a month. The company reported more than $5 billion in global COVID-related sales in the first nine months of 2021. Rival Thermo Fisher Scientific made more than $6.8 billion in sales on COVID-19 testing and treatment over the same period.
In a May 2021 earnings call, the CEO of Quidel, a testing company based in San Diego, called the Food and Drug Administration's authorization of its home COVID-19 testing kit "the most significant inflection point for our company."
Among the big lab testing companies, Quest Diagnostics, which charges $125 for a molecular test, said in October that it expected to make more money in 2021 than earlier forecast because of higher rates of COVID-19 testing. Labcorp, which has performed more than 50 million COVID-19 tests to date, reported 2020 revenue of almost $2.8 billion from COVID-19 testing.
The health insurance industry and some experts say some testing operations are charging too much. Officials at both Quest and Labcorp declined to answer directly whether it was ethical for private companies to make a large profit for COVID-19 tests, given the dire public health need. Rather, each company issued general statements.
"We are proud of the critical role we have played throughout the health crisis and for serving as a trusted source of information when the world needed it most," Labcorp said in a statement to Consumer Reports. 
Quest Diagnostics said the company was "at the forefront of the response to the COVID-19 pandemic, working to broaden access to laboratory insights to help us all lead healthier lives."
Of course, under the for-profit U.S. medical system, companies make money from whatever ailment they are treating. "Whether it's a COVID test or a Band-Aid, pretty much everything that happens in a hospital is going to cost more than it seems it should," says Cynthia Cox, vice president at the Kaiser Family Foundation. "Some of this is to cover their staff and overhead costs, but some of it is for profits."
The potential for windfalls from the epidemic prompted comedian Conan O'Brien to tweet on New Year's Day, "Any day now we'll be reading about the new 'nasal swab' billionaire."
Setting Up Your Own COVID-19 Testing Lab
The 1988 Clinical Laboratory Improvement Amendments (CLIA) regulates the 260,000 labs in the U.S., but an exception allows anyone with the right paperwork to offer relatively simple tests, such as for cholesterol or glucose monitoring. Even Theranos, which spent hundreds of millions of dollars trying to devise an easier blood test in what turned out to be a spectacular failure, had obtained what is known as a CLIA waiver.
During the epidemic, this waiver possibility has allowed anyone to set up shop and earn money off the COVID-19 testing bonanza if they administer only rapid antigen tests available over the counter. Newcomers need only apply for a federal waiver and comply with any additional state rules, such as individual licensing requirements. 
"Anyone can obtain a CLIA Waiver," says Dana Stillwagon, CLIA supervisor at West Virginia's Office of Laboratory Services. "The process includes an application and payment, and applications are typically processed within five days."
Such test sites do not need a white-coated clinician, modern machines or test tubes to conduct antigen tests—the same tests you can buy at a pharmacy or online and do in your bedroom. All you have to do is swab a nose or mouth, mix the sample with a solution, and then put it on a paper strip. In about 15 minutes, the search for coronavirus antigens shows either a positive or negative result via a colored line, a process much like a home pregnancy test.
"The rapid antigen tests are usually categorized as 'waived' tests, meaning they are the least regulated and have the fewest quality control requirements under the Clinical Laboratory Improvement Amendments," says Mark Birenbaum, PhD, executive director of the National Independent Laboratory Association, a community and regional lab trade association based in St. Louis.
The test is simple enough that previous medical experience is not required. When Alliance Health recently advertised a job (on Lice Troopers' LinkedIn page) for "Mobile COVID-19 Tester/Swabber," its requested qualifications included: "Willing to drive company van to assigned locations as needed. Prior customer service experience. Healthcare experience is a plus. Strong communication skills. Comfortable working under minimal supervision."
But even with a simple antigen test, a result can be invalid or misleading if the sample is not collected properly. They sometimes fail to detect COVID-19 early on, or in someone without any symptoms. They may also be less sensitive in detecting the omicron variant, the FDA said in late December.
The most precise gauge of COVID-19 is a PCR (polymerase chain reaction) test, with an estimated 98 percent accuracy. But because these tests require processing on expensive lab machinery, they take longer and cost more.
In a PCR test, a small amount of DNA is extracted, typically via a swab inside your nose or from saliva. Then a healthcare worker mixes the DNA with various substances and uses a machine called a thermal cycler to heat and cool the sample 20 to 40 times to produce millions of copies of the original DNA. By amplifying the DNA, the PCR process can detect even tiny amounts of RNA sequences unique to COVID-19.
The test kits themselves are not expensive—$29 from test maker Abbott, according to spokesperson Kim Modory. But the machines to process the results typically cost anywhere from a few thousand dollars to several hundred thousand dollars, with the high-end models handling many samples at the same time.
Processing the samples can take from less than an hour to a few hours, but you will usually have to wait a day or two for your results. That's because labs prefer to run many samples at the same time, much as you usually run a dishwasher full of pots and plates rather than with a single bowl and spoon after breakfast.
"If you went in and said, 'Oh my God, you know, you drew my specimen at three o'clock this afternoon, and it takes you, let's say, 2 to 4 hours to run it through the machine, I should have my result by eight o'clock,'" says Birenbaum at the National Independent Laboratory Association. "Well, if they just took your specimen and ran it through the machine, yeah. But they're waiting for other specimens. And so they might not run it until midnight, when they get the other specimens with it. And that just makes the whole system more efficient."
Outside analysts say that it is hard to name a standard fair price for a COVID-19 test when factoring in rent, staff, insurance, utilities, and other operational expenses. It is "difficult to answer because people will claim to have lots of sunk costs and admin expenses they need to recoup, but $200 plus is not the right price," says Niall Brennan, president and CEO of the Health Care Cost Institute, which studies claim data from four participating insurers.
Gregory Price, PhD, a professor of economics at the University of New Orleans, uses a cost-benefit analysis when looking at test prices. "If the test costs $200, but not knowing one is infected results in more than $200 in costs (e.g., out-of-pocket medical costs, lost wages, and even death), paying $200 for a COVID/PCR test is a sound decision," he says.
Others point to the price Medicare pays labs for PCR tests as a fair baseline: $75 plus an extra $25 if the lab returns more than half of its results within two days. By contrast, a PCR test in Japan can cost as little as $20.
For easier-to-process antigen tests in testing centers, Medicare pays $35 to $75 dollars, according to a spokeswoman at the Centers for Medicare and Medicaid Services.
"Having just been in Ireland where professionally administered antigen tests in a pharmacy were 35 euros and now in Denmark where it's all free, it just highlights the for-profit nature of our health care system," says Brennan at the Health Care Cost Institute. "The government should have massively invested in ensuring every American household has free access to antigen tests—unfortunately, we did not do that."
The Biden administration recently mandated that insurers must pay for at-home tests in addition to lab tests. So starting January 15, if you buy a home test kit outside your insurer's network of preferred suppliers, you will be reimbursed up to $12 for as many as eight tests a month (unless more are ordered on doctor's orders). If your plan does not set up a network of preferred pharmacies, stores and online outlets, the insurer must refund you for whatever the home test costs (yes, the rules on so many things related to COVID are confusing, and they change often).
The government has also announced plans to distribute hundreds of millions of free tests as well.
Before the government expanded plans to pay for more at-home testing in mid January, buying a home antigen test in the U.S. often cost three or four times more than in countries such as Germany and India, where they cost just a few dollars each.
"In Europe, more than 100 rapid tests have been approved," says Ge Bai, who is also a professor of health policy and management at the Johns Hopkins Bloomberg School of Public Health in Baltimore. "The fierce competition among these tests solved the 'limited supply' bottleneck . . . and drives down price precipitously. In contrast, only 15 tests have been approved by the FDA in the U.S."
"Consumers should demand more over-the-counter test manufacturers be approved as soon as possible," she adds. "Pitting themselves against each other is the most reliable way to help consumers."
The FDA responds that it is working as quickly as it can to approve home antigen tests, including two in late December 2021. 
"By balancing speed with safety, we have taken numerous actions to speed public access to accurate and reliable at-home tests," says FDA spokesman Jim McKinney. "Unfortunately, many submissions the FDA has received for home tests include incomplete or poor data, and it is the FDA's responsibility to protect the public health by declining to authorize bad tests."
Should the Government Mandate Prices?
Some insurers also say the U.S. should set prices for lab COVID-19 testing. "Establishing a fixed price would lead to greater transparency and help eliminate the abusive pricing and billing practices some labs have in place," Premera Blue Cross, the U.S. Northwest's largest health plan, said in a statement to Consumer Reports.
But economists say the rules of supply and demand that govern U.S. healthcare mean that mandating lower prices could reduce the supply of tests when we need them most.
"More regulation of COVID-testing prices would distort the market and hurt consumers," says Bai at Johns Hopkins. "For example, capping gasoline prices reduces gas prices immediately but ensures gasoline shortage—nobody will be able to buy gasoline."
"If the government sets a certain price per test today, the pop-up clinics might close and we will end up with no test, no matter how long we are willing to wait," she adds. "On the other hand, if there are many rapid tests on the market, the price might drop to the same level as pregnancy tests—30 cents."
Others, such as Brennan, argue that the most reliable way to help consumers is to have the government make free tests available for everyone. "In Denmark professionally administered tests are free at testing centers that are located all around Copenhagen—it's so convenient people get tested as a way of life, not just when they have symptoms," Brennan says.
Editor's Note: This article has been updated to include details on the Biden administration's plan to have insurance companies cover the cost of at-home tests for consumers. It was originally published on January 6, 2022.