You Could Be Required to Get Vaccinated Against COVID-19
A CR survey finds many Americans support mandatory vaccination in certain cases. The law backs that up, with some exceptions. As the COVID-19 vaccine rolls out to more people across the U.S., the most pressing question about it may eventually be not when you can get it but whether you can be required to take it. For the most part, the answer is yes, legal experts say.
That's something many Americans may actually welcome. According to a nationally representative Consumer Reports survey (PDF) of 2,144 adults conducted in March, two-thirds of Americans believe that the vaccine should be mandatory for people in at least one of the jobs the survey asked about, such as healthcare workers and teachers. Sixty percent said that people should be required to show proof that they have been vaccinated before they can participate in one or more of the activities listed in the survey, which included traveling on a plane and attending a concert.
The belief that the vaccine should be mandatory for some groups of people comes even though many Americans are still hesitant about taking it themselves. Almost 100 million Americans have received at least one dose of a COVID-19 vaccine, according to the Centers for Disease Control and Prevention, and states are expanding the categories of people eligible for the shots.

Types of Jobs That Should Require Vaccination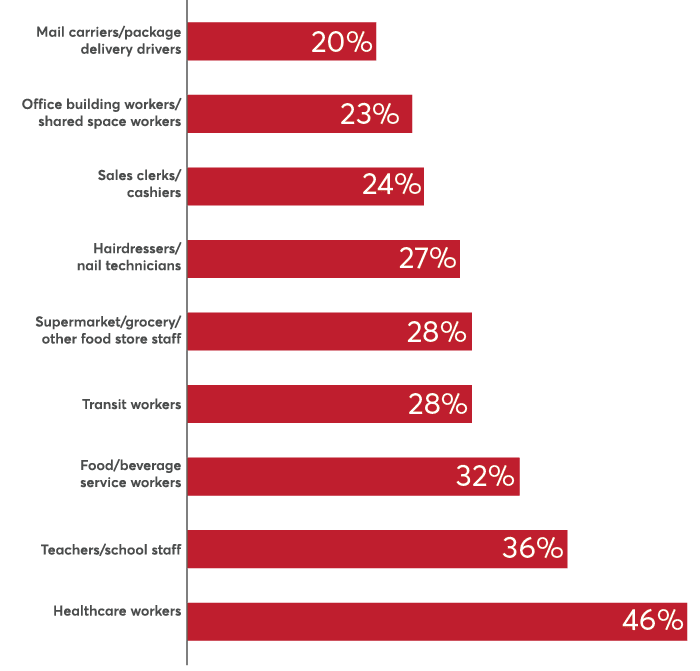 Source: CR nationally representative survey of 2,982 U.S. adults conducted Dec. 10 to 21, 2020. Percentages are those respondents who "strongly agree" for each job type.
Precedent for Mandatory Vaccines
President Joe Biden said in December that he does not support a federal vaccine mandate. But the law is on the side of those who believe vaccines should be required for some groups and in some situations.
No one can physically force you to get a shot, says Diane M. Juffras, professor of public law and government at the University of North Carolina Chapel Hill School of Government. But Juffras says states, schools, employers, and private businesses have wide leeway to require vaccinations for residents, students, workers, and customers, though there are several exemptions—mainly for religious or medical reasons—that limit the ability to impose blanket vaccine policies.
There's a long history of states permitting mandatory vaccine programs. The legal precedent goes back more than 100 years, to 1905, when a Lutheran minister in Cambridge, Mass., refused to be vaccinated for smallpox and didn't want to pay the $5 fine imposed by the city. The case went to the U.S. Supreme Court, which ruled against the minister. Since then, states and municipalities have been permitted to require vaccination of residents unless it is a threat to a person's health.
Today, all 50 states require K-12 students attending public schools and many private schools to get a series of childhood vaccinations, though some exemptions are allowed. Many states require healthcare workers to get the flu shot and certain other vaccinations.
Often a health emergency will prompt new vaccine regulations. In 2015, California passed a law that day-care workers must have vaccinations for measles after an outbreak of that disease at Disneyland. Several counties, including in Missouri and Nevada, imposed mandatory hepatitis A vaccines for food service workers after outbreaks of foodborne illness caused by that virus.
Private businesses can set any terms and conditions they want for workers and customers, as long as they don't violate existing laws, such as anti-discrimination statutes. That includes requiring vaccinations, but in most cases they must allow exemptions for medical conditions and religious beliefs under federal laws, says Dorit Reiss, professor of law at UC Hastings College of the Law in San Francisco.
Activities That Should Require Proof of Vaccination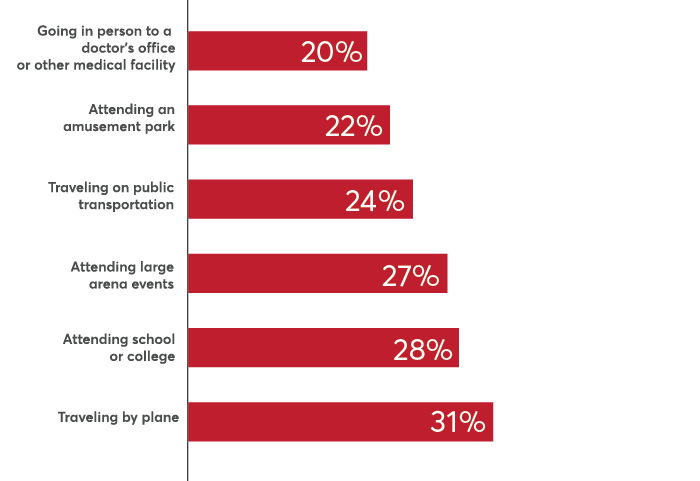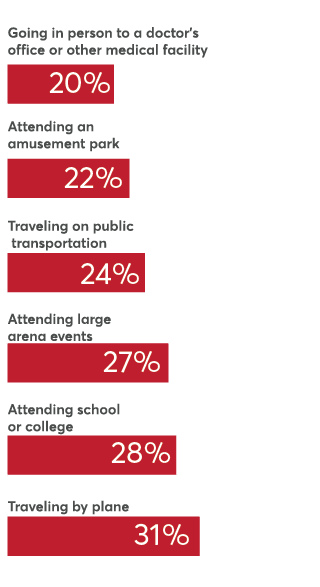 Source: CR nationally representative survey of 2,982 U.S. adults conducted Dec. 10 to 21, 2020. Percentages are those respondents who "strongly agree" for each activity.
Who Might Require a Vaccine?
As vaccine availability increases, here's where you might encounter vaccine requirements and what to expect from these policies.
Employers: Last month, in anticipation of the COVID-19 vaccine rolling out, the Equal Employment Opportunity Commission updated its guidance to employers on mandatory vaccination programs, which the EEOC first issued during the swine flu outbreak in 2009.
The EEOC, which oversees federal employment regulations, said such programs are legal. But the commission said that employers with 15 or more employees are subject to the Americans with Disabilities Act, which means they must provide exemptions for workers who don't want to take the vaccine for health reasons, such as an allergy to a vaccine ingredient. Under another federal law, the Civil Rights Act of 1964, workers can refuse the vaccine for religious reasons.
Both of those laws also say employers are expected to make reasonable accommodations for workers who request exemptions to the vaccine by, for example, allowing them to work from home or providing special protective equipment for them, to help protect customers and fellow employees from the disease. But employers don't have to make accommodations if it's a hardship for the company; for example, there may be no way to make an accommodation for a healthcare provider who works directly with patients. In such cases, an employer might be able to terminate the employee.
Schools and colleges: States have a long history of mandating vaccines for K-12 students, and the COVID-19 vaccination is likely to eventually be added to the list of required school immunizations. The Los Angeles Times reported that Austin Beutner, superintendent of the Los Angeles County public schools, said that the COVID-19 vaccine will be required for students to return to in-person learning in LA, whose school system is the nation's second largest.
But a COVID-19 vaccine for young children is still a long way off. Pfizer's vaccine is authorized only for people 16 and older, and Moderna's is available for those 18 and up. Pfizer has started testing its vaccine in children as young as 12. Moderna recently said it doesn't expect to have clinical trial data on children under 12 until 2022.
Many universities already require incoming students to be vaccinated for some infectious diseases, such as meningitis, measles, and chickenpox, with exemptions permitted for medical or religious reasons. Some colleges have said they would stop short of requiring a COVID-19 vaccine for on-campus students but instead do what they can to encourage students to get the vaccine when they are eligible, through education programs and by hosting vaccination clinics on campus.
Airlines: Most airlines have not yet said whether they will require passengers to show proof of vaccination against COVID-19, though in November the CEO of Australian airline Qantas said his airline would start requiring the COVID-19 vaccine for passengers on international flights once it becomes readily available.
Requiring proof of vaccination for international travel isn't new. Some countries require documentation of vaccination for diseases that are prevalent there, such as cholera and yellow fever, before you can enter. And the CDC says it will require airline travelers to show proof of a negative COVID-19 test or, if you have had the disease, a letter from your healthcare provider that you have recovered, before boarding an international flight to the U.S. That applies to U.S. citizens, too.
Hotels, restaurants, and entertainment venues: Companies will have to balance the desire to market themselves as safe places to gather with the possibility of alienating potential patrons, says Reiss at UC Hastings Law. While it's too early to know exactly whether or how hotels, restaurants, sports arenas, and other venues might decide to implement vaccine requirements, existing requirements about testing may offer some clues.
If you're staying at a hotel outside the U.S., a negative COVID-19 test may be required to enter the country. Some international resort hotels are requiring COVID-19 tests while other hotels are offering on-site COVID-19 tests as an "amenity." For example, Soneva, which operates luxury resorts in the Maldives and Thailand, announced mandatory COVID-19 tests for arriving guests last summer. At the W South Beach hotel in Miami Beach, Fla., guests are able to schedule a test in the hotel and receive results in 24 hours. It's rare for U.S. restaurants to require COVID-19 tests, though one New York City restaurant, City Winery, grabbed headlines in November when it began charging $50 to test people who wanted to dine indoors.
Reiss says the Civil Rights Act imposes some restrictions specifically on places that offer "public accommodations," such as hotels, movie theaters, sports arenas, music halls, and restaurants. Under that law, those types of establishments can't discriminate on the basis of someone's race, color, national origin, or religious beliefs. If someone doesn't want to take the vaccine because it goes against their religious convictions, the establishment must try to provide reasonable accommodations before it can refuse service.
Even though mandatory vaccination would technically be allowed in many situations, the legal experts CR spoke with don't think the practice will be widespread. Employers might not want the expense of covering the cost of providing the vaccine or to have to worry about legal challenges. Rather than impose vaccine requirements, some businesses may take a different tack and give workers incentives such as bonuses, extra vacation, or sick days if they take the shot, Juffras says.
Reiss thinks that willingness to take the vaccine voluntarily will grow as the vaccine rolls out and people see that taking the vaccine will help them return to a more normal life. "Hopefully enough people will get the vaccines so we don't need to make it mandatory," Reiss says.