Your Questions About Omicron, Answered
Omicron has rapidly become the predominant variant of the coronavirus in the U.S. Here's what we know so far about its transmissibility, severity, and more.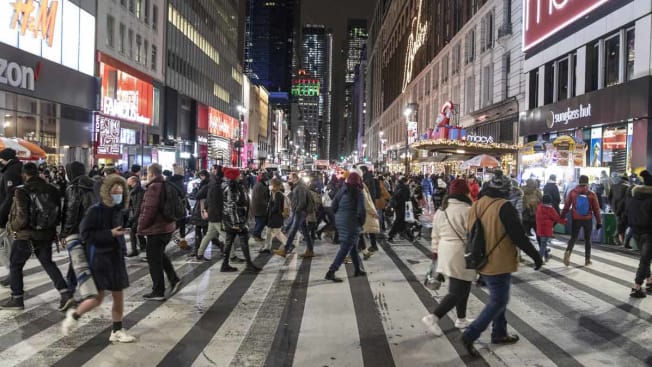 The highly contagious omicron variant of the coronavirus has rapidly swept around the world, driving case rates in the U.S. and many other countries to their highest levels yet. Omicron was designated a "variant of concern" by the World Health Organization (WHO) and the Centers for Disease Control and Prevention (CDC) shortly after it was first identified in South Africa in November, due to its high potential for further transmission.
The variant's quick spread has caused estimates of its prevalence to vary, but by Dec. 25, omicron was responsible for 58.6 percent of COVID-19 cases in the U.S., according to the CDC. The extremely high contagiousness of the variant has heightened concerns about the trajectory of the pandemic, but there are also at least some indications that omicron may be less likely to cause severe illness.
Nonetheless, experts caution that a less severe but more contagious form of COVID-19 could still overwhelm hospitals around the country. And there's still much to be learned about this particular strain and how useful current vaccines and treatments are against it.
Since the emergence of omicron, the CDC has expanded recommendations for booster shots, underscoring the importance of vaccination, boosters, and other infection prevention efforts to help curb the variant's spread.
What Is Unusual About the Omicron Variant?
Viruses like SARS-CoV-2 continually mutate as they replicate. Most of these small changes are inconsequential, and they are just as likely to make a virus less likely to transmit are they are to make it more so. 
But sometimes, a virus acquires a set of mutations that makes it more likely to spread. Increased transmissibility can make these variants—a word used to define a virus with a particular set of mutations—dominate in a certain region or even around the world, as happened with delta. This can happen if the new variant creates a higher viral load, increasing the chances that contagious particles make it to another person. It can also happen if the new variant is better able to evade the immune system protection provided by prior infection or vaccination, which could help it spread among people who would otherwise be protected.
Omicron has far more changes to the spike protein—the portion of the virus that infects human cells—than any of the previous concerning variants, according to Gregory Poland, MD, director of the Vaccine Research Group at the Mayo Clinic in Rochester, Minn. For example, the alpha variant had four mutations to the spike protein, delta had 10, and omicron has at least 30.
In theory, some of these mutations could make a vaccine less able to fend off infections, or they could make the monoclonal antibodies often used to treat COVID-19 less effective, says Luis Ostrosky, MD, a professor of infectious diseases at the McGovern Medical School at UTHealth in Houston and a fellow of the Infectious Diseases Society of America. A virus could also mutate in ways that could lead to illnesses that tend to be more severe—or more mild—in the people it infects.
Some of omicron's mutations are likely to be responsible for its rapid spread, either by making it more transmissible overall or by making it better at evading protection due to vaccination or prior infection. But scientists still have far more to learn about how the mutations found in omicron affect its virulence or transmissibility.
We learned about this variant early because of how quickly South African scientists were able to identify it and notify the world, Glatt says. This sort of early recognition "is critically important," he says.
Will Vaccines Protect Against Omicron?
Researchers are still collecting data. So far, the protection from infection offered by vaccines appears to be weaker against omicron. But for vaccinated people infected with omicron, the shots seem to still offer solid protection from hospitalization and death.
Initial data from lab studies and from countries where omicron was detected early provides some reassurances, especially for the protection provided by a booster dose. Early reports from South Africa indicated that while vaccinated people are susceptible to omicron infections, most did not get severely ill, which according to Glatt means that current vaccines may still provide strong protection against serious illness. In both South Africa and Israel, health officials have said that severe omicron cases have occurred mainly in unvaccinated and only partially vaccinated people. 
Both Moderna and Pfizer-BioNTech have released data indicating that booster shots will provide significant protection against omicron.
On Dec. 20, Moderna announced that the booster shots that have been authorized for use in the U.S. boost infection-fighting antibodies against omicron by 37 times the pre-boost level. On Dec. 8, Pfizer and BioNTech released similar information, saying that booster doses appeared to provide robust protection against omicron. The companies said that antibodies found in blood from people who had received just two doses of vaccine appeared to be less protective against omicron overall but that there were indications that people who had not yet been boosted may still be protected against severe disease.
"Our preliminary, first dataset indicate that a third dose could still offer a sufficient level of protection from disease of any severity caused by the omicron variant," Ugur Sahin, MD, CEO and co-founder of BioNTech, said in a press release.
Early data out of the U.K. indicates that vaccines are about 75 percent effective against symptomatic infection with omicron two weeks after a Pfizer-BioNTech booster dose, compared with about 95 percent effective against delta in the same time frame.
In addition to antibodies, the vaccines also generate infection-fighting T cells, which can help fight severe disease. Preliminary research indicates that the T cell response generated by vaccines should be similar for omicron, according to immunologist Alessandro Sette of the La Jolla Institute for Immunology. Most of the T cell response generated by mRNA vaccines or the J&J vaccine is still effective against omicron, according to one preliminary study released Jan. 3, which the study's authors write suggests current vaccines "may provide considerable protection against severe disease." That study has not yet been peer-reviewed.
While this preliminary research is reassuring, it will take longer to get clinical evidence showing just how well vaccines protect against omicron in the real world.
"We all have to take a deep breath and understand that vaccination still looks to be highly effective," Glatt says.
Is Omicron More Transmissible?
Yes. Variants of the coronavirus are labeled "variants of concern" if they appear to be more transmissible, if they cause more severe disease, or if they make vaccines, treatments, or diagnostic tests less effective. In the case of omicron, it's the speedy spread of the variant—indicating potentially increased transmissibility—that has raised the alarm.
Omicron appears to have spread more quickly in South Africa and other countries than the delta variant did, leading to some initial estimates that it could be at least twice as transmissible as delta, according to Poland and other experts. In the U.S., omicron was responsible for approximately 58.6 percent of new coronavirus cases for the week ending Dec. 25, according to the CDC, up from 22.5 percent of cases just one week prior.
Does Omicron Cause More Severe Illness?
While there's still plenty we don't know, there are some indications that omicron infections could be less severe overall—though they can still lead to severe disease and death, especially in people who are unvaccinated.
Initially, there were mixed reports on whether or not omicron caused hospitalizations at a similar rate to prior variants. But at least one large report by U.K. public health officials released Dec. 31 (PDF link) found that people infected with omicron were about a third as likely to be admitted to the hospital compared with people infected with delta. People who have received three vaccine doses were 81 percent less likely to require hospitalization than unvaccinated people, according to that report.
Some initial research indicates that omicron may be better able to cause infection in the nose and upper airway, which could explain its increased contagiousness—but it may have a harder time causing infections deeper in the lungs, which is part of what can cause severe disease.
Still, early data shows that pediatric hospitalizations have hit higher levels during omicron than during delta in the U.S. so far. This could be a reflection of increased transmissibility, but it underscores why precautions against infection are still important.
Even if omicron is less severe, a more transmissible form of the virus can lead to more infections and, thus, a larger number of severe cases just because of the larger number of infections.
Will Existing Treatments Work Against Omicron?
Since SARS-CoV-2 first started to spread around the world, researchers have developed a number of treatments that can reduce the risk for death or hospitalization from the coronavirus.
These treatments include monoclonal antibodies, which can help prevent an infection from becoming more serious, and other treatments such as steroids that are used after an infection has become severe. More recently, pharmaceutical companies Merck and Pfizer have announced new antiviral drugs that can be taken in pill form early in the course of a coronavirus infection and may prevent severe illness.
Changes observed in this variant could make existing monoclonal antibodies ineffective, according to Glatt, even if vaccines are still able to prevent severe disease. This effect has been seen with other variants, he says—and could heighten the urgency for getting unvaccinated people immunized. On Nov. 30, Regeneron, the maker of one COVID-19 monoclonal antibody treatment, released a statement (Microsoft Word document) saying that the company's current treatments may be less effective against omicron. Several preliminary studies suggest that most monoclonal antibody treatments seem to be significantly less effective against omicron.
Other treatments, including antivirals already used in hospitals and steroid regimens, which don't rely on infection-fighting antibodies, should continue to be effective. The same is likely to apply for the recently authorized antiviral pills from Pfizer and Merck, according to Eric Topol, MD, founder and director of the Scripps Research Translational Institute.
Where Has Omicron Been Found So Far?
Omicron was first identified in Southern Africa. The first cases were detected in samples from South Africa and Botswana. Officials from South Africa announced the news about the new variant on Nov. 25. Since then, omicron has been detected in more than 100 other countries around the world, according to the New York Times, including Australia, Belgium, Canada, Germany, the Netherlands, South Korea, and the U.S. It was first definitively detected in the U.S. on Dec. 1.
How Will International Travel Be Affected?
The announcement of omicron led to a number of new travel restrictions. Initially, the U.S., European Union, U.K., and several other countries banned travelers from Southern Africa. Several countries, including Israel, Japan, and Morocco, have banned all international travelers. The U.S. also tightened its testing requirements for travelers entering the country.
Now that omicron is so widespread around the globe, many of those travel restrictions have been lifted—though testing requirements remain in place.
This variant underscores the importance of making vaccines globally accessible, Ostrosky says.
What Should You Do to Protect Yourself Against Omicron?
While we wait to learn more about omicron and other new variants, experts say the same precautions that have long been recommended continue to be important. 
"The best protection you can possibly have is physical distancing, wearing a proper mask properly outside of your home while indoors, and getting your primary series of vaccine and a booster," Poland says.