When you shop through retailer links on our site, we may earn affiliate commissions. 100% of the fees we collect are used to support our nonprofit mission.
Learn more.
The high price of printer ink gets consumers angry. In fact, according to a recent Consumer Reports survey, the biggest gripe people have with printers is that ink cartridges are just too expensive. But some manufacturers are introducing new ways to make printer ink less expensive. (Read our special report, "The High Cost of Wasted Printer Ink," which details why so much pricey ink never hits the page.)
Among the most intriguing printer introductions we've seen are the Epson EcoTank all-in-one printers, which the company says will save you money since you'll be able to fill the printer with bottles of ink that last two years—no more replacing ink cartridges. Two years' worth of ink will cost $52, Epson claims. According to the company, you'd need 20 sets of cartridges, costing $800, to do the same amount of printing. The savings over two years could be around $750.
We just tried out a pre-retail model, the Epson Workforce ET-4550 EcoTank, $500. Although this Epson EcoTank has just been introduced in the U.S., we tested European models like it last year, and they worked well.
We don't have any test results on the American models yet, but we did find that filling the ink tanks on the Epson Workforce ET-4550 EcoTank could be somewhat messy—you might want to wear gloves. Additionally, you'll need to make sure that you add the right color ink into the right ink tank—as you do when installing the ink cartridges in other inkjet printers.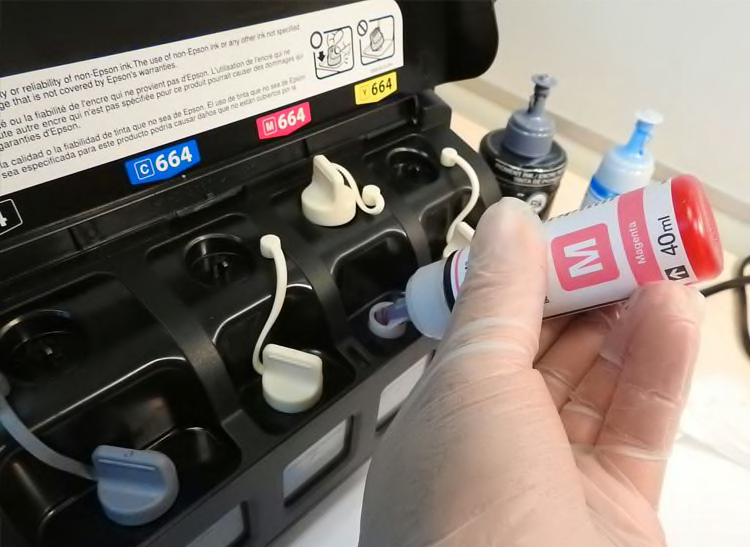 Overall, we found it pretty easy to fill up the tanks on the Epson Workforce ET-4550 EcoTank. This model includes bottles of cyan, magenta, and yellow ink that all are dye-based. The black bottle of ink is pigment-based. According to Epson, this type of black ink should last longer than dye-based ink, although it may be more staining.
We also found it easy to print several 8.5-x11-inch photos as well as a PowerPoint presentation (which included color graphics) and black-and-white text documents.

We'll begin lab tests of the retail model of the Epson Workforce ET-4550 EcoTank in September and let you know how well it performs. We'll have results on print quality for documents and photos, how quickly it prints, and how convenient it is to use. And we'll let you know whether it will really save you money.