When you shop through retailer links on our site, we may earn affiliate commissions. 100% of the fees we collect are used to support our nonprofit mission.
Learn more.
Best known for engineering seats for race cars and the automotive aftermarket, Recaro also manufactures high-end child seats for passenger cars. In Consumer Reports' latest tests of convertible child seats, the performance of one model from Recaro raised safety concerns. In some forward-facing tests, the harness of the Recaro Performance RIDE loosened—a result that gives us concern for the seat's ability to best protect its small passengers in actual frontal crashes that have similar or more severe conditions than our test.
We recommend that owners currently using the seat in the forward-facing position consider replacing it with a seat that could provide a greater margin of safety. As we have no reservations about use of the seat in its rear-facing orientation, a safe interim solution may also be to return your child to a rear-facing orientation, if the child is still below the 40-pound weight limit and 22.5-inch seated height (from posterior to top of head) limit for the rear-facing position.
Here's what you need to know—and what to do. We notified the company and its response is below. We also notified the National Highway Traffic Safety Administration, the government agency with oversight over car seats.
What Is the Concern?
In our simulated crash performance tests, the harness support hardware at the rear of the seat shell in the child's shoulder area on the Recaro Performance RIDE convertible seat broke. This allowed the harness to pull through the seatback and loosen as the child-sized dummy moved forward.

This problem occurred in three of four tests using the 35-pound, 3-year-old dummy. In all three cases, the seat was installed on the test sled by lower LATCH anchors and top tether, not a three-point seat belt.

The seat did not exhibit any signs of structural degradation when installed in the rear-facing orientation.
Tests run with the larger 52-pound, 6-year-old dummy installed with the three-point seat belt and tether showed similar harness support breakage and harness pull-through.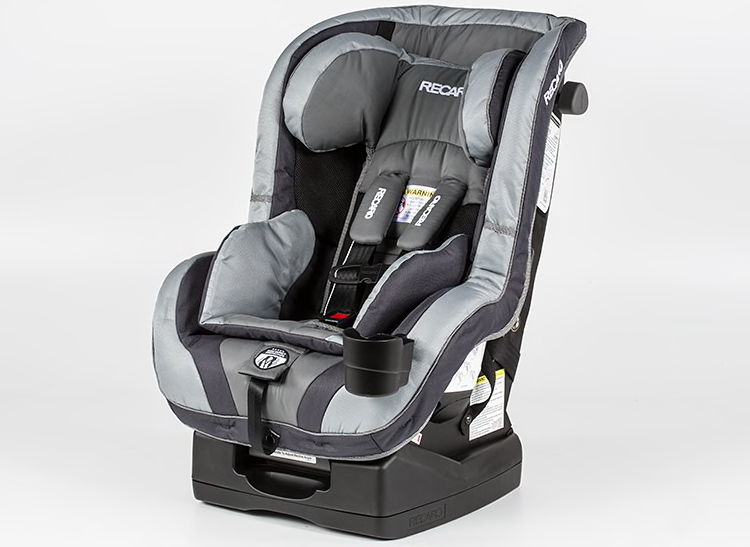 Why Is This Type of Structural Issue a Concern?
The potential risk of a harness that loosens in an actual vehicle crash would be the increased forward movement of the head and added potential for a child's head to contact some surface in the vehicle interior. There also is increased risk for the child to be ejected from the seat, and for the harness to no longer secure the child for any secondary or subsequent impacts or events.
What Can You Do?
If your child is currently riding rear-facing in a Recaro Performance RIDE, we have no concerns regarding the seat's performance in that orientation based on our test results. The issues described here affect only the forward-facing orientation.
If your child is riding forward-facing but is still below the 40-pound allowable weight limit and 22.5-inch seated height (from posterior to top of head) limit for rear-facing, then returning your child to a rear-facing orientation is safest until you can replace the seat. We realize this may be difficult for children who might have already become used to a forward-facing orientation, but it's still a safer alternative.
We would recommend that parents and caregivers shopping for a new convertible seat consider models that performed better in our stringent tests over the Recaro Performance RIDE. Simply put, no other convertible model of the 25 we put through our new crash performance test, introduced in the spring of 2014, showed the propensity for the degree of structural failure as this seat. See our current Ratings for convertible seats for guidance.

Note that the current published convertible seat Ratings reflect crash performance Ratings based on the test protocol we applied to these seats up until last year and do not yet reflect performance in our new test. However, as noted above, because no other convertible seat we're in the process of rating in the new, more stringent test exhibited the same degree of structural compromise as the Recaro Performance RIDE, we think it a safer option to choose a different seat.
If you are using the seat forward-facing for a child who exceeds the rear-facing limits, then we would recommend you replace the seat as soon as possible but continue to use the seat as instructed until you do so. Even with our concerns, any child car seat provides a significantly higher level of safety over none at all.
To contact Recaro customer service, call 888-973-2276 or write to info-usa@recaro-cs.com.
Was This the Only Seat That Had a Problem?
Of the 25 convertible child seat models tested in this latest group, five, including the Recaro Performance RIDE, exhibited some structural issues when tested with either the 52-pound, 6-year-old test dummy or its weighted (62 pounds) counterpart.
What separates the Recaro Performance RIDE from those other models is that the harness structure failure for the Recaro seat occurs with the smaller 3-year-old dummy.
Performance for this condition causes us to have a higher level of concern for this seat. At 35 pounds, the 3-year-old dummy represents only 54 percent of the seat's 65-pound rated capacity. In addition, a 3-year-old child is also at the optimal age to be using this seat in a forward-facing orientation. Only the Recaro Performance RIDE exhibited this level of structural failure with the 3-year-old dummy.

Though structural issues with the larger dummies are also a concern, they represent less risk in terms of exposure as more kids at the higher weights allowed by this seat are likely to already have transitioned to a booster seat.
Are These Seats Causing Injuries in Real-World Use?
Although we know of no real-world injury related to the structural failure revealed in our crash tests, the performance of this seat in our test was enough of a concern to us compared with the performance of other models to warrant public release of these results prior to those of the entire test group, which is expected for late fall. At that time, our Ratings of convertible child seats will also be updated to reflect results from our new test. Our published Ratings of infant child seats already reflects performance in our new frontal impact tests.
Tell Me More About the Test
Our new crash test introduced for infant seat testing in the spring of 2014 is designed to more closely simulate the crash and vehicle conditions that a child seat experiences in contemporary vehicles and to better differentiate child seats that provide higher levels of safety.

To accomplish this, the new test includes three important changes: 1) Child seats are installed on a test seat that better replicates the stiffness and geometry of a current model vehicle by using the cushions and hardware from an actual vehicle. 2) The test includes a surface that simulates the back surface of an automobile's front seat to more accurately represent an actual vehicle environment. 3) The test is conducted at a speed of 35 miles per hour—which is 5 miles per hour more than the 30-miles-per-hour minimum standard—and with crash characteristics that more closely mimic contemporary vehicle crashes in terms of maximum acceleration and the rate of deceleration.

Though the conditions are more challenging than current government tests and our tests therefore do not indicate performance under those standards, these simulated conditions are well within the reality of conditions that could be encountered in a real crash.
Wasn't the Recaro Performance RIDE Already Recalled?
The Recaro Performance RIDE was also recently subject to recall (September 15, 2015) for the potential of the top tether to detach from the seat in compliance crash tests conducted by NHTSA.

This recall is unrelated to the seat's performance in our tests or our results.
Our tests included recently produced versions that already incorporated the tether remedy provided by the recall, and the results were the same.
The recall's corrective action is the addition of a "load limiting" strap that attaches to the existing top-tether strap and provides an additional attachment point to the back of the seat shell.

We recommend top tether use for all forward-facing seats, as we have seen tether use result in significant benefits for reducing forward head motion in our tests and encourage owners to pursue the corrective actions for the tether associated with this recall.
What Did Recaro Say?
After sharing our results with Recaro, the company responded:
"The Recaro Performance RIDE convertible car seat has saved the lives of many children involved in a car crash and has never experienced a field failure after being in the marketplace for over five years. Recaro tests to meet and exceed all National Highway Traffic Safety Administration (NHTSA) crash test requirements. The research by Consumer Reports was conducted with a crash test at 40 percent more energy at its peak than current NHTSA standards. We want to reassure our consumers that we take all aspects of a child's safety seriously and will examine these findings closely. Recaro appreciates Consumer Reports' interest in child passenger safety."