When you shop through retailer links on our site, we may earn affiliate commissions. 100% of the fees we collect are used to support our nonprofit mission.
Learn more.
One key part of the unfolding Volkswagen diesel-emissions scandal is that the vehicles in question operated in two different modes: "On Road" and "Dyno." But merely having two different modes isn't a problem.
The 482,000 Volkswagen and Audi diesel vehicles in question use an Engine Control Unit, or ECU, designed by Robert Bosch GmbH, a German multinational engineering and electronics company. In addition to the ECU, Bosch supplies other key components, such as the computers that control the braking and Electronic Stability Control systems. This is where the Dyno mode—also known as Test mode—comes into play.
Emissions system and fuel economy testing is conducted while a vehicle is placed on a dynamometer—think of it as a two big rollers or a treadmill—rather than driving on the road. The vehicle has only its driving wheels rolling (the front ones, in the case of VW vehicles). But the rear tires are stationary.
The vehicle could otherwise interpret the test procedure as a dangerous situation or malfunction, activating traction control or stability control. By enabling a test mode, the vehicle will be able to operate during the test process. Once the test is complete and the car is restarted, the car reverts to its normal function. And once the cars are in on-the-road mode, nitrogen oxide levels increased by 10 to 40 times the federal standard, according to the EPA.
The existence of a testing mode isn't a red flag. Most new vehicles have a similar setting. The concern here is that the VW models in question performed differently during the EPA tests to meet emissions targets that differ from their performance in the real world. Questions remain about the strategy behind this dishonest approach, and where in the engineering food chain this additional coding took place.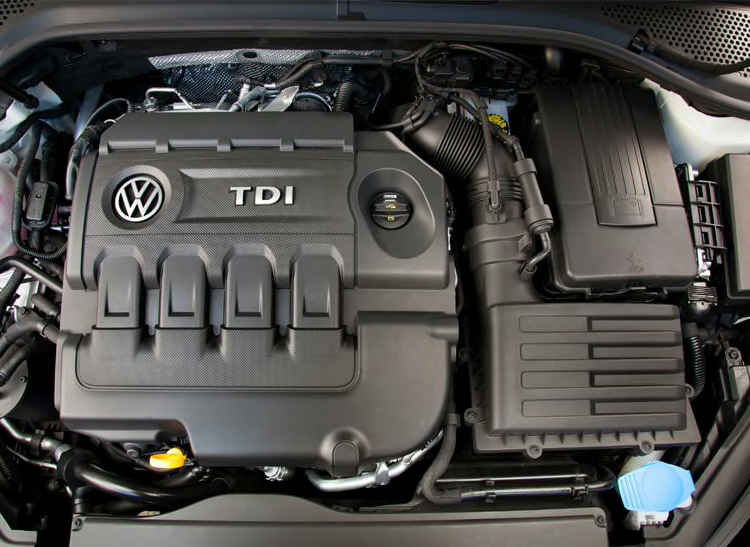 Based on the EPA notice of violation against Volkswagen for circumventing emissions testing guidelines, Consumer Reports has suspended its "recommended" Rating of two VW vehicles: The Jetta diesel and Passat diesel. These recommendations will be suspended until Consumer Reports can re-test these vehicles with a recall repair performed. Once the emissions systems are functioning properly, we will assess whether the repair has adversely affected performance or fuel economy.
Impacted Models
Audi A3 (2009-2015)
Volkswagen Jetta, Jetta SportWagen (2009-2015)
Volkswagen Beetle, Beetle Convertible (2009-2015)
Volkswagen Golf (2009-2015)
Volkswagen Passat (2012-2015)
Volkswagen Golf SportWagen (2015)