When you shop through retailer links on our site, we may earn affiliate commissions. 100% of the fees we collect are used to support our nonprofit mission.
Learn more.
Two developments initiated by the Consumer Financial Protection Bureau are good news for those who borrow though mortgages and education loans. One of the initiatives—new mandatory mortgage disclosures—became effective last week. A second, on student debt, is just getting started.
New Mortgage Forms for Better Decisions
Starting October 3, mortgage shoppers will receive a new, easy-to-read disclosure when they shop for their home loans, and again at the closing. The CFPB is requiring lenders to provide the new, standardized documents so that consumers can more easily compare loans before they borrow, and at the closing can clearly see what they'll owe and how the loan could change over time. The two disclosures replace four that were required in the past.

The CFPB's "Know Before You Owe" initiative includes the new forms, and a new rule that requires lenders to give you at least three business days to review your loan before closing. The bureau offers several tools to help prospective borrowers before they sign on the dotted line.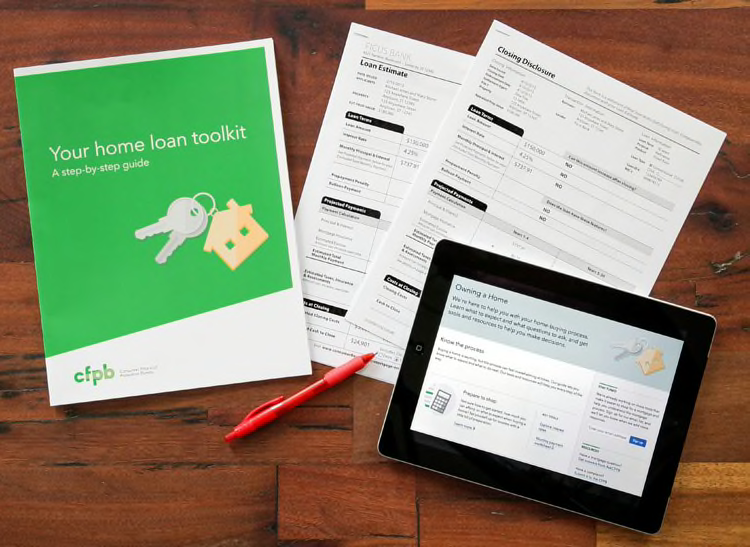 Photo: Consumer Financial Protection Bureau
Help on Horizon for Student Borrowers
Last week, the CFPB also issued a comprehensive report on student debt, based on the input of some 30,000 public comments, including those of Consumers Union, the policy and advocacy arm of Consumer Reports. The bureau has estimated that one in four student loan borrowers is now delinquent or in default, representing $110 billion in balances.
A major finding was that loan servicers, which manage federal and private loan accounts, process monthly payments, and communicate directly with borrowers, often are the source of problems. Sloppy, patchwork practices can make it hard for students to repay their loans, which increase their borrowing costs and can contribute to their eventual default. Other findings:
• Borrowers face surprise costs and runarounds. Bad customer service, and incomplete or wrong information, lost records, slow payment processing, and other infractions means borrowers can end up missing payments, losing benefits to which they're entitled, and paying more for their loans in fees and interest. Mistakes occur when servicers change and loans are transferred; payments can go missing; and borrowers can face surprise late fees, among other costs. Servicers also can allocate payments in ways that maximize borrowers' costs and fees.
• Struggling borrowers don't get the help they need. The CFPB estimates that nearly 8 million federal and private student loan borrowers are in default. But the agency said it was concerned that servicers don't always tell borrowers about programs they can use to restructure or eliminate a portion of their debt. Or, they steer them into forbearance or other short-term options that increase their costs and may not be in their best interest. Distressed borrowers may then resort to debt-relief scams.
• Military borrowers, veterans and consumers with disabilities miss out. They often don't get the information or appropriate help to access student-loan options and benefits to which they're entitled.
In light of the problems, the CFPB, the Department of Education and the Department of the Treasury issued the Joint Statement Principles on Student Loan Servicing Reforms (PDF). The statement included a call to establish clear, consistent industry-wide standards for loan servicers; to hold servicers accountable for errors or illegal activity; to ensure that borrowers get clear and timely information; and to improve publicly available reports on how borrowers are utilizing certain repayment options, among other data.
The CFPB currently offers help to students with its Repay Student Debt tool, among other resources.