On any given day in Consumer Reports' labs, blenders are whirring, cameras are snapping, and lightbulbs are burning. But our favorite tests are those that involve cooking—burgers, pizza, cookies, and most recently, waffles. Round waffles, square waffles, and the popular Belgian waffle.

So get out the maple syrup. All six waffle makers tested by Consumer Reports turned out perfectly good waffles, but the $100 Cuisinart Breakfast Central Belgian Waffle Maker WAF-300 served up plate after plate of Belgian waffles that were nicely and evenly cooked on both sides, whether on low or high heat.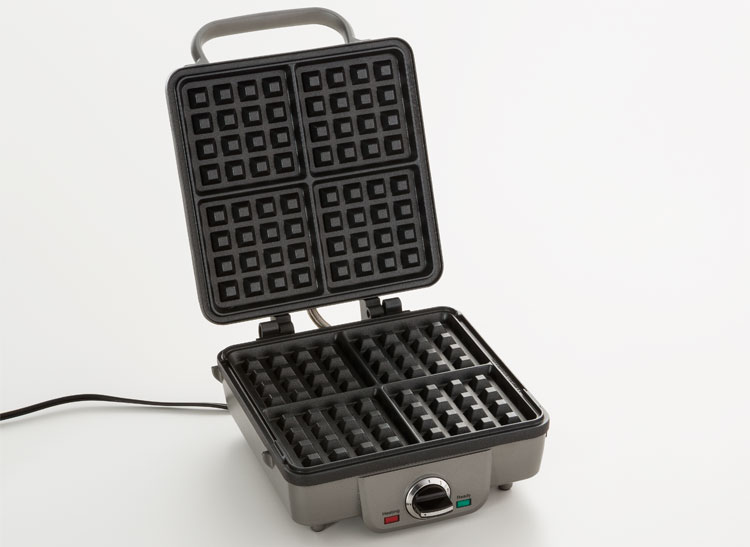 You'll hear a beep when the waffle maker is ready to go and when the waffles are done. "Especially if you're in the throes of preparing a brunch, the beep brings your attention back to the waffles so you don't burn them," says Sara Brown, a Consumer Reports tester who trained at the Culinary Institute of America. "And the Cuisinart can cook four waffles at a time, allowing you to join your friends at the table a bit faster." There's a limited three-year warranty for this waffle maker, and the nonstick waffle plates are easy to clean. Remove them and snap in the pancake plates. And check out the manual's recipe for blueberry sour cream pancakes—it sounds delicious.
The waffle recipe does make a difference, says Brown. "If there isn't a lot of liquid you'll get denser, less crispy waffles." We tried five recipes made from scratch plus two store-bought mixes, and our favorite recipe was Aretha Frankenstein's Waffles of Insane Greatness that we found on the Food52 website. The waffles were light and crisp, and insanely good.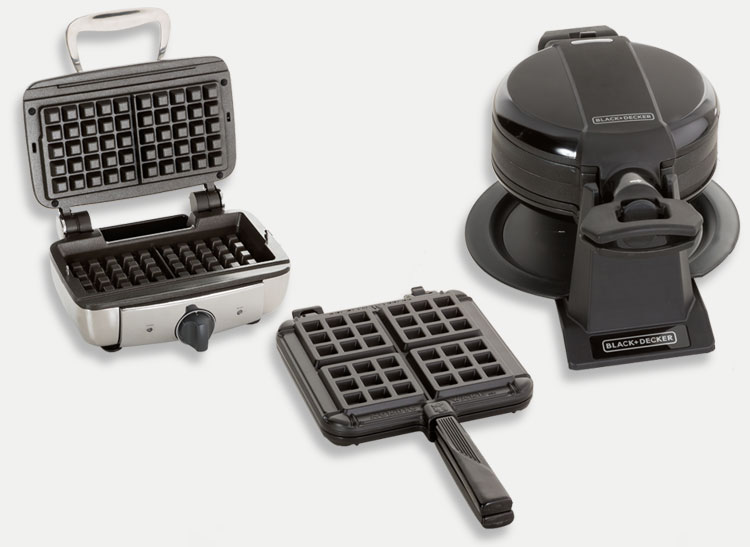 Waffle Maker Roundup
Here are the other five waffle makers we tested, appearing in order of overall performance, based on consistency, repeatability, and how easy it was to set a proper temperature.
Waring Belgian Waffle Maker WMK200, $58
If you can live with non-removable plates—cleaning is a bother, especially when waffles stick—then the Waring is a good choice. The heat is adjustable, and regardless, waffles were consistently cooked, with little difference between tops and bottoms. But pay attention, as it lacks an audible alert.
All-Clad Belgian Waffle Maker 2-Square NS, $175
Waffles turned out about the same whether we used the low or high heat setting, and were nicely browned on both sides, over and over again. There is an audible alert, but the plates cannot be removed for cleaning.
Hamilton Beach Breakfast Master 26046, $35
We found a small difference in our waffles using the high and low heat settings. Waffles turned out progressively lighter over four multiple batches, and one side of the waffles was browned more than the other.
Black & Decker Double Flip WMD200B, $50
Consistently turned out waffles that were evenly cooked on both sides. But you can't adjust the heat so selecting how browned your waffles turn out involves a bit more guesswork. Cooking plates aren't removable for easy cleaning, and there's no beep that alerts you that the waffles are done.
NordicWare Stovetop Belgian Waffler 15040, $40
The only stovetop waffle iron tested, we found that consistently turning out nicely cooked waffles was challenging and takes practice, timing, and carefully managing your burner settings. It also requires the most attention when preheating and cooking, and gave the most variable results.
Whichever waffle maker you choose, you'll enjoy adding this breakfast staple to your repertoire. You can find plenty of recipes online including these from Food & Wine, the Joy of Cooking, and the The New York Times.
Consumer Reports is an independent, non-profit organization dedicated to helping consumers. We make it easy to buy the right product from a variety of retailers. Clicking a retailer link will take you to that retailer's website to shop. When you shop through retailer links on our site, we may earn an affiliate commission – 100% of the fees we collect are used to support our mission.
Learn more.
Our service is unbiased: retailers can't influence placement. All prices are subject to change.