When you shop through retailer links on our site, we may earn affiliate commissions. 100% of the fees we collect are used to support our nonprofit mission.
Learn more.
Crowdfunding site Kickstarter proclaims, "We welcome and support projects in diverse categories," such as arts, photography, technology, and theater. How about in scamming?
Because crowdfunding is built on trust, it's ripe for fraud. People solicit money from strangers for their projects, usually through online platforms like Kickstarter, Indiegogo, or GoFundMe. In return, they usually offer rewards—a sample of their product, for example, a commemorative t-shirt, or digital downloads. But whereas in the past, a network of friends and family could vouch for their credibility before contributing cash, today's "creators" are only as reliable as their promises. And those promises don't always deliver.
The Federal Trade Commission recently settled its first crowdfunding fraud case against a project creator who scammed contributors out of more than $122,000. Erik Chevalier, using the business name The Forking Path Co., asked for funding to produce a board game called The Doom of Atlantic City, which had been designed by two prominent board-game artists. Nearly 1,250 backers pledged $75 or more hoping to get a copy of the game or one of its prized figurines. Over 14 months, Chevalier provided periodic "updates" on his progress. Then he announced that he was canceling the project.
Although Chevalier promised to refund the contributions, in fact, according to the FTC's complaint, Chevalier neither refunded the money nor provided any rewards. Instead, he spent the money on unrelated personal expenses, including rent, moving to Oregon, personal equipment and licenses for a different project.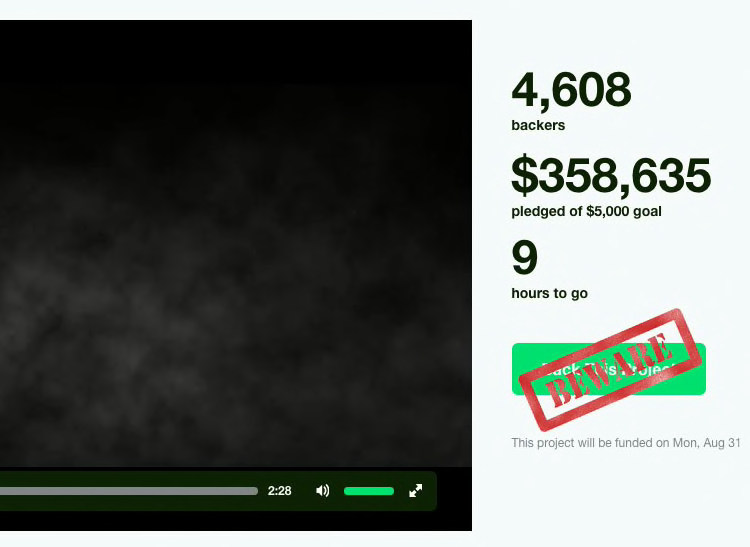 Similar 'Scampaigns'
Similar fraud "scampaigns" were unveiled after the fact on sites such as Kickscammed, Facebook's GoFraudMe page, and Android Police:
Jen Hintz is accused of using the $26,000-plus raised on Kickstarter for FibroFibers, an indie yarn-dyeing business, to fund her move from North Carolina to Massachusetts.
The project founders of Kreyos Meteor smartwatch made off with $1.5 million raised on Indiegogo for a waterproof, voice-activated wearable device that could also track your sleep.
An Iowa woman raised thousands of dollars through GoFundMe to pay for her daughter's cancer treatments, when in fact the child was healthy.
While Leetha Kaye Slauson, the Iowa woman, was given five years' probation, other penalties amount to little more than a slap on the wrist. Under the FTC settlement, Chevalier is prohibited from making misrepresentations about future crowdfunding projects, is barred from disclosing or benefiting from customers' personal information, and was fined $111,793.71, which was suspended due to Chevalier's inability to pay.
Spotting a Scammer
The FTC isn't yet able to identify one crowdfunding site as more prone to scams and fraud than another. "We rely on consumer complaints as a barometer, but they're not a good one-to-one measure of prevalence in the marketplace," explains Helen Wong, a lawyer with the FTC. However, Wong notes, "There's been an uptick in consumer complaints since this case was announced. The case has alerted consumers to the fact that the FTC is looking into this area."
Meanwhile, you can protect yourself from being scammed by following these three tips:
Check the creator's credentials. Many crowdfunding sites verify that the person has a Facebook page, but anyone can make a Facebook page. Analyze the page: Are the friends real or just "filler?" Are there real-time comments? Does the person have just one social media site or are they listed on other sites? A short timeline might indicate that the page was created just before asking for funding.
Dig into the creator's business background. Has he or she launched other projects successfully or supported other projects? Is there a professional online profile that demonstrates expertise in this area?
Be suspicious. Is the person trying to fund the same project on multiple crowdsourcing sites? That could show an attempt to raise as much money from as many people as possible.
If you learn about a crowdfunding scam or fell for a fraud yourself, take action by filing a complaint with the Federal Trade Commission or your state Attorney General, and warning other consumers by commenting on the creator's profile on the crowdfunding site.
Crowdfunding is a great way to bring promising ideas to reality. Just take care that the reality isn't a scam.