6 reasons to upgrade to Windows 10
The latest version of Windows has some exciting new features that might convince you to upgrade
Published: July 27, 2015 05:45 PM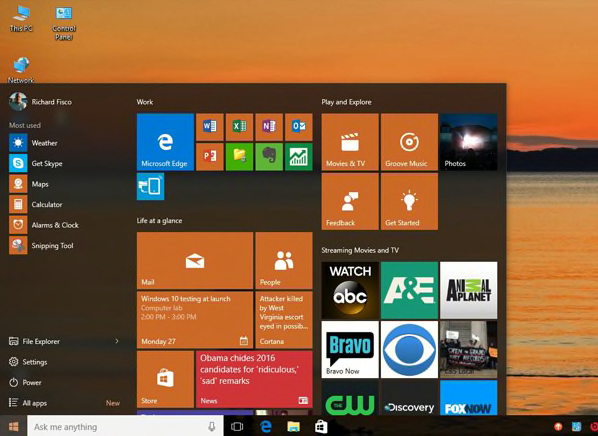 The official launch of Windows 10 is just a couple of days away. After using the beta version for the past few months, we chose six features that make it a compelling upgrade. Here's a look at why we think they're exciting changes and how they work—and why you might consider an upgrade to Windows 10.
The Start menu (shown above)
Ask many Windows 8 users what they missed most when they switched from Windows 7, and they'll tell you the Start menu. Microsoft didn't exactly bring back the old Start menu, which might disappoint some Win7 aficionados. But we think the new version is an improvement over both Windows 8 and Windows 7. It's visually appealing, especially when you have a few live tiles working. It doesn't take up your entire desktop, and you can make it quickly disappear by clicking outside the tile interface. If you're a fan of tiles, you can also expand it across your entire display by clicking on the double arrow at the top left corner. (Your desktop is still visible behind it, for what that's worth.) And the Start menu now consists of a lot more than tiles. There's an icon-based menu down the left that shows your most frequently used apps, and you get one-click access to an alphabetical list of all your apps. You can also get to File Explorer (which used to be known as Windows Explorer) from here and your Documents menu, as well as to Account Settings (more on that later). And, of course, the Start menu includes a power button similar to the one in Windows 8.1.
Planning to upgrade to Windows 10?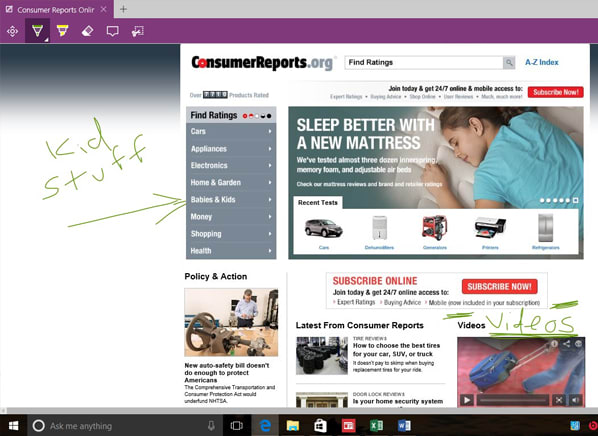 Edge, the browser
Until Edge, you had to have an extra app to make notes in a browser window. But the new browser packaged with Windows 10 lets you do that and more. Use your finger on a touchpad or your finger or a stylus on a touchscreen to circle, draw on, or highlight portions of a page that you can then save. You can also type notes in a text box. As with Apple's Safari, you can save stories to a reading list for offline perusal. You can also enter Reading View, which made its debut with Internet Explorer 11, to make just about everything on a page except the text disappear. Yes, that includes ads. We're not sure how Microsoft convinced advertisers not to hate this feature, but it's definitely easy on the eyes and the attention span. You might also see items like bar charts, graphs, and opening art, although it was hard to discern a definite pattern in what shows up and what doesn't.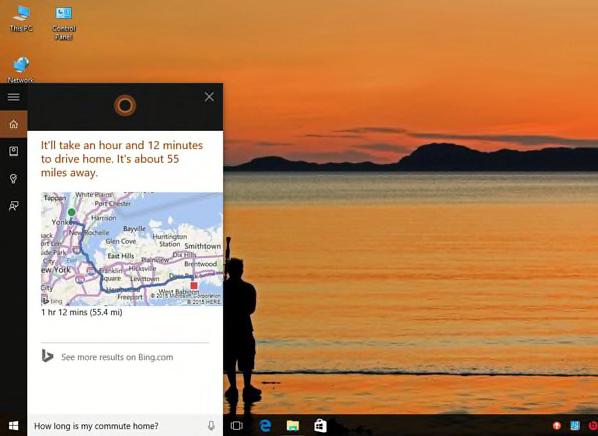 Cortana
This is the Cortana that you'll already find on Windows 10 phones. Cortana serves as your digital assistant, allowing you to ask questions like "What's the latest score in the Mets game?" What makes it interesting is the way Cortana adjusts to how you customize and use it, as well as other things you do in Windows. Add favorite places, like home, work, and the local swim club, so if you ask how long it will take you to get home from work, you'll get a traffic report for that route. Turn on package tracking, and if you get a message with a tracking number in your e-mail, Cortana will track it for you. You can also ask Cortana to provide local restaurant recommendations and movie times. Microsoft promises she will get smarter about you and your preferences as long as you keep sharing your interests with her.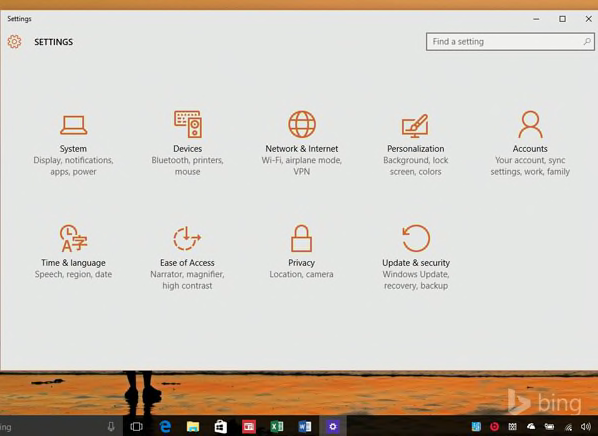 Settings
The Charms bar that you opened by swiping in from the right of your computer is history. As a result, the Settings menu has been moved to a list you'll find at the top of the Start menu. (You'll also find a link to it in the Action Center.) Settings includes items like Privacy, Update, Devices, and other attributes that Microsoft evidently considers most important or most used. Settings icons are large and easy to access via touchscreen and on tablets. Other settings, like Family Safety, can be found in the Control Panel, which is a bit of a challenge to locate. You can get to it by right-clicking the Windows button or by typing Control Panel into the box.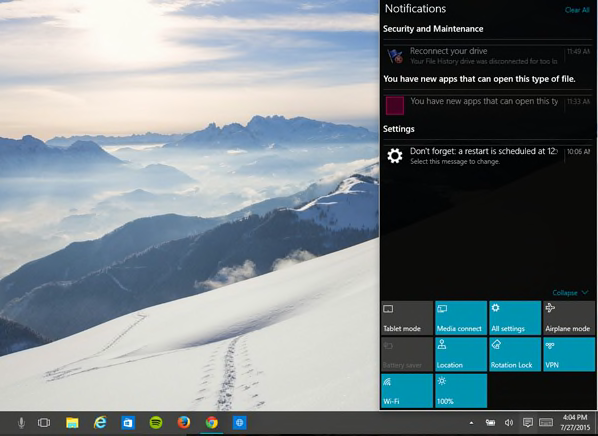 Action Center
The Action Center is a one-stop shop for all your notifications and a few other settings. It's taken over that right-swipe gesture that formerly belonged to the now-defunct Charms bar. You can also get to it by clicking the thought-balloon icon at the bottom left of the screen. It includes items like Wi-Fi status, rotation lock, and screen brightness. But it also shows updates from social-media networks, notices that you've received new e-mail, calendar events, and any other items you select from the Settings/System/Notifications & actions menu.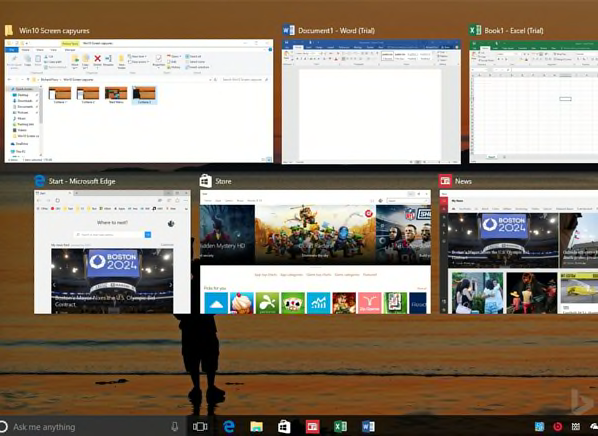 Task View
With this version of a virtual desktop, Microsoft is catching up to Apple, which offered the similar Mission Control several OS X versions ago. In Windows 10, this feature is called Task View, and it lets you keep several desktops open simultaneously. That allows you to easily switch among several projects while keeping your desktop organized. So, for example, if you're working on organizing, editing, and sharing your photos, you can keep all the applications you need for that project—a photo editor, Windows 10's Photos app, and Facebook—open on one desktop, while everything you need for that cookbook you're writing—word processor, Web browser, and a cooking app—are open on another. With Task View, you can also get a look at all the windows you have open. The Task View icon looks like a box with ears and is pinned to the bottom of your desktop.
—Donna Tapellini