Where to buy a bike helmet
Consumer Reports' secret shoppers visited 50 stores
Published: June 13, 2015 06:00 AM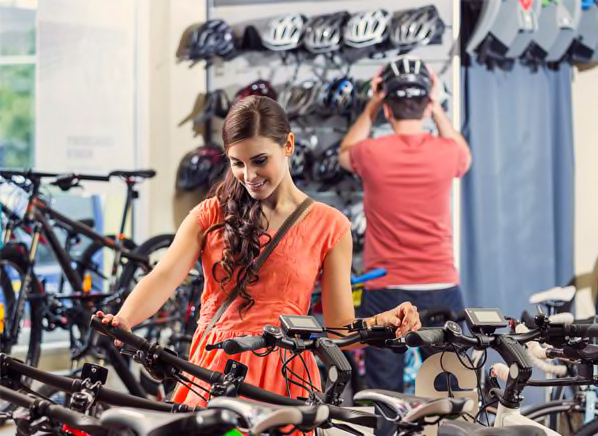 You can buy bike helmets at mass retailers, sporting goods stores, and online. You'll find more models to choose from in bigger stores, but you'll get more attention at specialty bike shops, according to Consumer Reports' secret shoppers.
We sent about a dozen of our shoppers to 50 stores in six states. They reported that they didn't get much help choosing a helmet or getting a proper fit in some of the big stores, including Dick's Sporting Goods, Sports Authority, Target, and Walmart. And when they did find help, the salespeople usually didn't spend much time answering questions or helping them get measured for a proper fit.
Fit is important, because if your bike helmet is too loose or doesn't cover your forehead it may not protect you when you need it. And a helmet that's not comfortable or is difficult to adjust is less likely to be worn in the first place.
Finding the greatest variety of brands and models to choose from may depend on where you shop, even if it's the same store. For example, a Dick's store in New York had just six bike helmet models available, while the same chain in California had 20.
Our shoppers also found that the bigger stores had lower prices than the specialty shops. "You might find some of the more expensive models to be more stylish," says Rich Handel, assistant test project leader. "But when it comes to protection and comfort, you don't need to spend a lot of money." The 16 adult and seven children's helmets that Consumer Reports tested ranged from $12 to $220.
Wherever you buy your bike helmet, check the return policy to make sure you can exchange it. This is especially true for online sales, because you won't be able try it on first.
—Sue Byrne