When you shop through retailer links on our site, we may earn affiliate commissions. 100% of the fees we collect are used to support our nonprofit mission.
Learn more.
At its big launch event on September 9, Apple introduced lots of new products, including the iPad Pro; an iPhone 6s and 6s Plus with pressure-sensitive touchscreens and 12-megapixel cameras; and a revamped Apple TV meant to challenge competitors' game consoles and streaming media players.
The new iPhones, in particular, may catch the covetous eye of a tween in your household. But don't give in to requests for a new phone. You can buy your kid a great connected device—and save $450—by choosing the recently updated $199 iPod Touch instead. And you'll avoid $50 or more in monthly data charges.

When we tested the new iPod Touch, we found a device that rivals the year-old iPhone 6. Users of the iPod Touch can run just about any app, stream movies and TV shows, Skype with camp friends, and otherwise act like other mobile addicts, as long as their device is connected to Wi-Fi. For tweens, that's not much of a limitation.
Here are more lab results.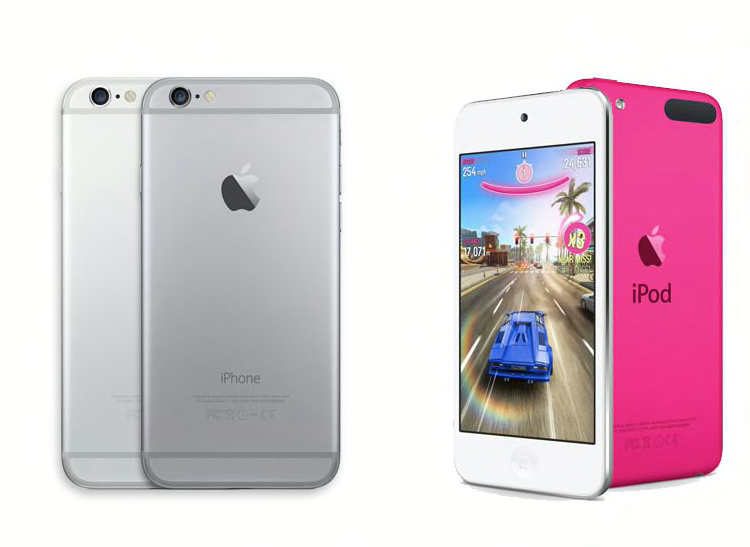 Looks
The iPod Touch looks like a mashup of the iPhone 6 and the aging iPhone 5. It comes in gray, blue, gold, pink, silver, and a Product (RED) edition that supports efforts to fight HIV/AIDS in Africa (guess what color it is). The Touch has an entirely aluminum backing, just like the iPhone 6 (complete with infamous camera bulge), but while the iPhone 6 has a relatively large 4.7-inch display, the iPod Touch's 4-inch screen is the same size as the older iPhone 5 display. The device is appropriate for smaller hands and one-handed use.
Cameras
The iPod Touch has the same 8-megapixel camera as the year-old iPhone 6, with a few tweaks separating the two (different flash LED, slightly higher maximum aperture). In our tests of the iPod Touch and iPhone 6, the cameras produced photos of similar quality. Video quality was also comparable, though the iPod Touch can't match the iPhone's 240-frames-per-second slow-motion video—it records at 120 frames per second. The front-facing cameras are pretty much equal in terms of photo and video quality.
Both devices can add location data to a photo, but the iPod Touch requires a Wi-Fi connection whereas the iPhone 6 can use built-in GPS to find out where a photo was snapped.
Processor
The older iPhone 6 and updated iPod Touch are evenly matched in terms of processing speed. They share the same A8 processor and M8 motion coprocessor, so games and fitness apps will be right at home on either device.
iOS and Connectivity
You'll notice a few things missing from the Apple iOS on the iPod Touch, namely the phone and the Apple Watch app.
But apps such as Skype and Whatsapp give users the communication tools to chat with anyone in the world, as long as they have a Wi-Fi connection. And one can always tether the Touch to a smartphone to get online in a pinch.
Using an iPod Touch on the go will take a few moments of planning. Just be sure your kid downloads all desired apps before piling into the backseat for a road trip.