Getting out the iron, filling it with water, and setting up the ironing board to press a wrinkled shirt seems like too much work some days. And yet that just-rolled-out-of-bed look doesn't always cut it. Hanging the shirt in a steamy shower is a method weary business travelers swear by. But for life on the run, what about a fabric steamer? Consumer Reports put three to the test.
All three manufacturers recommend using distilled water, especially if your water is hard. We used the fabric steamers on men's cotton shirts and cotton cloths and found they reduced wrinkles, but none created that truly pressed look. "Fabric steamers are best for quick touch-ups, delicates, and smoothing drapes without having to take them down," says Bernie Deitrick, the engineer who ran Consumer Reports tests. Here's how the steamers differ.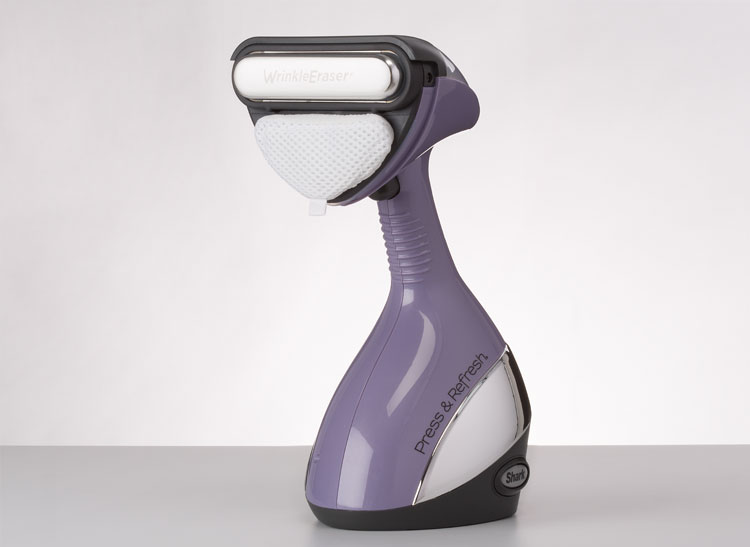 Shark Press & Refresh GS500
Price: $80
Claims: "A revolutionary new way to bring your fabrics back to life, reducing the number of trips to the dry cleaners." "Penetrates fibers to relax wrinkles, remove odors, and renew fibers."
Test results: The Shark's heated pressing bar did the best job of removing wrinkles and creating creases. This fabric steamer provided the most flexibility and the easiest pressing, both with its vertical ironing board that hangs on a door and its 15-foot cord.
Need to know: The Shark weighs about 3 ½ pounds when filled. It started steaming after 25 seconds, although the pressing bar takes a little longer to reach full temperature. It provided about 8 minutes of steam on one fill and was easy to refill. The tank can't be removed so you have to unplug steamer when refilling.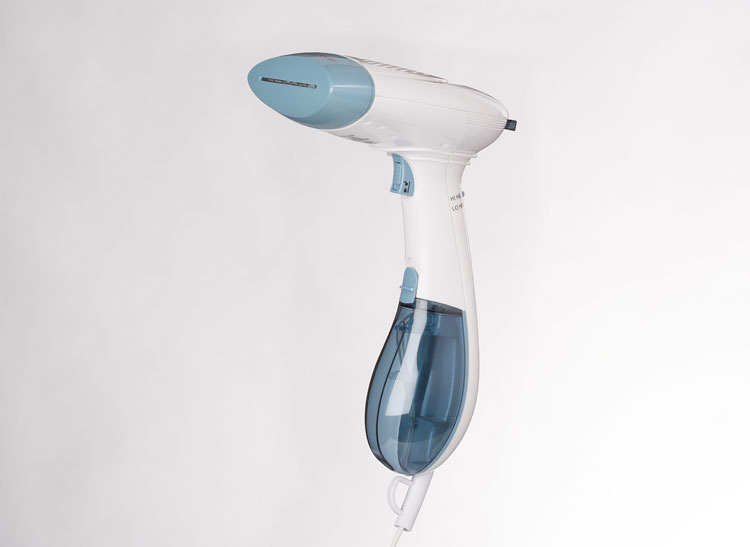 Conair ExtremeSteam GS23
Price: $35
Claims: "Concentrated steam—up to 30 percent hotter." "De-wrinkle fabric 5x faster."
Test results: The Conair delivered the hottest steam at the lowest rate of the three models, although the hotter steam may help reduce or remove wrinkles in some fabrics. The creasing attachment got the job done, but was awkward to use.
Need to know: There's a creasing attachment, rather than a pressing bar like the Shark has. The Conair weighs around 2 ½ pounds when filled and has a 9-foot cord so that you can reach high on your drapes (though you may be limited in how far to the right and left you can use it). The Conair started steaming after 25 seconds or so, providing about 15 minutes of steam on one fill, and the small removable tank was easy to refill.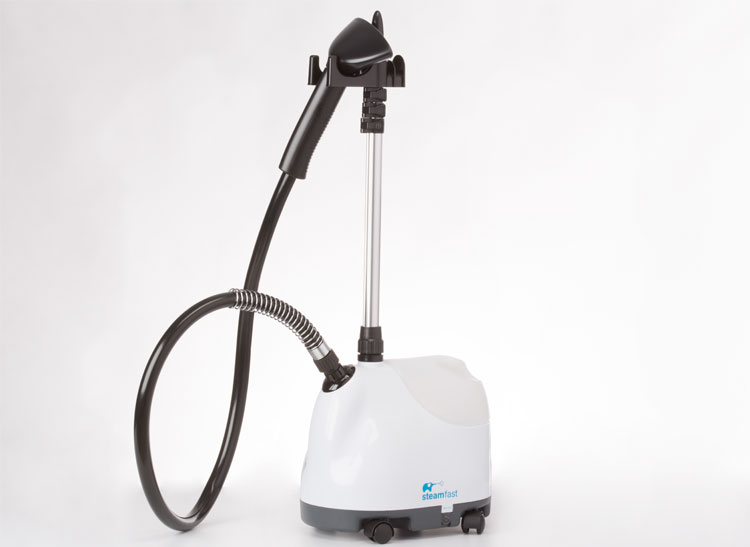 Steamfast SF-407
Price: $70
Claims: "Releasing wrinkles faster than ironing and freshening clothes in seconds." "Works equally well on drapes, upholstery, and other heavier materials." "Rolling casters provide easy maneuverability."
Test results: The Steamfast was the least impressive. Unlike the others, it sits on wheels, has a clothes hook on a telescoping pole, and a hose for steaming. It provided almost 90 minutes of steam on one fill, the longest of the three models, but the limited reach of the hose and cord would make steaming hanging drapes tricky. And it was challenging to get the wrinkles out of a shirt using the Steamfast's pressing pad and steam wand.
Need to know: Steamfast weighs about 11 ½ pounds when filled and has wheels mounted on the bottom, so it's designed to stay on the floor. The hose is only 5 feet long and the cord is 6 feet. Steamfast provided steam after 45 seconds. The removable tank is a cinch to refill.
Finding The Best Iron
A hot,steamy iron can work magic on rumpled clothes. See our steam iron ratings for the steamiest of the bunch. Of the 36 tested, the highest scored 95, the lowest 23.
Consumer Reports is an independent, non-profit organization dedicated to helping consumers. We make it easy to buy the right product from a variety of retailers. Clicking a retailer link will take you to that retailer's website to shop. When you shop through retailer links on our site, we may earn an affiliate commission – 100% of the fees we collect are used to support our mission.
Learn more.
Our service is unbiased: retailers can't influence placement. All prices are subject to change.