When you shop through retailer links on our site, we may earn affiliate commissions. 100% of the fees we collect are used to support our nonprofit mission.
Learn more.
Apple has now unveiled its long-awaited new Apple TV, which boasts innovative features and higher price points—$149 and $199, depending on internal storage capacity—that set it apart from competitors such as the Roku 3 and Amazon Fire TV. But there's no guarantee those enhancements will lure existing Apple TV customers to the device, much less people fond of other, less expensive streaming players.
Here's how we think the new Apple TV will stack up against other settop boxes, including a few key bits of information Apple didn't reveal at the unveiling. (Check our roundup of the September 9 Apple announcements.) Will they impact the product's success? We'll see. Of course, we'll be buying a new Apple TV as soon as it's available, testing it thoroughly, and updating our streaming media player Ratings.

Voice Control
Judging by the demos, Siri is now an enticing part of the product's pitch. Apple TV seems to respond very well to natural spoken language, and there's an intuitive feel to the personal assistant's reply to requests, such as when she automatically rewound a program and activated captioning when asked what an onscreen character had said. With Siri, you can use your voice to search TV shows and movies by title, genre, cast, crew, rating or popularity, and then follow up with a second query to further filter results. However, we don't know for sure if this is confined to iTunes content, or if the feature has the same extensive reach when used with apps such as Netflix, Hulu, or HBO Now.
Both Fire TV and Roku can respond to basic voice commands, though primarily for searches. We've noticed that Amazon Fire TV supplies are dwindling, which leads us to believe that an updated version is coming, and there are rumors that Amazon's own talking assistant, Alexa, will make its way into the device. This will make Fire TV far more competitive with the new Apple TV at responding to commands beyond simple searches and volume adjustments.
Roku 3's voice commands are nowhere near as sophisticated as Siri or Alexa.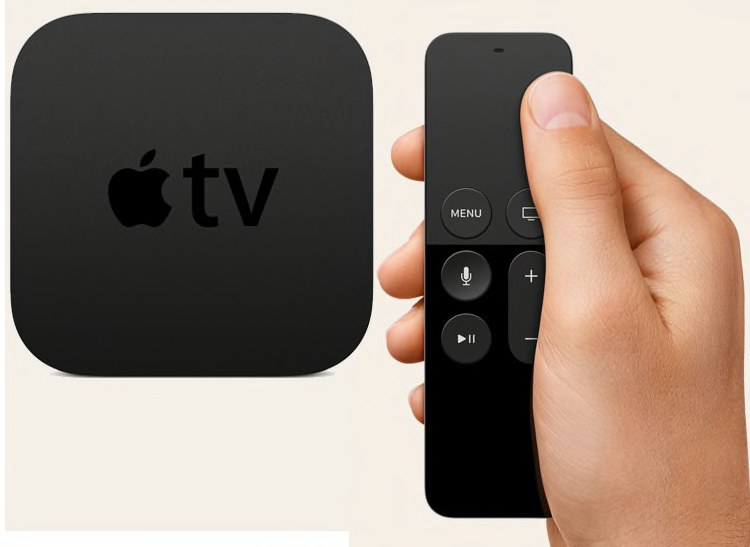 Remote Control
We think we're really going to like the new Apple TV remote, which has a glass touch screen that lets you swipe to navigate, as well as a built-in gyroscope and accelerometer for Nintendo Wii-like gesture capability. You can even use an iPhone or iPod touch as a game controller. It's also likely that the new Apple TV will support third-party MFi (made for iOS) controllers.
The integrated volume control, which lets you use the CES technology built into most new TVs to adjust the sound, is another attractive feature. The device also has IR for use with older sets. We should note that we also like the updated Apple TV interface, which uses 3D-style app tiles. It appears you can reorder those apps on the screen to suit your preferences.
Amazon Fire TV comes with a more basic Bluetooth remote, and if you really want to play games, you have to shell out an additional $40 for the optional game remote.
The Roku 3 comes with a Wi-Fi-enabled remote that has motion sensors that let you play games using gestures. It also has a headphone jack that lets you listen to shows or movies without disturbing the person next to you.
We're not sure if a revamped Fire TV will carry the same $100 price as the current model, but right now the optional game brings Fire TV's price closer to the new Apple.

Games
During its media event, Apple said it had created an app store and a software kit to entice third-party developers into inventing apps for the new TV platform. Although the company mentioned health and wellness and showed a shopping app from Gilt, the emphasis—at least initially—seems to be on casual games, with demos from Hipster Whales' "Crossy Road" and Harmonix's "Beat Sports." It's too early to know what kind of support Apple will get from game companies, but we imagine it will be fairly easy to port iOS mobile games to the product's new iOS-based tvOS operating system and Apple's app store is certainly loaded with options. The big question in our minds is whether people will want to play those same games on a large TV screen while sitting in the living room. One intriguing possibility is cross-platform social gaming, where players on iPads and iPhones compete against players using an Apple TV.
But Roku and Amazon both made a big deal about games when launching their respective systems, and so far neither has been an unqualified success. I doubt many people can name one game on the Roku 3 other than "Angry Birds." Amazon has done a better job in that arena—it claims there are 700 games in its library, which includes a separate area for kids—but I don't believe many people are buying the player for that reason.
Streaming Video and Music
This is an area where Apple has long trailed its competitors. Roku has an unmatched assortment of content, and Amazon offers almost all the major services, though it has an annoying tendency to favor its own Amazon Prime. While Apple has consistently added content, there was no mention from company executives of Amazon Prime or Instant movies, M-Go, or Vudu, and—as far as we know—the product doesn't support Sling TV. It's no surprise that the new Apple TV has iTunes and Apple Music, but it lacks the more popular Pandora and Spotify. Perhaps its new openness to third-party developers will eventually help the company even the score, but right now Apple still trails its competitors in this important area.
Future Enhancements
We think the new Apple TV is a major, if not revolutionary, leap forward from the earlier-generation settop box. But there are a few developments that could really separate it from its competitors in the future. The first is the launch of the Apple TV streaming service, which has apparently been bumped to 2016. According to several reports, Apple is looking to offer a "skinny" TV package featuring about 25 channels—local broadcasts and cable networks—for about $30 to $40 a month.
Another intriguing possibility? Morphing the Siri-armed TV platform into a home automation hub that would let users control Apple HomeKit-enabled devices such as lights, locks, and thermostats via their sets. We also expect Apple TV to work with iOS-enabled devices such as health and fitness monitors and the Apple Watch.
Of course, we'll have a much better understanding of how well the new Apple TV works once we can buy it and get it into our streaming media labs for thorough testing. Check back with us in October for a first look.