When you shop through retailer links on our site, we may earn affiliate commissions. 100% of the fees we collect are used to support our nonprofit mission.
Learn more.
It's not every year, or decade even, that a brand new type of exercise equipment hits the market. The 1960s saw the rise of the treadmill, the 1980s had stair steppers, and elliptical trainers emerged in the 1990s. All three machines have plenty of benefits, but also certain weaknesses—and where there's weakness, there's opportunity for manufacturers to create a better product. Enter the "alternative motion machine," a new type of cardio-pulmonary exercise equipment that supposedly borrows the best concepts from the treadmill, elliptical, and stair stepper for a revolutionary workout experience. Consumer Reports tested three models from NordicTrack, Octane, and Precor to see if the hype is for real.

All three alternative motion machines feature a dynamically variable stride mechanism, which simply means you can control the length of your stride at will, as you would on a treadmill or while running outdoors. But as with an elliptical, your feet are always in contact with the machine, so there's little to no pounding. In addition to being easier on the joints, this low-impact motion also makes for relatively quiet operation, nice if you live in an apartment or smaller house. As for stair-stepper influence, alternative motion machines allow you to engage in short up-and-down strides for an intense quad-burning workout. And the NordicTrack and Precor models have moving handgrips that allow for upper body conditioning.
How We Tested
We used a panel of 18 Consumer Reports employees—nine men and nine women—ranging in age, weight, and fitness levels. The tests were carried out in phases, beginning with an orientation period where panelists became acclimated with the machines. They then used each machine for two separate workouts before filling out an evaluation form with scale-based and open-ended questions.
We also turned to the magic of motion-blur photography to help illustrate the differences between the three alternative motion machines and provide a visual to demonstrate why panelists felt one simulated running better than another, or why a particular machine felt more like an elliptical. The photograph below shows project leader Peter Anzalone running on a treadmill at a speed of just under 5 mph. A red LED light-strip attached to his shoe illuminates the distinct motion-path typical of a running stride. This teardrop shaped motion-path features a sharp tip at the heel strike, a flattened bottom, and a curved transition at toe-off. The motion-path is centered squarely beneath him. Compare it with the other motion-blur photographs, below.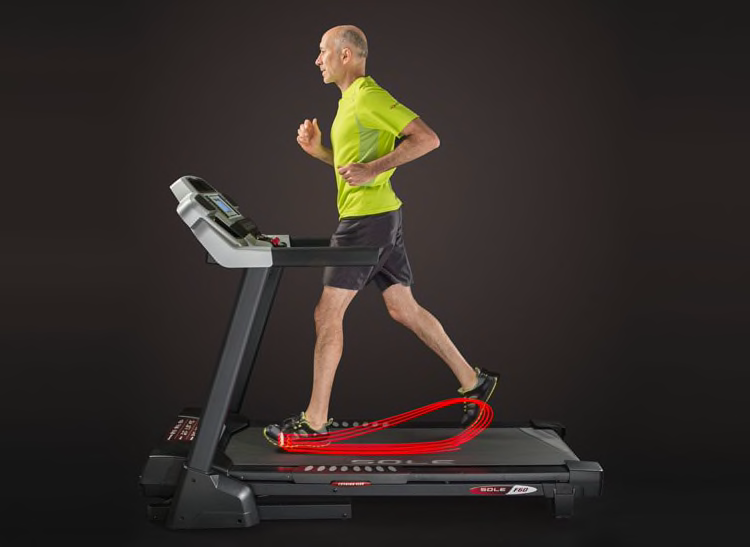 How They Stack Up
The following reviews are based primarily on panelist evaluations, though we also noted such factors as ease-of-assembly, safety, and warranty. Each alternative motion machine has unique features and attributes, so if you're considering this equipment, start by figuring out exactly what you hope to achieve from your exercise program. Then use our model reviews, listed alphabetically below, to find the machine that best matches those goals.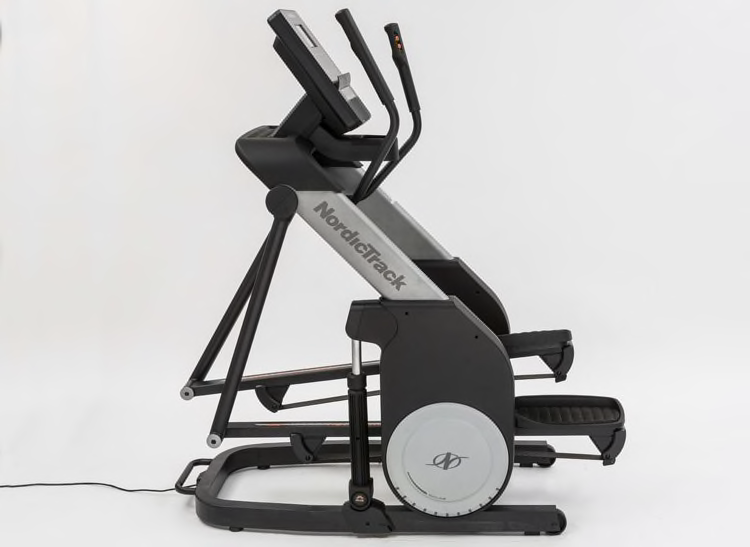 NordicTrack FreeStride FS7i, $1,999
Overview: The NordicTrack looks and feels the most like an elliptical trainer. Independent pedals are suspended above pivoting rollers via a belt-suspension system, which creates a unique feeling of "floating through your workout," according to the manufacturer. The design also lets you quickly transition between various stride lengths and striding motions.

Assessing Stride Variability: Stride-length can extend to a maximum of 38 inches, but there is no stride-height adjustment. For variation, NordicTrack designed a 10-setting automated incline, which alters the plane of the striding path. In long-stride, our panelists said the machine felt like skiing or being on an elliptical. In short-stride, a stepping motion was possible, but not easy to achieve as the machine favored working in an elliptical path as opposed to a true vertical stepping motion.

Special Features: Touch-screen display and internet-capability. Custom workouts available through iFit technology and Google Maps routes, or you can choose from the menu of 40 on-board programs and 24 resistance settings. Chest-strap heart rate monitor also included. Oversized cushioned pedals offer comfort and traction.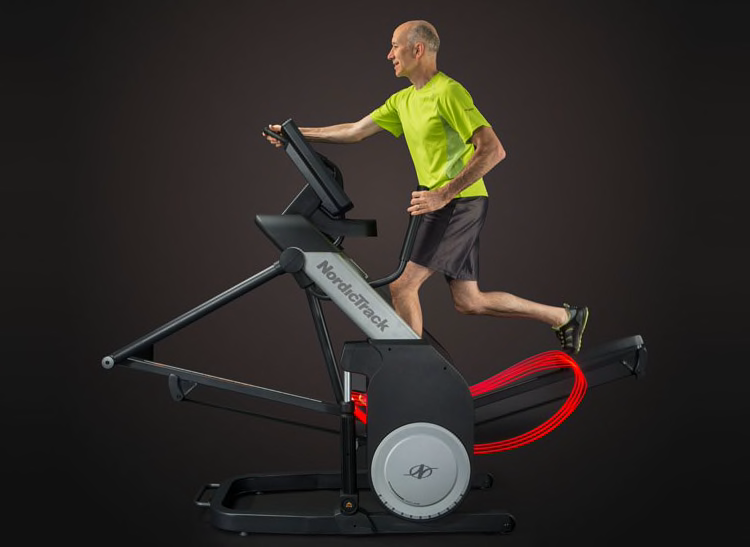 What Our Panelists Say About Nordic Track
How it Compares to Actual Running. Panelists felt it was more like an elliptical or cross-country skiing motion than running. Increasing the cadence of the stride resulted in a longer stride rather than a faster running pace.

What They Liked
High-res, touch-screen display.
Display information helped gauge progress during workouts and compare performance to previous workouts. Training videos and running track graphic, which shows progress around a simulated track, were favorites.
Controls on moving handgrips made it easy to adjust resistance and incline.
What They Disliked
Tendency of pedal assemblies to hit the limiting stops, which are there to keep the assemblies on their rollers when the stride-length limit is exceeded. Panelists found banging against the stops to be jarring, noisy, and distracting.

Handgrips lacked a cushioned grip and were angled in a manner that forced the wrist into an awkward position at times.
Shortness of the retaining lip on each pedal. One panelist's foot slipped off the front of the pedal during her first two sessions on the machine.
Ease-of-Assembly: About 75 minutes total. NordicTrack has simplified the assembly of its cardio equipment over the years by reducing the number of fasteners and pre-assembling some of the components. We hit a major snag with the FreeStrider, however, when inserting the pedal arm axle into the retaining bushing. The fit was so tight that mating the components proved extremely difficult. We think a less experienced consumer might have serious trouble.

The Bottom Line: Of the three alternative motion machines, NordicTrack fared worst among panelists. Though they liked its interactive and informative display, many couldn't get past the mechanical deficiencies. The motion of the machine was difficult to control, as it tended to favor its own striding length. The "stops" that control pedal travel caused a loud bang as they contacted the roller, so much so that several panelists thought there was a problem with the machine. We think this jarring noise will be a major turnoff for some consumers.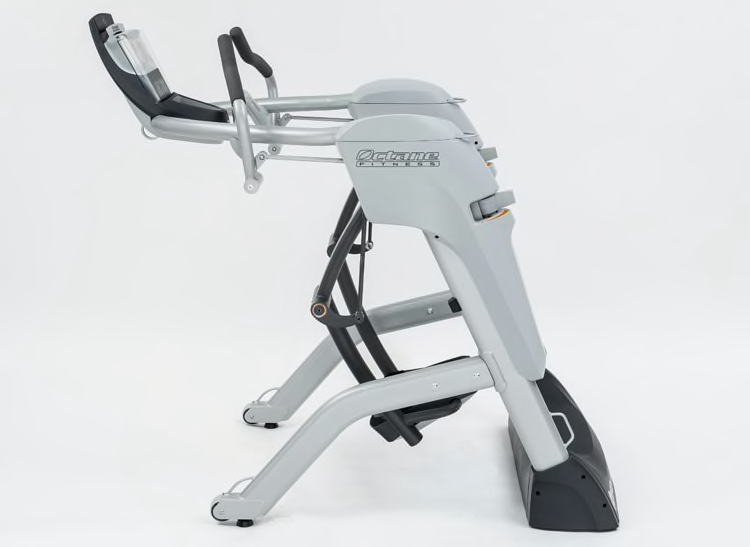 Octane Fitness Zero Runner ZR7, $3,299
Overview: This machine has the most unique design compared to traditional cardio exercise equipment. Climbing aboard is like strapping on an AMP Suit from Avatar. Simulated hip and knee joints on the machine mimic your legs' natural movements, allowing for an unparalleled stride length of 58 inches. There's no resistance or incline or on-board motors. Basically, you're the motor. You decide how the workout will go. As such, the Zero Runner's built-in exercise programs prompt you to start a different machine-based movement, instead of actually controlling the machine.

Assessing Stride Variability: The Zero Runner mimics the infinitely variable path your feet might follow if you were running free form, but it takes some getting used to. Unlike other cardio equipment, there's no resistance or incline or on-board programs that change the intensity of the workout. Panelists said the Zero Runner's long-stride felt like running, while its short-stride simulated walking more than stepping or climbing.

Special Features: Octane's SmartLink app wirelessly connects an iPad device to the Zero Runner to provide data tracking and customized workouts. There's also an array of built-in programs, including cross-circuit ones that allot time for off-machine exercises; anchors on the machine make it easy to attach resistance bands for strengthening exercises. Includes a chest-strap heart rate monitor.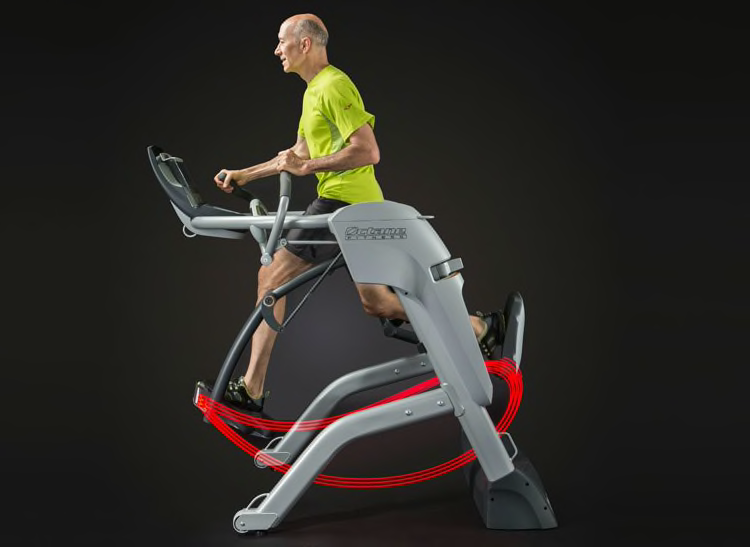 What Our Panelists Say About Zero Runner
How it Compares to Actual Running. Opinion was sharply divided. A select group of panelists thought the movement felt natural, with a nice range of motion throughout the entire gait. But there were those who found it difficult to establish and maintain a consistent running motion and never got comfortable with the movement pattern. And most panelists found it particularly difficult to increase running cadence, which made for a limited stride turnover rate.
What They Liked
For some, the fluid and natural running motion as well as the variable stride.
Simple and easy-to-read display.

Especially quiet operation.
What They Disliked
Lack of resistance and traditional programs seemed to reduce the variety of workouts, leaving some panelists under-stimulated.

Feeling of instability with the pedals, especially when stepping onto the machine or standing still on them, like during a water break.

Difficulty retaining the movement from session to session
Ease-of-Assembly: Total time of about 50 minutes, with mostly one person working; a second person was needed briefly to lift the partially assembled frame from the box. A lot of thought clearly went into making the process easy and efficient. You can also pay $150 to have the machine assembled in your home.

Bottom Line: Our panelists were split over the Octane Fitness Zero Runner. If you love to run but worry about the impact of doing so on a treadmill or outdoors, this machine may appeal to you, since of the three tested machines, it felt the most like running. But there's a pretty steep learning curve, so you need to be up for the commitment. Panelists who were less athletic or lacked coordination found it particularly hard to acclimate. The fact that exercise is largely self-directed was also a challenge for less experienced panelists.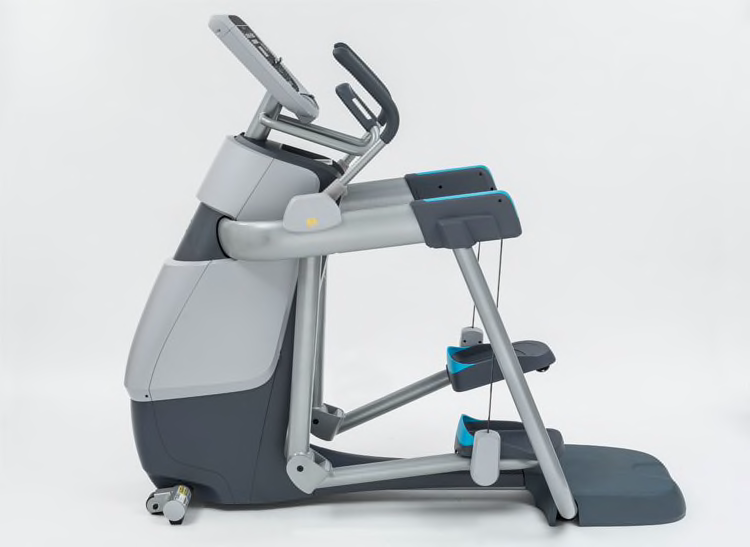 Precor Adaptive Motion Trainer with Open Stride, $8,895
Overview: This is a commercial-grade machine that's available to consumers, hence its steep price tag. Its design features pedal arms pivoting on two-joint, articulating linkages that hang from the frame by a belt. This configuration provides the two dimensional freedom of motion necessary for a variable stride-length. Stride height adjustments are made using one of two large toggle levers; the other toggle controls resistance.

Assessing Stride Variability: Stride-length can extend to a maximum of 36 inches, the least of any of tested model. However, the "Open Stride" feature lets you adjust the height of the stride cycle from 6.8 to 10 inches. Panelists said the long-stride felt more like an elliptical motion, while its short-stride simulated stepping.

Special Features: Six on-board programs that automatically manipulate resistance. The machine itself is self-powered by an internal generator so no power cord is needed, though an optional one is available. The unique Stride Length indicator is an illuminated pendulum that swings back and forth to indicate the front-most and rear-most extent of your stride length. An on-board transceiver will work with a user supplied chest-strap heart rate monitor.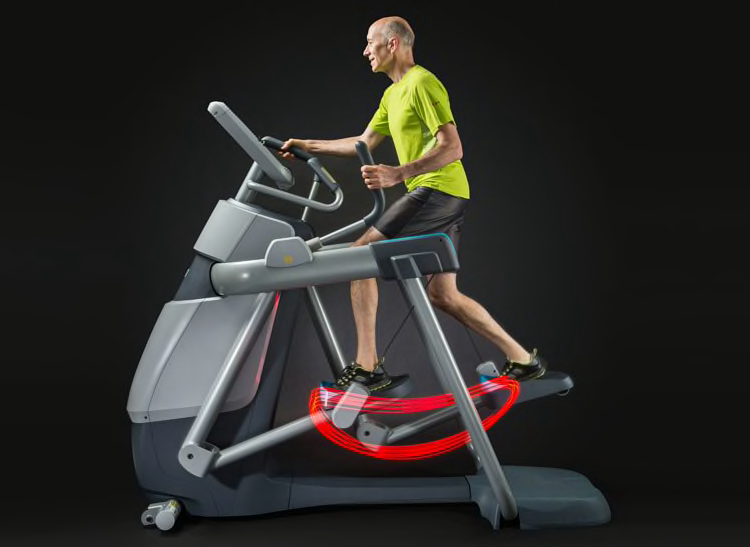 What Our Panelists Say About the Precor
How it Compares to Actual Running. Panelists felt its movements compared more to an elliptical. The motion lacked the impact of a heel strike, though they felt it provided a good workout. It was somewhat difficult to increase the cadence to replicate the turnover experienced in running.
What They Liked
Striding required little acclimation and the moving handgrips were well designed and functional.

Extremely smooth, stable, and secure operation.
An ease-of-use regarding the controls and the display, which was considered familiar, clear and comprehensive.
What They Disliked
The fact that the Precor generates its own power (no plug required) was a nuisance for some, since it means you have to pedal above a minimum level to activate the display, say when making the initial selections for a workout.

Motion was not fully satisfying among some of the panelists, but many panelists found nothing to dislike.
Ease-of-Assembly: We leased the Precor AMT for this project and so it was delivered pre-assembled. Precor charges its customers an additional $350 for delivery and installation.
Bottom Line: The Precor had the widest appeal, with 50 percent of panelists saying they'd be "extremely excited" to use it again. They appreciated the conventional on-board programs that adjusted resistance. Basically it functions a lot like other cardio equipment, with an added dimension. The familiar display is well organized and easy to read and the operation is smooth and fun. It works well as a stepper and transitions smoothly into various sized elliptical-like striding patterns, which can be extended into long, loping strides. Though the longer stride does not quite resemble running, the variety of movements and the well-integrated moving hand grips kept panelists stimulated.
Where to Buy an Alternative Motion Machine
Octane and Precor sell their alternative motion machines through specialized dealers; go to the manufacturers' websites to find locations in your area. Currently, NordicTrack only sells its machines on its website. That's another knock against NordicTrack, since, as with all cardio equipment, we recommend you try out alternative motion machines in person before making your final purchase. Lastly, bear in mind that alternative motion machines have a large footprint and tall frames, so you may need 8 or even 9 feet of ceiling height.