Belisa by Lunata Curling Iron Review
We loved the cordless experience but wish the iron held a charge for longer Price paid: $120
Material: Titanium
Barrel length: 4½ inches
Multiple temperature settings: Yes, adjustable
Cord length: Cordless, comes with charging cable
Dual voltage: Yes
Auto shutoff: Yes, after 20 minutes
Warranty: 1-year limited
Safety certification: ETL (Electrical Testing Laboratories) Listed
The Belisa by Lunata is like the AirPods of curling irons—no strings attached! Inside the box, the barrel is encased in a silicone sleeve. We also found a user manual with instructions and a charging cord.
How it works: After sliding the button on the handle into the On position, a screen on the handle displays battery capacity as well as the temperature. Users can adjust the heat to anywhere between 200° F and 400° F using buttons labeled "+" to increase the heat and "-" to decrease it. It took about a minute to heat up to 200° F. The barrel was cool enough to hold about 7 minutes after turning the iron off.
According to the directions, if the iron runs out of power, the barrel will stop heating, the temperature on the screen will flash for 5 seconds, and the iron will shut off automatically.
Our biggest gripe: I love the idea of a cordless curling iron—I have to clear my limited bathroom counter space before styling my hair with corded tools so I don't knock anything over. But, the Belisa takes 2½ to 3 hours to fully charge, which was a deal breaker for me. On top of that, the charge lasts only 35 minutes, so if you style at a slower pace, it's likely to run out of juice.
You can curl your hair while the Belisa is charging, but the cord is pretty annoying. It kept popping out of its socket as I maneuvered it to curl my hair. Still, when it was fully charged, curling with a cordless iron was a pretty great experience.
Although freedom from the cord was a plus, the rest of curling experience left much to be desired for most evaluators. First of all, the instructions didn't make it clear that you needed to charge the iron before use. Many of us started curling right away only to run out of power. Angela felt like the handle was too large, though she appreciated its grippy texture. The clamp didn't hold Perry's hair very well. "A lot of strands slipped out," she said, "and some snagged near the base of the barrel."
The barrel itself was too short for Ginger, who has waist-length hair, and the charge didn't last her entire curling session. Daniela also felt that the tip of the iron was too small, making it more likely that someone could burn themselves while styling.
Strangely, the curling iron seems to buzz when it gets too close to your head or when it's resting on a surface. There is no explanation in the directions for why this happens, but Angela thought it was a warning that let her know when the iron was getting too close to her head. Perry likened it to an electronic gnat buzzing inside her ear.
Further digging on the Lunata website suggests that the buzzing is actually a motion detection device, a safety feature intended to ensure that the iron is not left unattended for an extended period of time. The iron will shut off after 20 minutes of inactivity.
Lunata implies that the cordless functionality makes this the ideal curling iron for traveling, but it seems to me that you'd have to take the cord anyway, considering the charge holds for only 35 minutes. I suppose if you're sure it's fully charged and you need to take it to the gym for one use only, then yes, having no cord is a perk. But for an extended trip, you'd definitely need to pack the charging cord. And because it's separate from the curling iron, it's easier to lose—I've already misplaced mine.
When it came to results, Perry reported dissatisfaction, sharing that the iron had made her hair so staticky that she had to wet it down after she was done styling it. Yikes.
What we liked: "I must say I absolutely loved the wireless experience," Ginger shared. "Curling iron cords are annoying at best, so to be free of that was a game changer."
And we generally liked the results we got from the Belisa. Daniela described her curls as "light, soft, and shiny," and Angela liked that the temperature control allowed her to use it at the relatively low heat of 200° F.
As a safety feature, I appreciate the silicone sleeve. I'm constantly in a rush and hate to leave a hot tool cooling unattended, so it was great to have the option of slipping a still-warm iron into the sleeve and not having to worry about burning the house down.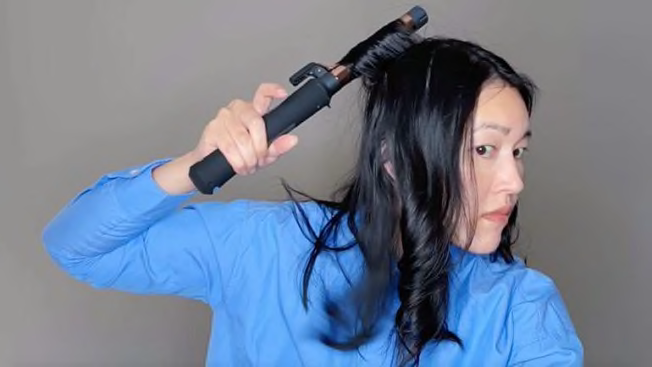 This product evaluation is part of Consumer Reports' Outside the Labs reviews program, which is separate from our laboratory testing and ratings. Our Outside the Labs reviews are performed at home and in other native settings by individuals, including our journalists, with specialized subject matter experience or familiarity and are designed to offer another important perspective for consumers as they shop. While the products or services mentioned in this article might not currently be in CR's ratings, they could eventually be tested in our laboratories and rated according to an objective, scientific protocol.
Like all CR evaluations of products and services, our Outside the Labs reviews are independent and free from advertising. If you'd like to learn more about the criteria for our lab testing, please go to CR's Research & Testing page.
When you shop through retailer links on our site, we may earn affiliate commissions. 100% of the fees we collect are used to support our nonprofit mission. Learn more.