Best Cutting Boards for Your Kitchen
I tried bamboo, maple, plastic, and teak cutting boards to cut through all the options A chef's knife plays the starring role in dinner prep, but your cutting board certainly deserves a nod for best supporting actor. It's easy to write off these seemingly utilitarian boards as interchangeable, but the truth is, some are much better than others.
I know this to be true from culinary school, the time I've spent in professional kitchens, and more recently, from time spent in my own kitchen, where I assessed six cutting boards of varying materials to see which were the easiest to use, clean, and maintain.
The Case for Two Cutting Boards
Before we delve into the specifics, know that you should keep a minimum of two cutting boards in your kitchen. 
"Raw meat, poultry, and seafood can carry harmful bacteria and should have a designated cutting board," says Sana Mujahid, PhD, manager of food safety testing and research at Consumer Reports. "Have a separate board for foods that don't require further cooking, like bread, fruits, and vegetables, to prevent cross-contamination."
While either wood or plastic can be safely used with raw meat and then disinfected, plastic just makes more sense. The easiest way to sanitize a cutting board is in the high-heat cycle on your dishwasher, and many wood boards aren't technically dishwasher safe.
How I Evaluated Cutting Boards
I set out to find boards that represented a good mix of materials, while also looking for popular sellers of each type. The six I chose—from Carrollar, Gorilla Grip, John Boos, Oxo, TeakHaus, and Totally Bamboo—are all widely available and represent a variety of options, including bamboo, maple, plastic, and teak. I opted not to include any tempered-glass boards because many pros say they can wreak havoc on a knife. Plus, even though they're tempered, they can still break, which, to me, seems like an unnecessary stress in the kitchen.
I ran those thoughts by one of our test engineers, Bernie Deitrick, who tests everything from vacuum sealers to sheet pans for Consumer Reports. "With a glass board, there's no traction for the blade," he says. He prefers wood boards—he owns one that's 34 years old—while thicker plastic options come in second.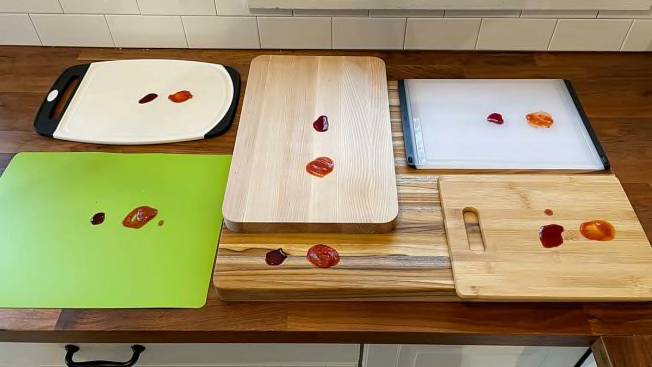 Editor's Choice: Original Gorilla Grip Cutting Board, Set of 3
Cost: From $25 for three
Dimensions: Large, 16 x 11.2 inches; medium, 13.8 x 9.6 inches; small, 11.8 x 8 inches
Where to buy: Amazon, Gorilla Grip, Walmart
The best kitchen tools are those you find yourself grabbing time and time again. Even when I wasn't explicitly working on these reviews (just prepping meals for my family in the kitchen) I found myself gravitating toward the Gorilla Grip boards. (They're sold as a three-pack, which means I could always find one that was the right size for whatever I was cutting.)
They do everything a cutting board should, without fuss: They're among the most stable on my wood counters and they rarely slipped while I was prepping. They felt great beneath my knife, too, providing a bit of grip and good feedback; some of the firmer boards left me feeling like I was dulling my knife with each cut. That's especially true for tasks like mincing rosemary, where you need a lot of rocking cuts, applied with some force, to pulverize the sprigs. 
I also appreciate the little groove around the perimeter of each board—it's ample enough that you could use these boards for chicken thighs, or even a whole roasted chicken, without worrying that any liquid would spill over. The Gorilla Grip boards are also reversible, and the second side doesn't have a groove. I love the flat side because when you're chopping fine herbs, like parsley, it makes it easy to scrape food directly into a prep dish. Best of all, they're dishwasher safe, which made them super easy to clean and sanitize. They didn't stain, even when I allowed grenadine syrup and tomato sauce to sit overnight. 
Plastic Runner-Up: Oxo Cutting Board, Set of 2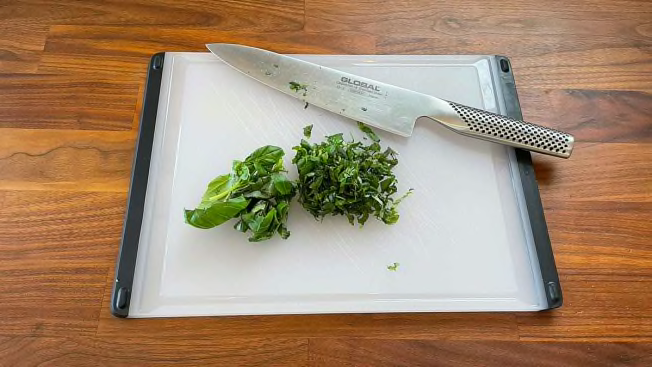 Cost: $21 for two
Dimensions: Large, 12.9 x 9 inches; small, 10.75 x 7.25 inches
Where to buy: Amazon, Home Depot, Oxo, Walmart, Wayfair
The Oxo Good Grips boards are pretty stellar. And I should start by saying that I own a set that I've used in my own kitchen for years, with great results. But they lose out, ever so slightly, to the Gorilla Grip boards. While both sets are similar, the Gorilla Grips get the edge because I found them less prone to slipping than the Oxo boards, and you get three boards instead of two, despite nearly identical price tags. Another edge: The largest Gorilla Grip board is quite a bit bigger than the larger of the two Oxo boards, which is nice, because when you're cutting up say, a roast chicken, you've got more room to work without food spilling over the sides.
Like the Gorilla Grips, the Oxo has a groove around the edge for catching liquids on one side and is flat on the other.
The boards are dishwasher safe and easy to clean by hand. They didn't stain, even when tomato sauce and grenadine syrup sat overnight. I'm not in any rush to replace mine—but if I were buying a new set, I'd lean toward the Gorilla Grips both for the size offered by the largest board and the value of the three-pack. 
Nice for Serving: TeakHaus Traditional Edge Grain Professional Cutting Board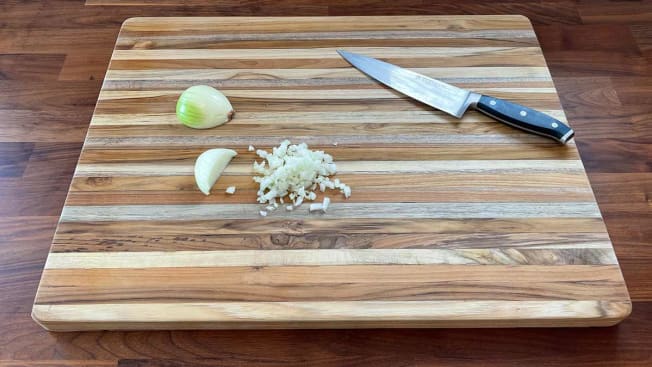 Cost: $100 and up
Dimensions: 24 x 18 x 1.5 inches
Where to buy: Amazon, TeakHaus
This TeakHaus cutting board is both beautiful and substantial, which makes it feel more like a centerpiece on your countertop. It's a solid serving piece, too, a perfect board for bread at a big gathering or a cheese or charcuterie platter. 
The board is blissful to cut on. In addition to rooting firmly on the counter, it provides the perfect amount of feedback as you cut. It's also worth noting that it still looks pretty good after a decent amount of prep—some of the other boards ended up with cut marks and even a few deep gouges. 
But its heft is both an asset and a detriment. The weight kept it from shifting but also made it harder to move and clean. More than once, I carried my kitchen garbage can over to the board and scraped onion peels or carrot trimmings directly into the can because, frankly, that seemed easier than moving the board itself. The same holds true for washing; several times, I just wiped the board clean rather than carting it to the sink. 
There's no groove around the perimeter—some of the brand's other boards do have one—but the sheer size of the board kept raw chicken juices from running over the edge. I was impressed that neither grenadine syrup nor tomato sauce stained the board; the TeakHaus is the only wood board that completely resisted staining. 
Budget Wood Board: John Boos 16-inch Maple Edge Grain Chop-N-Slice Reversible Cutting Board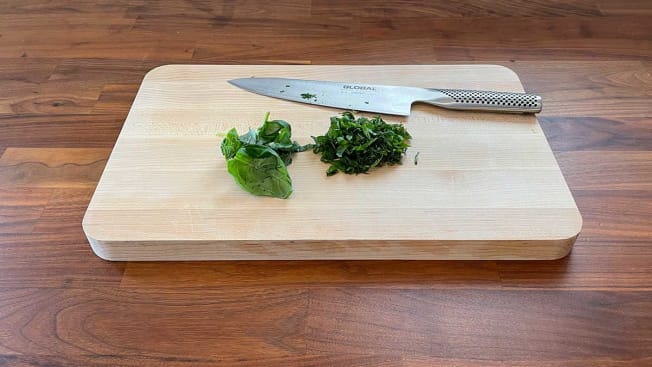 Cost: $44 and up
Dimensions: 16 x 10 x 1 inches
Where to buy: Amazon, Wayfair
John Boos is known for its gorgeous, high-end butcher blocks and countertops, many of which grace the sets of cooking shows. This smaller maple cutting board hit the sweet spot in both size and feel—small enough to be easily moved but hefty enough to stay more or less in place on a counter.
It provides nice feedback as you cut, but it's not a great choice for raw meats because it lacks a groove to catch dripping juices, and the small size makes it easy for liquids to spill over the edge. (The brand does offer other options with grooves.) I loved it for onions, cilantro, rosemary, and pretty much anything where you want a bit of grip on the end of your knife. 
The use and care instructions mention monthly applications of a conditioning oil, also made by Boos, and even suggest supplementing that treatment with a board cream—you can buy both, along with an applicator, for $47, which seems a bit expensive since it's more than the board itself.
Still, the solid design makes the board feel like it could last years, even decades, with the right care. Like all the wood boards here, it's hand-wash only, and you shouldn't let it soak in water. Worth noting: The board feels very porous when it's brand new (perhaps the oil or cream would help here), and the wood seemed to soak up grenadine syrup and tomato sauce, resulting in lasting stains.
Great for Quick Prep: Carrollar Flexible Plastic Cutting Board Mats, Set of 4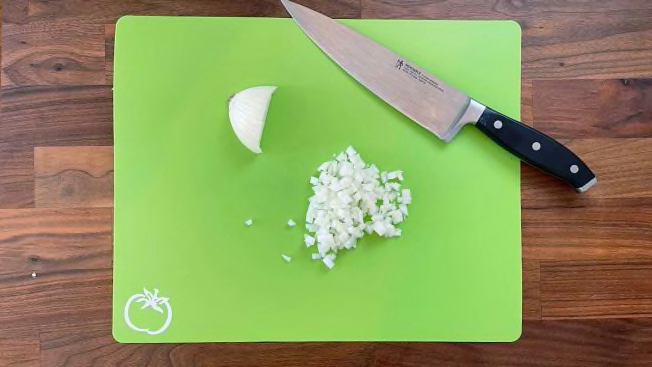 From: $8 for four
Dimensions: 15 x 12 inches
Where to buy: Amazon, K-Mart
It's pretty tough to take issue with a four-pack of cutting boards that go for less than $10. So I won't. Instead I'll point out how handy these Carrollar boards are, even if I wouldn't want them as the only option in my kitchen. They're incredibly thin and light. They're also my favorite for items like parsley, cilantro, and garlic, because when you're done chopping, you can fold the board slightly to transfer your prepped produce right into a dish or pan. I also love that this set includes little logos on each board—there's a cow, a chicken, a fish, and a tomato—to help you avoid cross-contamination.
The Carrollar cutting boards easy to store and stack, and pleasant enough to cut on. They're too thin to have a ridge for catching liquids, and as a result, some chicken juice did spill over the edge. One issue is that they're a bit more slippery on the counter than some of the options above. The extra attention required means you can't dice veggies as quickly, and if you're not careful, the boards can slip as you cut, which could be dangerous. 
They're dishwasher safe and easy to hand wash, and they didn't stain, even when grenadine and tomato sauce sat overnight. 
Totally Bamboo 3-Piece Bamboo Cutting Boards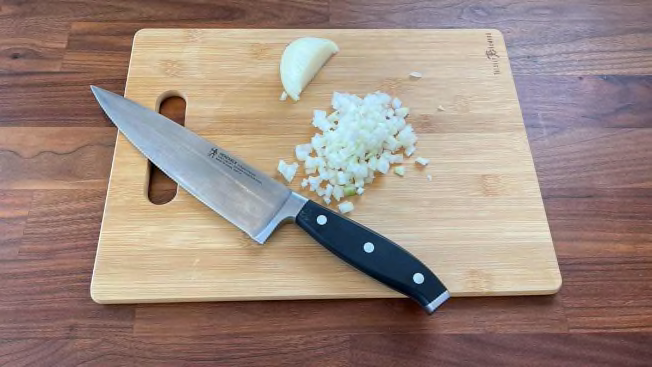 From: $18 for three
Dimensions: Large, 13 x 9.5 inches; medium, 11 x 8.5 inches; small, 8 x 6 inches
Where to buy: Amazon, Totally Bamboo, Walmart
I wanted to love this trio of bamboo boards, but in the end, they proved to be more trouble than they're worth.
For starters, the Totally Bamboo cutting boards shifted on my countertops more than any other board in this assessment. They're also very hard and leave you feeling like you're cutting on a glass board or even a stone countertop. I couldn't help but feel like I was dulling my knife, especially on foods that require force to cut, such as sweet potatoes, or require lots of rocking motions, such as parsley. The boards don't have a groove around the edge, and they seem less porous than other wood boards, so liquids tend to run right off the surface and over the edge. Like the other wood boards here, they need to be washed by hand. The bamboo boards did stain slightly when I let tomato sauce and grenadine syrup sit overnight.
One much bigger deal breaker for me: Totally Bamboo suggests re-applying its own food-safe mineral oil ($8 for an 8-ounce bottle) to the boards weekly, or as needed. That seems like a high level of maintenance for a set of cutting boards that you can buy for less than $20. Frankly, given that plenty of home cooks can't be bothered to sharpen their knives, I suspect even fewer would oil cutting boards every week—I certainly wouldn't.
Which Cutting Boards Should You Buy?
If you're looking to spend as little as possible, you can't go wrong with the three-pack from Gorilla Grip. The three sizes mean you'll always have an appropriate board on hand, and they really do hit the sweet spot in terms of being easy to use and maintain. 
But if you're as into kitchen gear as I am, I think the perfect trifecta of boards would include the Gorilla Grip set, along with the TeakHaus—especially if you like to entertain—and a set of Carollar boards. Here's why. The lightweight Carollar boards are ideal for veggies and herbs, while the TeakHaus is a beautiful statement piece that's perfect for serving anything from a cheese board to a Thanksgiving turkey. The Gorilla Grip set, the everyday standby of the bunch, can tackle just about anything else. That trio could set you back more than $130, but you'd have an ideal mix on hand.
This product evaluation is part of Consumer Reports' "Outside the Labs" reviews program, which is separate from our laboratory testing and ratings. Our "Outside the Labs" reviews are performed at home and in other native settings by individuals, including our journalists, with deep subject matter experience or knowledge and are designed to offer another important perspective for consumers as they shop. While the products or services mentioned in this article may not currently be in CR's ratings, they might eventually be tested in our laboratories and rated according to an objective, scientific protocol.
Like all CR evaluations of products and services, our "Outside the Labs" reviews are independent and free from advertising. If you'd like to learn more about the criteria for our lab testing, please visit the Research and Testing page on our website.
When you shop through retailer links on our site, we may earn affiliate commissions. 100% of the fees we collect are used to support our nonprofit mission. Learn more.