When you shop through retailer links on our site, we may earn affiliate commissions. 100% of the fees we collect are used to support our nonprofit mission.
Learn more.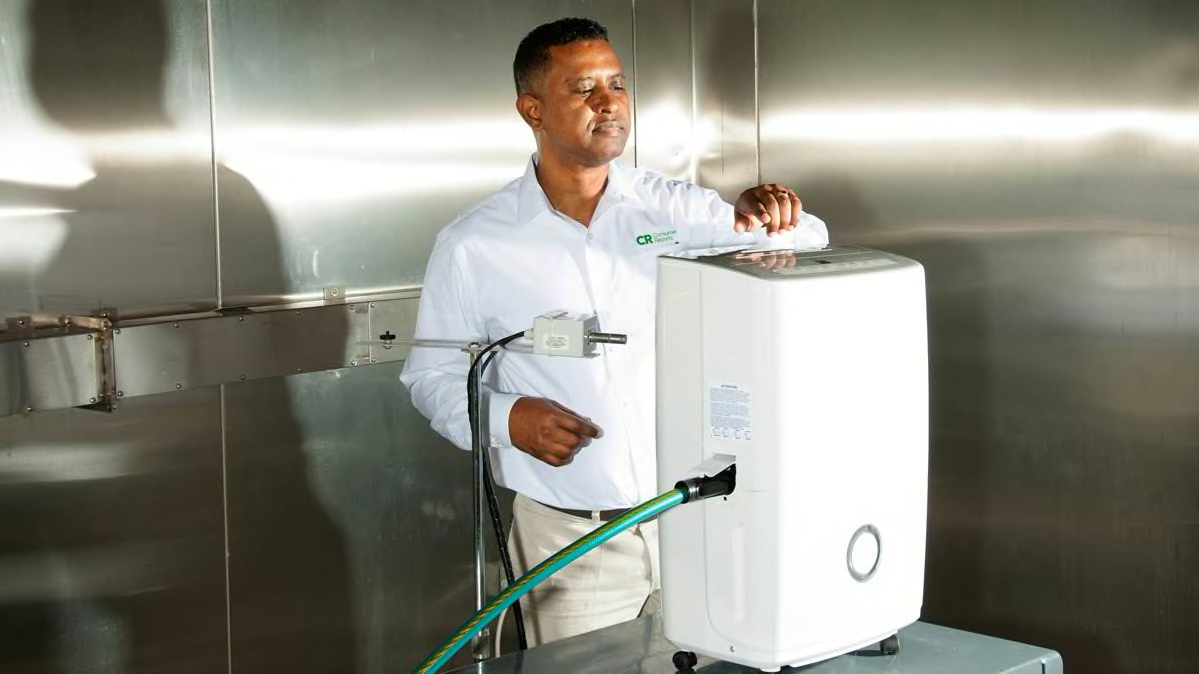 Dehumidifiers are often used in basements, so it's easy enough to forget that they're working around the clock, pulling moisture from the air.
That is, until it's time to empty the tank—or, worse, when you head down to take care of the chore, only to find that the room has developed a musty smell. And your dehumidifier gave out.
How long should you expect your dehumidifier to last? Ten years according to the Association of Home Appliance Manufacturers. Our survey found that CR members expect the same, on average.
We asked CR members who purchased a new dehumidifier between 2009 and 2019 about their experiences with the product, and got responses for 7,161 dehumidifiers.
Based on our survey data, we estimate that around 25 percent of dehumidifiers will develop problems or break within the first five years. Some brands are better than others, and you can see this difference in our predicted reliability ratings.
We also ask members how likely they are to recommend their dehumidifier, and use the results to calculate a rating for owner satisfaction.
These two ratings, along with our lab test results for performance, are incorporated into an Overall Score for the models in our dehumidifier ratings.
Most and Least Reliable Brands
Our survey found that three brands stand out as the most reliable—and two stand out as less reliable. Regardless of reliability, CR members aren't wildly enthusiastic about most brands.
Emerson Quiet Kool, Keystone, and Perfect Aire stand out as the most reliable of the 16 brands in our survey, earning an Excellent rating for predicted reliability. We don't currently have any models from Perfect Aire in our product ratings, which is the only brand to earn a favorable mark for satisfaction.
Keystone earns a Good rating in owner satisfaction. Emerson Quiet Kool, however, has the distinction of receiving the lowest owner satisfaction rating, a Poor.
Honeywell garners a Very Good rating for predicted reliability, and it earns a Good rating in owner satisfaction.
Amana, Danby, DeLonghi, Frigidaire, GE, Kenmore, LG, Whirlpool, and Whynter earn Good ratings in both reliability and satisfaction (Soleus Air does too, but for now there are none in our ratings).
As for the least reliable, Haier and Hisense receive only a Fair predicted reliability rating, and, therefore, CR cannot recommend them at this time. You'll see models from Hisense in our ratings.
Note that we buy and test new brands, or brands that offer unique features but may have low market share, and thus, are not adequately represented in our survey sample. That means we don't yet have enough data to assign ratings for predicted reliability or owner satisfaction. Currently, Arctic King, HomeLabs, and Toshiba fall into this category, but all offer models that rate well in our performance tests.
There are 38 models in our dehumidifier ratings, and all earn an Excellent rating in our water-removal test, meaning they remove the number of pints of water from the air as claimed by the manufacturers. But our tests for humidistat accuracy, energy efficiency and noise, among others, illuminate differences among the models.
We test dehumidifiers in three categories, based on capacity. Capacity, in this case, refers to the amount of water a dehumidifier can remove from the air (not the tank size). The three dehumidifiers below all earn a Very Good or Excellent rating in predicted brand reliability, and are among the top performers overall within their category. They're listed in order of capacity, from small to large.