When you shop through retailer links on our site, we may earn affiliate commissions. 100% of the fees we collect are used to support our nonprofit mission.
Learn more.
With its newly unveiled Surface Studio desktop, Microsoft is avidly challenging Apple for the loyalties of people who edit movies and do graphic design—either for a living or just for fun.
The desktop extends the Surface line of products, which have not only performed well in Consumer Reports testing but have also attracted a growing number of ordinary computer users.
In its latest product announcement, Microsoft also introduced a new Surface laptop, VR headsets, and a 3D-focused Windows 10 update, all pitched as tools for creative work and play.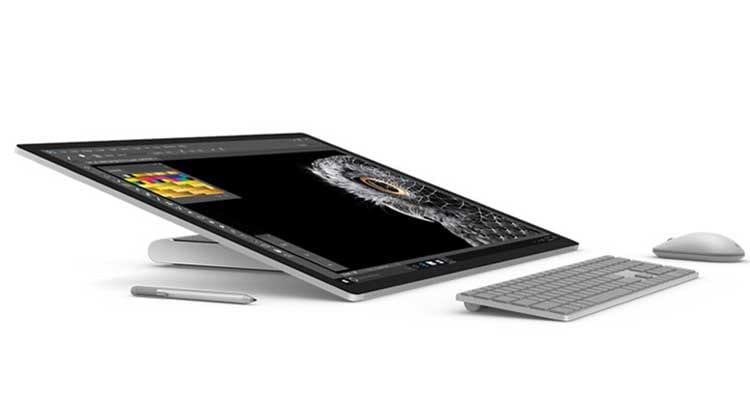 The Surface line now includes an all-in-one, premium desktop. Building off the company's popular convertible laptop series, the Surface Studio is supposed to reimagine the workstation.
It has a super high-def 28-inch touch screen—with 60 percent more pixels than a 4K television, according to Microsoft—and it's designed to function like a tabletop drafting board.
At 12.55mm thick, the swiveling display is the thinnest LCD touch-screen monitor to date, according to Microsoft. The specs would argue that the computer is ready to handle demanding graphics.
They include a 6th-generation, quad-core processor from Intel; a Nvidia GeForce GPU; and up to 4GB of graphics-specific GDDR5 memory.
Along the back, the desktop has four USB 3.0 ports, an SD card reader, headphones jack, a Mini Display port, and a Gigabit Ethernet port.
That all sounds attractive, but though some everyday consumers will shop for this machine, its price is targeted more at designers and other creative professionals.
The Surface Studio starts at a steep $2,999, with a fully loaded version stretching to $4,200.
Preorders have begun, and the new desktops will begin shipping before the end of the year with a Surface Pen, Microsoft Surface Keyboard, and Surface Mouse.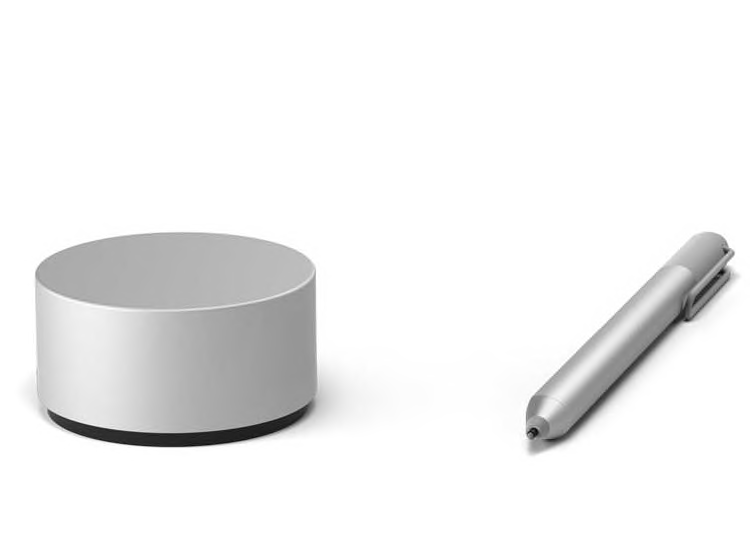 Microsoft unveiled a new pucklike tool called the Surface Dial. Likewise designed with creative professionals in mind, the device serves as a complement to a stylus, mouse, or fingertip.
For example, users can rotate the Dial to call up a wheel of colors in an illustration program, zoom in and out of an image, or change the volume on Spotify.
The Dial will be most versatile when paired with the Surface Studio, where it can be mounted on the display and provide haptic feedback. But at just $99, it could appeal to the users of any PC, laptop, or tablet that runs the Windows 10 Anniversary Update.
The Dial will be included free with Surface Studio preorders made before Dec. 1.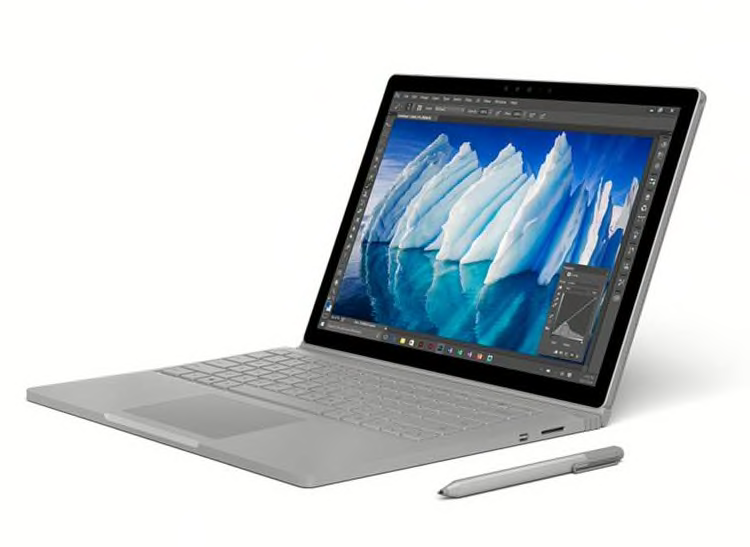 There's an updated Surface Book. Panos Panay—Microsoft's corporate vice president in charge of the Surface line—claims the graphics performance of the new $2,399 laptop/tablet hybrid is significantly better than that of the 13-inch MacBook Pro.
The new Surface Book includes the latest 6th-generation Intel Core i7 processors, up to 16 GB of RAM, up to 1 TB of onboard solid-state drive storage, and beefy graphics hardware.
The new laptop will deliver 16 hours of battery life, according to Microsoft, despite doubling the performance of its predecessor. (That's just one of the claims Consumer Reports will be evaluating in our labs.) The 13.5-inch display detaches from the keyboard much like it did in the earlier models.

A forthcoming 'creator' update is coming to Windows 10. In the spring, users can expect a revamped "3D Paint" application to arrive with an update to Microsoft's OS. The idea is to make 3D design more accessible to both enthusiasts and professionals.
In an effort to convince consumers to explore "mixed reality," the update will also offer VR headset features pulled from the wildly popular Minecraft game, which Microsoft purchased in 2014. The Office suite will also give PowerPoint the ability to display 3D renders or images from Remix3D.com.
HP, Dell, Lenovo, Asus, and Acer are partnering with Microsoft to produce VR headsets, with options starting at $299 to lure budget-minded consumers away from the far pricier Oculus Rift and Vive systems.
During the event, Microsoft also demonstrated more uses for its augmented reality HoloLens headset. It showed how consumers could use the device to "preview" pieces of furniture in their homes or display a video app on a wall.
First released in July of 2015, Windows 10 sought to provide one universal software platform for Microsoft's PCs, phones, and tablets. Though the Windows Phone's share of the smartphone market has dropped below 1 percent, the Surface line of products has done pretty well. Revenue from that category has increased 9 percent, thanks to the success of the Surface Pro 4 and Surface Book.
Last, Xbox users will be able to create their own Xbox Live tournaments through Microsoft's Arena platform and the Beam streaming tool it acquired earlier this year. The service competes with Twitch and YouTube.