When you shop through retailer links on our site, we may earn affiliate commissions. 100% of the fees we collect are used to support our nonprofit mission.
Learn more.
Now that virtual reality headsets have finally entered the real world, tech companies are racing to supply VR's content-hungry fans with 360-degree cameras. At the Consumer Electronics Show in January, Nikon unveiled the KeyMission 360. Seven weeks later, at the World Mobile Congress in Spain, Samsung announced the $400 Gear 360. The LG 360 CAM soon followed. And GoPro plans to introduce a model of its own later this year.
Why so much interest in 360-degree video?
It lets you capture a scene worthy of full immersion. Look to the sky while screening the footage on an Oculus Rift headset and you see puffy white clouds. Look down and you're staring at the sidewalk. Turn your head left or right and you might see a neighbor taking out the trash, a dog napping in the sun, or teens playing touch football on the lawn. Just imagine the tableau if you trained your lens on the Grand Canyon, Australia's Great Barrier Reef, or the Hall of Mirrors in the Palace of Versailles?
[Note: To take a 360-degree tour of our auto test track facility, check out the video at the bottom of this story.]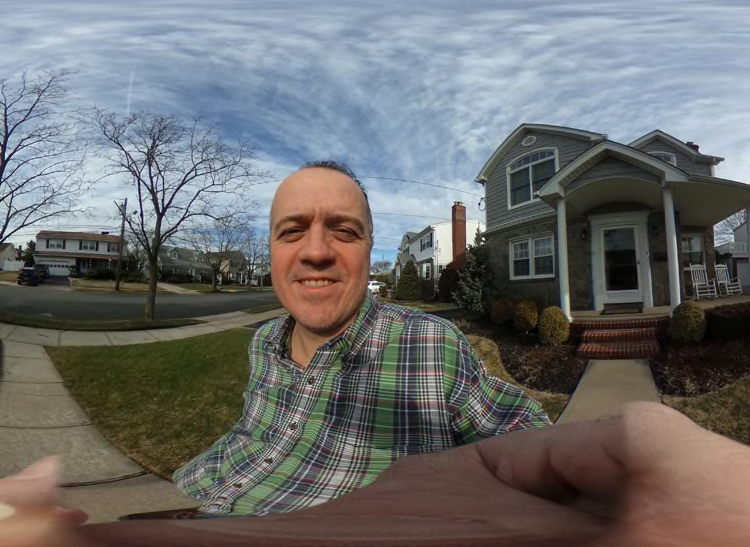 Shooting video with a 360-degree camera requires seeing the world in a whole new way. You've got to be very aware of what's behind you, for example, because everything that surrounds you is essentially on-screen.
To get a better feel for the process, I recently took the $350 Ricoh Theta S out for a spin. The device—two round lenses on either side of a candy-bar-like body—is the latest entry in a line of cameras launched by the manufacturer in 2014.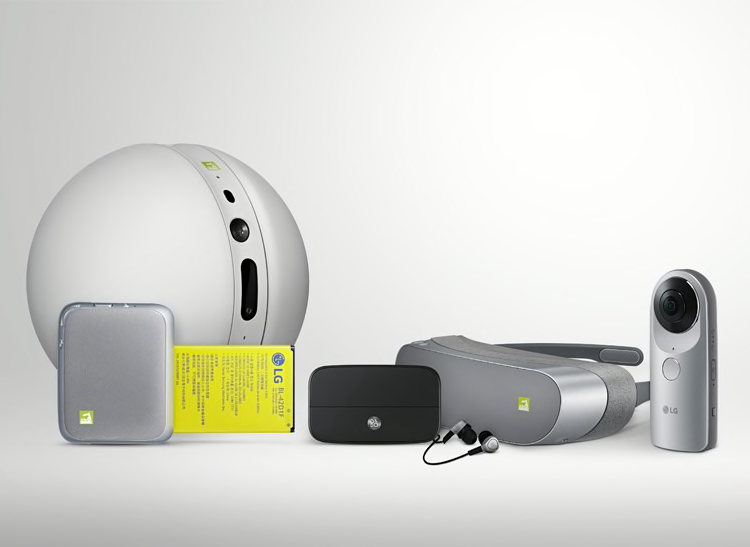 Shooting 360-Degree Content
Instead of using a removable memory card, the Theta S stores all content on 8 GBs of internal memory, which some photographers may find limiting. To produce one ultra-wide 14-megapixel still image, the camera captures two 12-megapixel photos. It can also record up to 25 minutes' worth of 1080p video. (Those who want larger resolution might want to wait for the Samsung 360 Cam, which will capture 30-megapixel photos and 4K video.)
Bottom line: It's not hard to get crisp images with the Theta S. Thanks to the wide aperture of the F/2.0 lens, the camera even performs well in low-light situations. The real challenge is learning how to frame those images.
Where do you train your lens when you're recording 360 degrees' worth of content? How do you account for all of those things that never enter the picture on a conventional camera? Those are the kinds of questions I found myself wrestling with.
Another discovery: If you plan to shoot by hand, you better be comfortable with self-portraits, because you're going to end up appearing in every image. If the idea of that troubles you, you better invest in a tripod and remote setup. That's the only way to remove yourself from the picture.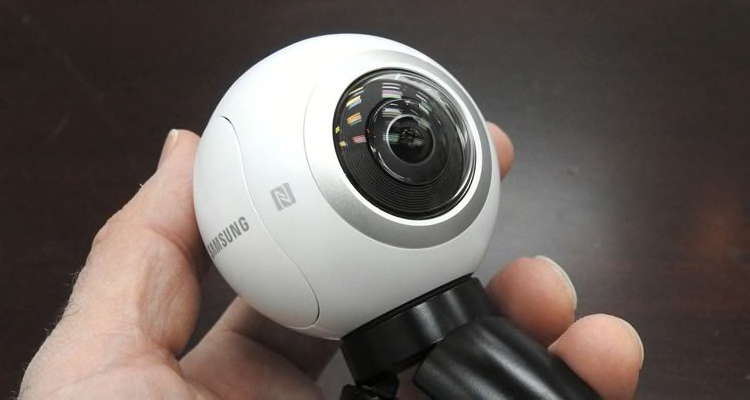 Compounding the learning process, the images I took had to be evaluated in an entirely new way. On a computer, you have to scroll in every direction to get the full picture. When you don a pair of VR goggles, a different panorama appears the moment you turn your head left, right, up, or down.
If you use the Theta app, you can also alter the look of the footage, shifting from an ultra-wide panoramic view to a more global view. Imagine the way maps of the Earth appear in textbooks: Some are stretched-out flat, making the planet's poles look gigantic, while others are more spherical to better represent the scale of each continent.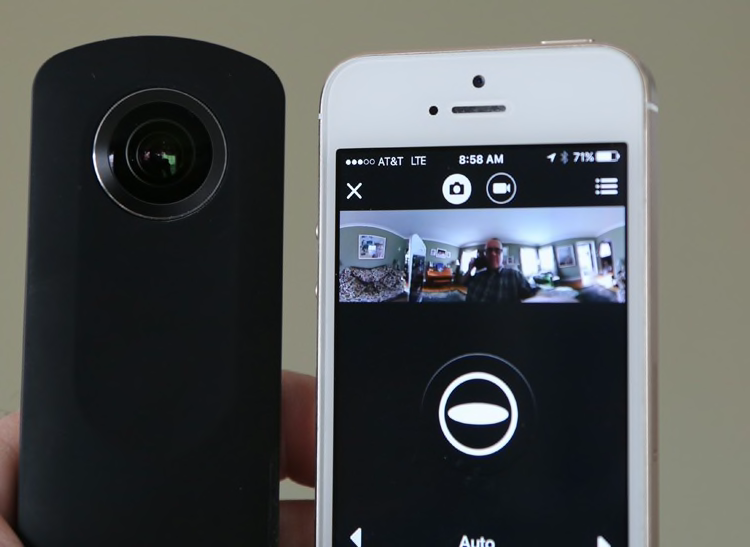 Connecting to Your Smartphone or Tablet
The device has just three physical controls: a shutter button, a power-on button, and a wireless button. For more options, you have to connect the cam to a phone or tablet via Wi-Fi. If you go that route, you can compose shots on your phone's display, using one of Ricoh's mobile apps. But, to do that, you'll need to input a password on the phone. And I sometimes had to re-enter the password, which I found annoying.
Once I installed the app, though, it was pretty easy to get the Theta S up and running. The camera has a nice, sleek, lightweight design, though it's worth noting that it's not rugged or waterproof like other action cams.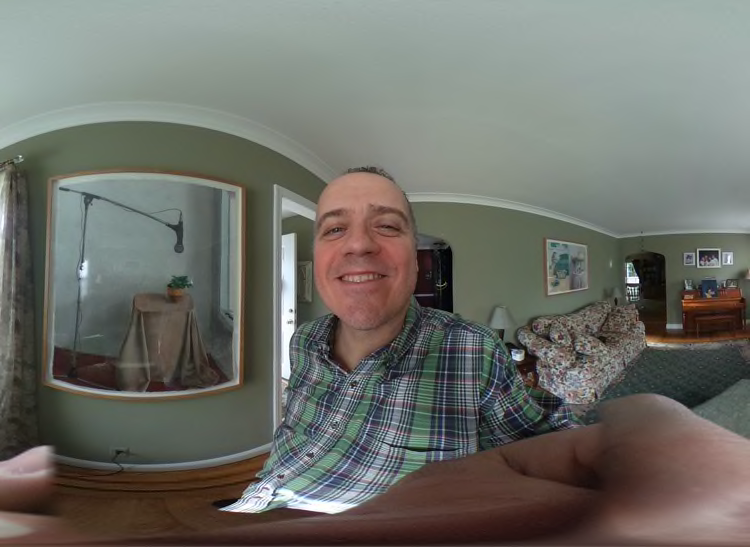 Editing 360-Degree Photos and Video
For the most part, Ricoh's free app is pretty easy to use, but it could be even simpler. At times, the menu icons are hard to decipher, for example. Ricoh also included two editing apps, one for photos and one for video. In both, you can crop images. If you choose to do that, you can select from four different views: mirror ball, little planet, equirectangular, or rectilinear.
Each attempts to display as much of the 360-degree content as possible. However, the results generally yield skewed perspectives and extreme barrel distortion. Expect to find nearly all straight lines dramatically bowed. In the equirectangular view, the hand I used to hold the Theta showed up enormous at the bottom of the image.
One important downside: Although Ricoh's Theta apps did allow me to scroll left, right, up, or down through the 360-degree video, I wasn't able to view the footage on a VR headset with them. Instead, I had to download a free third-party app—the Homido 360 VR player—which allowed me to watch the video on my iPhone via a pair of Google Cardboard goggles.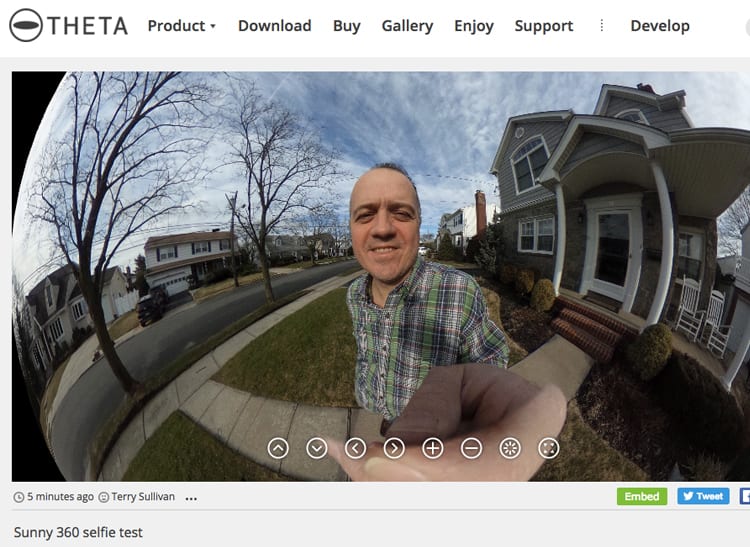 Transferring and Sharing Your Work
When the Theta is connected to a mobile device, you can see all the photos and videos you've shot. To transfer content to your phone, just tap on the thumbnails. If the video clips are long, the app notifies you that the process could take awhile.
The Theta app also lets you share your images and clips to social media sites by allowing Facebook, Twitter, and YouTube to link back to theta360.com.
In my opinion, the Theta S could use more physical controls to help you tweak the settings, but in general, the action cam worked quite well. Ricoh has done a nice job of making it easy to create and edit 360-degree photos and video.
Editor's Note: This article was updated on May 3, 2016 to clarify that the apps Ricoh created for the Theta S let users scroll through the 360-degree video. To view the footage on a VR headset, you still need to download a third-party app.